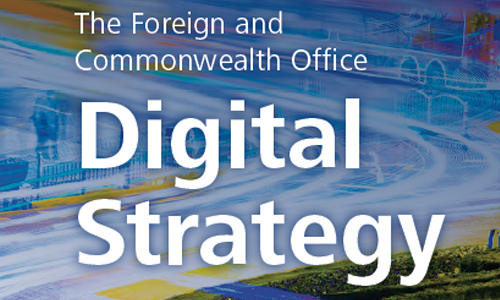 One year ago this week we published the Foreign Office Digital Strategy, looking at how we would make the most of the opportunities of digital in our work. The Strategy set a clear vision – making use of digital tools in every element of foreign policy work; and moving to provide our services digitally by default.
Looking back, it's been a heck of a year with activity across the FCO contributing to the strategy's implementation. Some of the highlights for me personally:
Alongside the digital strategy, adopting new social media guidance encouraging our staff to take advantage of social media as part of the toolkit of a modern diplomat. We also increased access to social media on core FCO systems, so staff can make use of digital tools in practice
Putting in place new core training for policy officers on how they can use digital tools to enhance the quality, openness and impact of foreign policy. We also held an event at our annual Ambassadors' conference on how digital tools can help foreign policy work
With the Government Digital Service, completing the move of our web presence to GOV.UK, saving the FCO £1.5m each year. The transition involved over 200 worldwide sites in over 30 languages, as well as numerous transactions.  We also used the transition to streamline our most used online product – our travel advice, visited over 1.5m times a month
Improving our online customer service, with consular staff directly answering queries from British nationals on twitter (@fcotravel). We also signed up for twitter's new alert functionality, providing critical updates in a crisis
Taking advantage of digital best practice in delivering a number of digital projects. Our crisis hub – about handling and collecting crisis information – was developed as agile project procured through the g-cloud and nominated for a UK Agile Award;
Continuing to deliver creative digital communications, for example our "thunderclap" campaign on ending sexual violence in conflict reaching an audience of 2.4m
And designing and then taking forward recruitment for our Digital Transformation Unit, to provide some of the specialist capability we will need to achieve our digital ambitions in practice.
Looking ahead, 2014 looks set to be even more exciting and even more challenging as we continue to use digital tools and technology to improve our services, policy and communications. For now, Merry Christmas and a Happy New Year. Onwards!
Adam Bye
London, UK
A blog by the FCO's Digital Transition Leader | Follow Adam on Twitter: @adamwbye