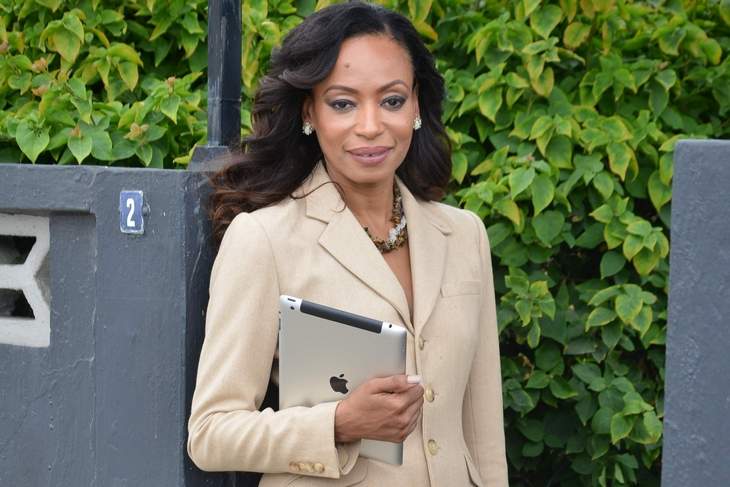 There is nothing terribly complicated about Joanne Brooks, she simply decides what she wants, goes out and gets it.
These words were written in 1998 by Rosemary Stone, then Fashion Editor of the Express, when she interviewed Brooks as a high flyer in the competitive commercial world of luxury retail fashion in London, where she worked for and managed brands such as Ralph Lauren, Chanel, Gucci, Cleo, Fendi, Pucci and Dolce & Gabbana to name only a few.
"These words are as relevant today as they were to me in 1998," says Brooks with a huge smile.
After 15 years as a business manager, true to form, she kept a promise to herself that she made at the age of 20, that at 35, she would transition from the fashion industry to a career in diplomacy, her second love and that she did in no uncertain terms.
But to achieve her goal was no easy feat.
To do so she completed two Masters degrees — one in International Relations at UWI and the other in Comparative Politics including Foreign Policy Analysis and International Security at the London School of Economics (LSE). "I believe in continuous learning," she says humbly. "One is always becoming and evolving", she added philosophically.
Brooks recently returned from a five-week diplomatic course at the Clingendael Institute in the Hague, and has completed similar courses in the Diplomatic Academy in Malta and courses for Women in the Diplomatic Service in Brussels and London. Now an International Relations Officer at the Ministry of Foreign Affairs (MFA), she is currently preparing to leave for her tour of duty to the Embassy of Trinidad and Tobago in Brussels, Belgium. She explained the ease with which she transitioned from one career to the other. "If you are academically sound, possess transferable skills, are goal oriented, have a passion for what you do, and believe in yourself, there is nothing that you cannot achieve."
This brilliant woman is engaging, cool and friendly, some of the criteria necessary in her profession.
"On the surface", she explained, "there seem to be few similarities between fashion and diplomacy but the skills I gained in business have application in many different fields. In fashion, as a manager you represent a brand or designer – as a diplomat you represent a brand which is your country. Public Diplomacy pertains to country branding and an area which has become more relevant in today's competitive global environment as ever before.
"In a luxury retail environment customer service excellence is expected. As a department manager at Harrods, staff training in this area was a key function of a manager. As public servants, some people forget the service aspect of the job. This is a very important requirement of our work in the Ministry, in our Embassies and Consulates."
Definitely a woman who takes her job seriously, she further explains: "High level events are also de rigueur in both fields. Planning and executing a fashion show in London or Paris during Fashion Week when the world's media is fixated on the brand that you represent is a huge undertaking. There is very little room for error, and substantial financial resources are allocated to create the perfect showcase. I pay the same attention to detail when organising a regional conference or international meeting where the stakes of national pride, image and political engagement are very high. Brooks was recently Head of Secretariat for the Arms Trade Treaty Meeting held at the Hyatt Regency hotel in Port of Spain in February, 2015, where Trinidad and Tobago is bidding against Vienna and Geneva to host the Secretariat. "Everything had to be perfect and there was a lot of pressure to deliver", she said with great emphasis. Trinidad and Tobago was making a statement to the world, we may be small but we are a modern, developing, regional powerhouse and we punch above our weight, so do not underestimate us. We were articulating not only a regional position, but a hemispheric one."
Brooks was also responsible as Head of Secretariat for the Heads of Mission Conference, Caricom Foreign Ministers Conference (COFCOR), Caricom Heads of Government Conference (HOGC), and Caricom Change Drivers Meeting all of which took place between 2011-2015.
She explains her strategy for success. "The modern diplomat has to be professionally ambidextrous. The skill set needed to operate in a fast pace, real time, ever changing global environment is multidimensional. The modern diplomat cannot sit at a desk, performing one task at a time or mulling over country reports. He or she has to be an innovative thinker, expert negotiator, excellent communicator, a team player, technologically savvy, culturally astute, able to exercise influence at all levels and be socially confident. She goes on to say "my greatest advantage as a modern diplomat is that prior to entering the MFA, I garnished international experience in the private sector, an NGO, interfaced at all levels, travelled extensively and understand diverse cultures."
Building and maintaining networks are also important to both fields, Brooks added. "As a manager my interface with the customer was very personal. We cultivated relationships with high net worth and celebrity clients for marketing purposes and to achieve financial targets. One client at Chanel or Ralph Lauren could spend over a million pounds in one season. To gain the loyalty of such clients, they are given front seat priority of place at the shows, entertained at Wimbledon, invited to red carpet events, etc. At that level they don't come to the shop, we go the their homes or work through stylists and PAs. As a result, you form bonds of friendship and many open the door to their fabulous but oftentimes complicated lives. Networking is also an essential tool for a diplomat. States actively encourage diplomats to get to know key people in their host countries. The approach may differ according to the culture of the host country and one's diplomatic rank, but you must engage on all accessible levels in order to gather intelligence and influence outcomes according to your remit."
Before joining the Ministry, Brooks worked at the Royal Institute of International Affairs – Chatham House, the prestigious foreign policy think tank whose patron is HRH Queen Elizabeth II. She interned at first as an analyst in the Caribbean and Latin American Programme, and was then promoted full time in the Corporate Relations Department as a membership marketing developer. "It was the best training ground for my career as a diplomat", she explains. The philosophy that I live by is that "Iron sharpens iron. If your metal is not tested against the best, you will never know how good you really are and will not improve your skills or master your craft. It is as true for sport – tennis, football or boxing – as it is for International Relations. I have always chosen my employers with that in mind. My work at Chatham House brought me into contact with the best and brightest thinkers, whether on staff or the list of influential speakers who have enlightened audiences at the Institute – from Nelson Mandela, to Alan Greenspan, Benazir Bhutto, David Miliband, David Cameron and one of my favourite, the former chief of defence staff of the Uk armed forces, Sir Michael Jackson. As one of the organisers of the Director's Breakfast meetings, accessible only to CEOs of the top FTSE 100 companies, Ministers, Head of MI5/6 and Ambassadors, I was able to garnish a deep understanding of high level decision making, national positions and participated in discussions, all held under the Chatham House Rule. From that vantage point, one gets a very unique view of the influence of politics, power, multinational corporations, history and culture on the decision making process. "Quite frankly", she said, "the meetings were fascinating".
"Therefore, the modern diplomat has more than a post graduate degree and a head full of theory to bring to the table. He/she must come with value added, able to jump in the deep end and skilfully navigate the shark infested waters of international relations. Many people do not understand the world of the diplomat. The MFA is still shrouded in secrecy although the status quo is slowly changing. The prevailing view is that all we do is clink glasses at cocktail parties and make speeches at national day celebrations. The other reaction I often get to the answer 'I am a diplomat"' is a blank stare.
"The reality is that the global village is a highly complexed system of both state and non state actors with converging and diverging agendas and priorities. In order to operate effectively in that system, states devise their foreign policies based on a set of values, priorities or guiding principles for engagement and action. Trinidad and Tobago has four guiding pillars of its foreign policy: Economic, Security, Political and Consular."
Every inch the diplomat, Brooks explains. "Our economic diplomacy focuses on the expansion of external markets for goods and services with non traditional partners, based on a policy of south/south cooperation and convergence theory. The Ambassador for Trade and Industry HE Mervyn Assam with Brooks as Trade Negotiations Coordinator along with an inter-ministerial team of 11 specialists, successfully negotiated ten agreements on behalf of the country. They included: Partial Scope Trade Agreements, Bilateral Investment Treaties, Tourism Cooperation Agreements and Cultural Agreements with Central American countries – Panama, Guatemala, El Salvador and Cuba between 2011 and 2015.Trade policy also prioritises foreign direct investment (FDI), economic diversification and energy diplomacy as a means of attaining national development and prosperity."
Touching on the political aspect she explains, "The political aspect of Foreign Policy focuses on T&T's active participation in the multilateral system and ML organisations such as the WTO, ICC, UN, etc and the creation of norms for international engagement, protection of human rights and justice, the importance of equity among states, good governance and international cooperation. It also includes our commitment to Caricom as a regional organisation as well as Celac and the OAS."
She further pointed out, "The Consular work of the Ministry focuses on serving the needs of Trinbagonians at home and abroad through the Ministry and our 19 Embassies world wide, along with cooperation with Trinidad and Tobago's Diaspora on academic, commercial, cultural, health, sport and other mutually beneficial projects. National branding has become a priority for many countries, not only to boost tourism, but due to the growing importance of Public Diplomacy. The question 'who are we as Trinbagonians? What are the values that underscore our multicultural identity and, what is the image that we would like to project to the world?' are fundamental questions that we must urgently seek to answer. In the world of real time media and so-called digital diplomacy taking place on Twitter, Instagram and Facebook, if one does not carefully craft and control the image of its state, one will be created for you, more likely through negative events reported in the international media."
Brooks stressed: "In order to influence those forces shaping the relationships between and among states today, diplomats can no longer be routine generalists operating according to the saying 'mine is not to wonder why, mine is to do or die'. Although we operate within boundaries of neutrality, rank and protocols, such thinking is no longer relevant. The modern, effective diplomat is a disruptive thinker, a social anthropologist, an innovator, a philosopher, a linguist, a businessman. These and other skills allow him/her to pursue aggressively and effectively Trinidad and Tobago's Foreign Policy." This is particular but not limited to small states such as ours, which face a myriad of challenges with limited human and financial resources. Many have asked the question "Is diplomacy the most effective tool for solving global problems?". Brooks smiles confidently. "Of course it is. Arm yourself with a new set of tools, put your mind to it and get it done".
http://www.trinidadexpress.com/20150626/woman-magazine/joanne-brooks-the-modern-diplomat-put-your-mind-to-it-get-it-done
Please follow and like us: