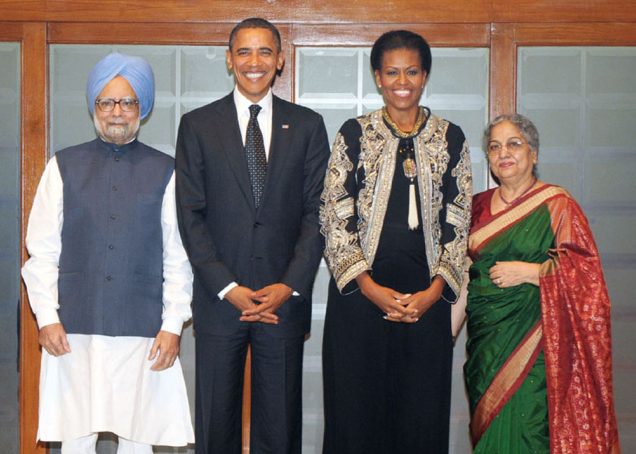 By Robin Givhan
Michelle Obama
stands with Indonesian President Susilo Bambang Yudhoyono during a state dinner at the State Palace Complex Istana Merdeka in Jakarta. (Getty)
During her trip to India, first lady Michelle Obama allowed her fashion choices to speak to the ways in which we are all part of the global community. In Indonesia, her fashion choices seemed based on a simple question: What's pretty?
For the state dinner in Indonesia, she wore a brown and taupe print dress, in a diamond shaped hash mark print that from a distance suggested an ikat-like pattern. The dress, which the White House attributed to New York-based designer Derek Lam, had bracelet sleeves and was paired with an elaborate bib necklace of semi-precious stones.
The dress spoke to the spirit of her location but not in the direct manner that her clothes often did in India.
Lam is an independent designer who also oversees a ready-to-wear collection for the Italian leather goods house Tod's, which is famous for its driving moccassins. His work is rooted in American sportswear and is at its best when it mines the mood of California, where Lam grew up.
For president George W.Bush's second inauguration, Lam created the trenchcoat and trouser ensemble that his daughter Barbara wore to the swearing in at the Capitol.
For the state dinner in New Delhi, Obama chose an ensemble by New York-based designer Rachel Roy, who is Indian-American. She paired the designer's "sable Moroccan tunic" with a "dune velvet skirt." Her evening attire hinted at the luxurious sparkle of traditional Indian fabrics and the elegant drape of a sari without stepping into mimicry.
The Obamas greet India's Vice President Mohammad Ansari in the receiving line at a state dinner in New Delhi on Monday. PHOTOS: Michelle Obama travels in style
Roy's name might be familiar to those who follow the fashion industry. She is a regular during New York fashion week and on the social circuit. She's known for collections that are feminine and fluid. When president Obama and Mrs. Obama's hosted a state dinner for Indian prime minister Manmohan Singh and his wife Gursharan Kaur last year, Mrs. Obama wore an ensemble by Roy when she previewed the evening's menu and place settings.
The Obamas with Prime Minister Manmohan Singh and wife Gursharan Kaur at the prime minister's residence in New Delhi on Sunday.
On this trip, the first lady has also worn several pieces by the Belgian designer Dries Van Noten. That might not seem particularly resonant, but the choice speaks to India's expertise in embroidery and beading — two of its great contributions to the modern fashion industry. Designers in Europe and New York regularly turn to India to create some of the most elaborately embellished works on the runway. (New York designer Tracy Reese also relies on Indian craftsmen.) Van Noten, who is known for his love for ethnic-inspired fabrics and lavish decoration, is particularly indebted to the country's skill at fine handiwork. Mrs. Obama wore one of his richly printed skirts at the Gandhi memorial.
Obama's wardrobe not only serves as a nod of respect to her hosts, but also sends a message about the country's place in the global fashion economy.
The First Lady scatters rose petals at the Mahatma Gandhi memorial at Rajghat on Monday. (Reuters)
http://voices.washingtonpost.com/arts-post/2010/11/fashion_diplomacy.html
Please follow and like us: