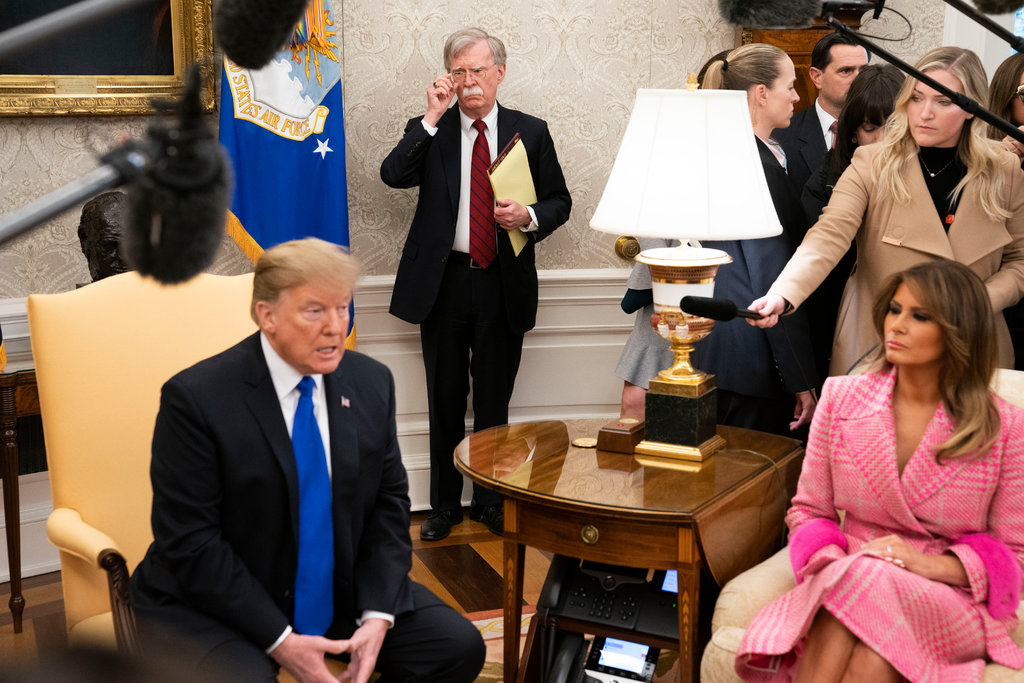 President Trump threw out the diplomatic rule book when he took office, tweeting gleefully about sensitive global issues, be it the nuclear showdown with North Korea or burden sharing within NATO. Now he has spawned a squad of in-house imitators.
John R. Bolton, the national security adviser, has tweeted more than 150 times about the political crisis in Venezuela, demanding that the country's embattled president, Nicolás Maduro, go into exile and championing his waiting-in-the-wings replacement, Juan Guaidó.
Jason D. Greenblatt, Mr. Trump's Middle East envoy, has taken to Twitter dozens of times to debate or chide Palestinian leaders, with whom the White House has had no formal contact since late 2017, when the president announced he would move the American Embassy to Jerusalem.
Other administration officials, like Richard Grenell, the ambassador to Germany, and David M. Friedman, the ambassador to Israel, have used Twitter aggressively to defend their boss's policies and go after rivals like Iran. Even Vice President Mike Pence tweets regularly about Venezuela, accusing Cuba of propping up Mr. Maduro's discredited regime.
For Mr. Trump's lieutenants, Twitter is a rare twofer: a way to promote the president's agenda while bypassing what he disparages as the "Fake News." And they are mindful that in this White House, emulating the boss never hurts.
But critics say the proliferation of Twitter diplomacy reveals an administration long on bombast and short on policy.
"Sometimes it seems like Twitter is where policy is made, and not just an expression of policy," said Michael A. McFaul, who pioneered the use of Twitter as a diplomatic tool while ambassador to Russia under President Barack Obama.
"The old-fashioned policymaking process does not seem to be working," Mr. McFaul said, "and I don't think Twitter should be a substitute for that."
It is also clear that a tweet by Mr. Trump carries more punch than one by his underlings. Mr. Maduro is hanging tough in Venezuela, despite Mr. Bolton's daily barrage of threats. On Wednesday evening, he again raised the specter of military intervention, tweeting "President Trump has made clear to Nicolas Maduro and those around him, 'all options are on the table.'"
The embattled president of Venezuela, Nicolás Maduro, in Caracas last month. Mr. Bolton has taken to Twitter to repeatedly demand that Mr. Maduro go into exile.
Credit

via Reuters
In the Middle East, Mr. Greenblatt's tweets have done little to repair the rift with the Palestinians or lay the groundwork for his long-anticipated peace plan. In a recent exchange, Mr. Greenblatt accused the longtime Palestinian negotiator, Saeb Erekat, of unfairly maligning the proposal when he warned that it would be "an apartheid system with ghettos for Palestinians."
Mr. Grenell, whose no-holds-barred style most closely mirrors Mr. Trump's, infuriated his German hosts last May when he tweeted, after the president's decision to abandon the Iran nuclear deal, that "German companies doing business in Iran should wind down operations immediately." Germany had opted to stay in the deal.
All of the president's advisers pay close attention to his social media behavior and copy some of his moves. Mr. Bolton, for example, has taken his lead in pounding a message through sheer repetition: Mr. Bolton's 150-plus tweets on Venezuela are not unlike Mr. Trump's repeated references to the special counsel's Russia investigation as a "witch hunt."
Mr. Bolton told CNN that the tweets were a "new experiment in public diplomacy" — never mind that Mr. McFaul, and later Secretary of State John Kerry, did it during the Obama administration.
A longtime commentator on Fox with a penchant for pungent statements, Mr. Bolton sometimes infuses his tweets with a distinctly Trumpian tone. "Talks between Russia and Maduro's cronies are only useful if they are discussing retirement beaches for Maduro," he wrote last week of Russian efforts to broker a solution to the crisis.
The difference between Mr. Trump and his advisers is that his tweeting is usually more ad hoc. He has been known to tap out his messages off the cuff and not have them vetted, with a "watch this" expression, according to two people who have seen him do it.
Mr. Bolton and Mr. Greenblatt carefully consider their tweets before posting. A senior administration official described Mr. Bolton's Venezuela tweets as part of a "strategic, tactical and purposeful" plan to raise awareness of the need to oust Mr. Maduro.
On Wednesday, Mr. Bolton issued an old-fashioned statement in which he warned foreign banks engaged in illicit transactions with the Maduro government that they faced American sanctions. "We will not allow Maduro to steal the wealth of the Venezuelan people," he said.
In Mr. Greenblatt's case, the tweets are a way to engage Palestinians at a time when the Palestinian Authority refuses to talk to the administration. His audience, analysts said, is less the aging Palestinian leadership than younger Palestinians, who Mr. Greenblatt hopes will respond by embracing the economic incentives in the peace proposal that he has been drafting with Jared Kushner, Mr. Trump's son-in-law and senior adviser.
Jason D. Greenblatt, right, Mr. Trump's Middle East envoy, and Jared Kushner, the president's senior adviser and son-in-law, in New York last month.
Credit

Lucas Jackson/Reuters
"Unfortunately, there are many rumors out there," Mr. Greenblatt said in a statement. "Twitter allows me to rapidly set the record straight, without a middleman, when our policies are mischaracterized."
Mr. Greenblatt said he had received largely positive feedback from Palestinians, as well as Israelis. "It's good for diplomacy," he said, "and it's good for the people of the region."
But since the White House has yet to disclose the details of its plan, Mr. Greenblatt's tweets are more effective at tamping down ill-founded speculation than in laying out a case for the administration's policies.
Often, he criticizes inflammatory statements made by Palestinians. In a recent tweet, Mr. Greenblatt condemned a columnist with ties to the Palestinian Authority who wrote that he resembled a person with Down syndrome.
Mr. Friedman rallied to his friend's defense, tweeting, "I am disgusted — not for Jason (he's got broad shoulders) — but by this utter disregard for the value of every human life."
When a Palestinian journalist, Daoud Kuttab, tweeted his dismay at the personal attack on an American official, Mr. Greenblatt replied, "I know you disagree with our policies but glad you stood up for what's right," and invited him to the White House for a meeting.
Mr. Greenblatt's lively Twitter profile is in stark contrast to his low-key role in the administration and in Mr. Trump's prior business life. The former chief legal officer of the Trump Organization, he has barely figured in discussions of the president's legal woes. In a leaky White House, the details of Mr. Greenblatt's peace plan remain tightly under wraps.
Experts on the Middle East said Mr. Greenblatt's decision to engage on Twitter had merit but was flawed in two respects. First, the Trump administration's policies have so alienated the Palestinians that it was difficult for Mr. Greenblatt to overcome the hostility.
"Right now, the context of the U.S.-Palestinian relationship is overwhelmingly negative," said Ghaith al-Omari, a senior fellow at the Washington Institute for Near East Policy. "Palestinians think, 'You say you care about us, but you're cutting aid to Palestinians and closing our hospitals.'"
Second, critics said Mr. Greenblatt was not explaining the administration's policies to a skeptical Palestinian audience as much as reproaching their leaders for what he believes is their shortsightedness. He is also, they said, one-sided.
"I can't remember a single tweet that has been critical of a new Israeli settlement or an Israeli government decision," said Daniel C. Kurtzer, a former American ambassador to Israel and Egypt. "His tweets have strictly been used to point out Palestinian malfeasance."
By Mark Landler and Katie Rogers
www.nytimes.com/2019/03/07/us/politics/trump-administration-twitter-diplomacy