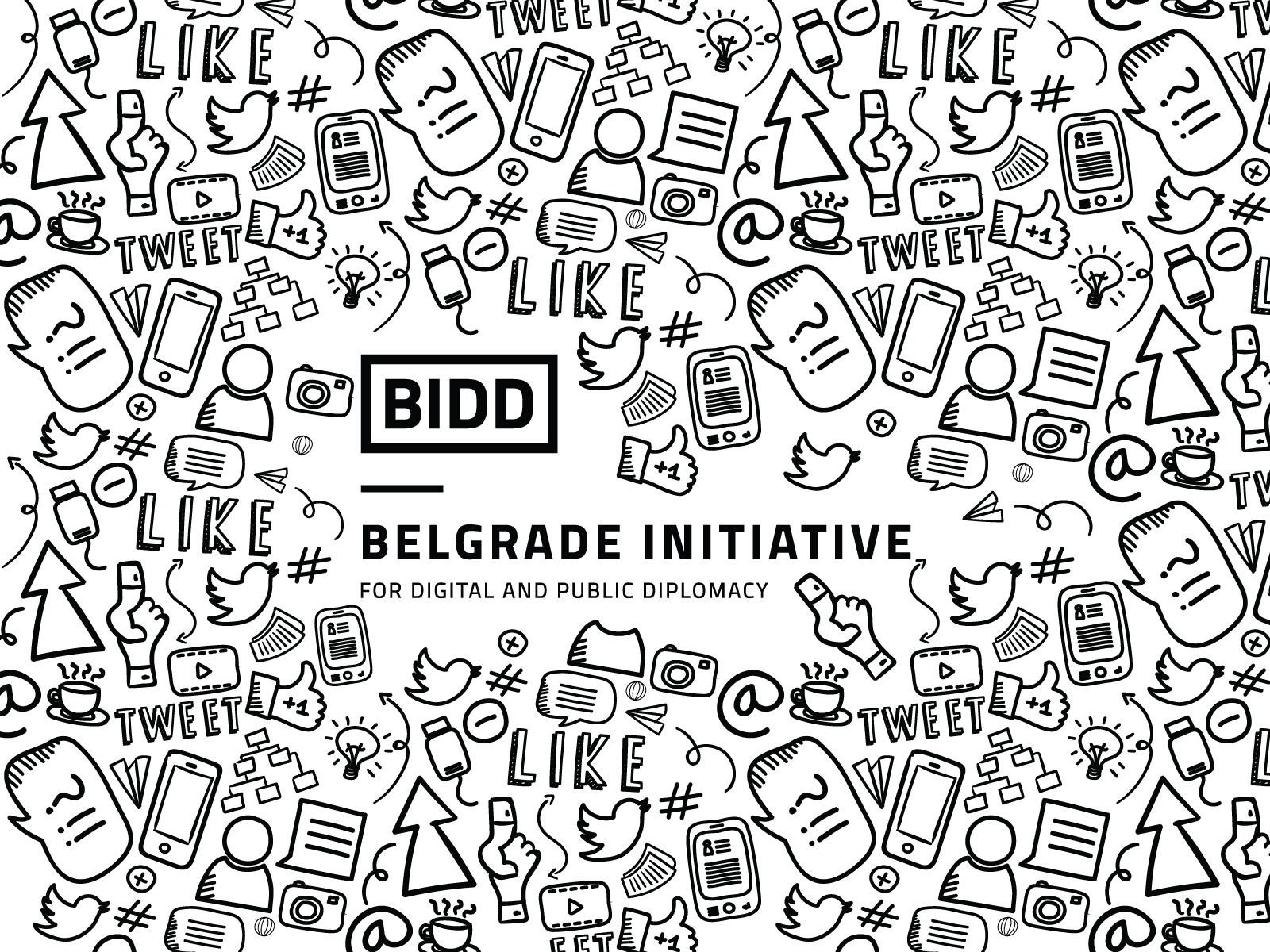 Executive Summary – Introduction
"I believe it's really important I hear directly from our leadership. And I believe it's really important to hold them accountable. And I believe it's really important to have these conversations out in the open rather than have them behind closed doors."
@Jack Dorsey, Twitter CEO on the Today Show
Social media has become diplomacy's significant other. It has gone from being an afterthought to being the very first thought of world leaders and governments across the globe, as audiences flock to their Twitter newsfeeds for the latest news and statements. This worldwide embrace of online channels has brought with it a wave of openness and transparency that has never been experienced before. Social media provides a platform for unconditional communication, and has become a communicator's most powerful tool. Twitter, in particular, has become a diplomatic barometer, a tool used to analyze and forecast international relations.
There is a vast array of social networks government communicators can use. While some governments and foreign ministries still ponder the pros and cons of any social media engagement, others have gone beyond Twitter, Facebook and Instagram to reach their target audiences, even embracing new platforms such as Snapchat, WhatsApp and Telegram where communications are under the radar and almost impossible to track.
For the second year in a row, Burson-Marsteller's 2017 Twiplomacy study has looked at the main social media platforms such as Twitter, Facebook, Instagram, Periscope and Snapchat.
There is a growing digital divide between governments that are active on social media with dedicated teams and those that see digital engagement as an afterthought and so devote few resources to it. There is still a small number of government leaders who refuse to embrace the new digital world and, for these few, their community managers struggle to bring their organizations into the digital century.
Over the past year, the most popular world leaders on social media such as Pope Francis and Indian Prime Minister Narendra Modi have continued to increase their audiences. Likewise, new leaders on the Twiplomacy scoreboard have emerged such as U.S. President Donald Trump, who has amassed millions of new followers in the past few months to become the second-most followed world leader on Twitter. If his robust growth continues he is set to surpass Pope Francis to become the most followed world leader by the end of August 2017.
In an interview with the Financial Times in April 2017, President Trump stated: "Without the tweets, I wouldn't be here… I have over 100m [followers] between Facebook, Twitter, Instagram. Over 100m. I don't have to go to the fake media." The frequent and personal use of Twitter by the U.S. President seems to have helped the platform. It added nine million new users in the first quarter of 2017 to top 328 million active users.
Donald Trump's tweets have made a major impact on governments around the world, many of which are wondering how to reply to these Twitter bursts. Argentina's @MauricioMacri, Canada's @JustinTrudeau, @KingAbdullahII of Jordan, Saudi Arabia's @KingSalman and Turkey's President Recep Tayyip Erdoğan (@RT_Erdogan), have all made a significant impact in terms of interactions on Twitter over the past year.
Beyond Twitter and Facebook, world leaders such as the Argentinian President are also active on new channels like Snapchat to reach a younger audience and potential future voters. Similarly, many governments are using Periscope, a cost-effective medium to live stream their press conferences or conduct digital video summits.
Foreign ministries continue to expand their diplomatic and digital networks by following each other on the platform.
We have found that for governments, Twitter is still a text-based social network and only a quarter of 1.5 million tweets analyzed in this study had a picture attached. Over the past two years, many world leaders have embraced visual communications and many have become active on Instagram, sharing behind-the-scenes pictures or simply chronicling their activities. Pope Francis, who rarely shares pictures on Twitter, set up an Instagram account in March 2016 specifically for his visual communications and has become the third-most followed world leader on the platform.
A number of world leaders, including the President of Colombia and Australia's Julie Bishop, also use emojis to brighten up their tweets, creating what can be described as a new diplomatic sign language.
The Social Media Platforms of World Leaders
Twitter is the social media channel of choice for governments and foreign ministries, judging by the number of governments on the platform. Burson-Marsteller's research team identified 856 Twitter accounts belonging to heads of state and government, and foreign ministers in 178 countries, representing 92 percent of all UN member states, with a combined audience of 356 million followers.
All but one of the G20 governments have an official Twitter presence, and six of the G7 leaders have a personal Twitter account. German Chancellor Angela Merkel is the only G7 leader to shun the social network. All European governments have a presence on the social network. In Latin America, only the government of Nicaragua does not have an official Twitter account.
Only 15 countries, mainly in the Africa, Asia, and the Pacific do not have a Twitter presence. Even the Chinese government, which is famous for blocking Western social media networks behind the Great Firewall, is slowly opening to social media engagement and some of its diplomatic missions are actively engaging with peers on Twitter.
Facebook is the second-most popular network among government leaders and it is where they have the biggest audience. The heads of state and government, and foreign ministers, of 169 countries are present on the platform, representing 88 percent of all UN member states. The 606 Facebook pages have a combined audience of 283 million likes. On average, Facebook pages are more popular than Twitter accounts, with a median average of 38,891 likes per page, compared to 16,848 followers for each Twitter account.
YouTube is the third-most used network among governments and 147 or 76 percent use it as a video repository, although the median average of subscribers is only 734. The photo-sharing network.
Instagram is the fourth-most popular social network and 73 percent of all UN member states have set up an account to share behind-the-scenes pictures and videos of their activities. The 330 accounts analyzed have a median average of 2,822 followers.
Google+ completes the top five list, with governments and world leaders in 128 countries or 66 percent present on the platform. However, less than a quarter of the 261 pages are active and the median average of the governmental Google+ pages is only 55 followers.
Twitter's Periscope platform for live broadcasts has seen a marked increase over the past 12 months and the number of governments with an active Periscope channel has doubled over the past year and there are 157 Periscope channels representing 43 percent of all UN governments, half of which have broadcasted live over the past 12 months.
Thirty-seven percent of governments have a LinkedIn presence, although only a quarter is actively posting on the platform. And finally, Snapchat is now used by 30 world leaders, representing 11 percent of all UN governments.

Most-Followed World Leaders
Since the departure of former U.S. President Barack Obama, who was the uncontested political leader of the digital world, Pope Francis (@Pontifex) has become the most followed world leader with more than 33.7 million followers on his nine language accounts. His official accounts dispense daily thoughts and prayers in 140 characters in Arabic, English, French, German, Italian, Latin, Polish, Portuguese and Spanish.
U.S. President Donald Trump (@realDonaldTrump) is the second-most followed world leader, with 30.1 million followers on his personal Twitter account. He more than tripled the number of his followers during the election campaign in 2016. Since taking office on January 20, 2017, his account continues to grow at a rate of 5.7 percent per month. The third-most followed world leader is Indian Prime Minister @NarendraModi who has 30 million followers on his personal account and 18 million followers on his institutional account, @PMOIndia, which is in fourth place.
The official @POTUS Twitter account of the U.S. President and the @WhiteHouse accounts occupy the fifth and sixth rankings  with 17.7 and 14.4 million followers, respectively. Turkey's President Recep Tayyip Erdoğan (@RT_Erdogan) has more than 10 million followers and India's Foreign Minister @SushmaSwaraj, Sheikh Mohammed, the Vice President and Prime Minister of the United Arab Emirates @HHShkMohd and Indonesian President @Jokowi complete the Top 10 list of the most followed leaders with more than seven million followers each.
The Obama-Trump Transition
The transfer of the official White House social media accounts on January 20, 2017 to the new administration was prepared in minute detail and superbly executed. The Obama @POTUS account, including its 352 posts, was renamed and archived @POTUS44, while all 14 million followers were copied to the new @POTUS account, allowing Donald Trump to start with a clean slate, while retaining all followers accrued under the previous administration.
The same procedure was applied to the @WhiteHouse, @VP, @FLOTUS and other social media accounts of the administration of the 44th U.S. President which were archived as @ObamaWhiteHouse, @VP44 and @FLOTUS44. Interestingly, all old and new administration accounts have seen an increase in followers since the transition.
Since leaving office, Barack Obama has become the elder statesman with the biggest social media footprint, reaching 166 million followers, fans and subscribers on Facebook, Instagram, YouTube and Google+. On Twitter alone the @BarackObama account, which he used effectively for his election campaigns in 2008 and 2012 but which was never managed by the U.S. administration, now has 88.4 million followers, making him the third-most followed person on Twitter after @KatyPerry and @JustinBieber.
Barack Obama will be remembered as the first digital president, who used social media for his government communications  effectively,  and he can be credited with putting the @WhiteHouse on social media and setting up administration accounts for the First Lady (@FLOTUS), the Vice President (@VP) and the President of the United States (@POTUS) which will be handed over to each new office holder, much like the @Pontifex account, which was set up under Pope Benedict XVI and is now managed by Pope Francis.
Canada's Prime Minister Justin Trudeau has likewise set up personal-institutional accounts for his office in English (@CanadianPM) and in French (@PMCanadien). Canada's Foreign Minister Chrystia Freeland has the @MinCanadaFA and @MinCanadaAE accounts which were set by her predecessor Stéphane Dion, but both are now inactive. The Nigerian President tweets via @NGRPresident and the Prime Ministers of Bhutan, East Timor, Greece, Nepal, Papua New Guinea, Turkey all have set up personal-institutional accounts which are destined to grow with each new office holder if the transition is managed well.
Twitter Handover
Over the past decade many institutional Twitter accounts have changed hands as new leaders come to power. When Theresa May became UK Prime Minister in June 2016, she inherited the @Number10gov account and changed the profile picture from David Cameron's headshot to the door of N°10 Downing Street which had graced the account when it was set up under Gordon Brown. The account still retains all tweets sent under the three successive Prime Ministers – a good thing as it avoids broken links also known as social media decay.
However, not all government handovers go as smoothly and sometimes, when governments change, the institutional social media accounts also change. When former South Korean President Park Geun-hye was impeached in December 2016, the Twitter account of the @BlueHouseKorea, which boasts more than 318,000 followers, and the Facebook page with 549,000 followers, went offline. The Twitter account has since been reactivated including its followers but it is still dormant.
Former Argentinian President Christina Kirchner famously decided not to hand over the login details of the official presidential @CasaRosadaAR account to her successor. She simply kept the account and its 324,000 followers when she left office in December 2015. The new government under Maurico Macri had to set up a new @CasaRosada account from scratch which now has 519,000 followers.
The Portuguese Presidency Twitter account, with the beautifully short name @Presidencia, was created in 2008 and had 87,000 followers in 2015, was taken offline by Portugal's new President Marcelo Rebelo de Sousa, who is not a fan of social media. When the French government changed on April 1, 2014, the @Matignon Twitter account was abandoned and a new @GouvernementFR account was established to post official government news.
Some 114, or 13 percent, of the 856 Twitter accounts analyzed in our study are currently dormant. The account of the Egyptian Presidency (@EgyPresidency) has been silent since Mohamed Morsi was ousted at the beginning of July 2013 and all its previous tweets have been deleted.
In Costa Rica, Honduras and Panama, new institutional accounts have been created for their respective foreign ministries, as their previous owners did not pass on login details of the accounts which have now been abandoned.
Most-Followed Regional Leaders
In Latin America, Mexico's President Enrique Peña Nieto @EPN has 6.3 million followers, far ahead of Colombia's President @JuanManSantos, Argentina's @MauricioMacri, and Venezuela's @NicolasMaduro, each with well over 3 million followers.
Kenya's Uhuru Kenyatta @UKenyatta is Sub-Saharan Africa's most followed leader with 2 million followers, ahead of Rwanda's @PaulKagame and Nigerian President Muhammadu Buhari (@MBuhari) with more than 1 million followers each.
The UK Prime Minister @Number10gov is the most followed EU leader, with more than 5.1 million followers, ahead of the British @RoyalFamily and France's @Elysee Palace, with 2.9 and 1.5 million followers, respectively. Newly elected French President @EmmanuelMacron has shot into fifth place behind Spanish Prime Minister @MarianoRajoy with more than one million followers each.
Sheikh Mohammed, the Vice President and Prime Minister of the United Arab Emirates @HHShkMohd is the most followed Arab leader with 7.9 million followers ahead of Jordan's @QueenRania and @KingSalman with 6 million followers each.
@QueenRania is the second-most followed female world leader after India's Foreign Minister, @SushmaSwaraj, who is also the most followed foreign minister, with 8 million followers. Abdullah Bin Zayed, @ABZayed, the Foreign Minister of the United Arab Emirates, is the second-most followed foreign minister with 3.9 million followers, followed by Saudi Arabia's Foreign Minister @AdelAljubeir with 1.3 million followers.
Among the foreign ministries, the U.S. State Department (@StateDept) is the most followed, with 4.3 million followers, ahead of the Turkish Foreign Ministry (@TC_Disisleri), the @IndianDiplomacy and the Russian foreign ministry (@MID_RF) with 1.2 million followers respectively. The Saudi Arabian (@KSAMOFA) foreign ministries completes the top five list with more than 1 million followers.
Does Size Really Matter?
Over the past 12 months, most Twitter accounts have witnessed robust growth in followers. The Prime Minister of Iraq, Haider Al-Abadi, Norwegian Foreign Minister Børge Brende, U.S. President Donald Trump and UK Foreign Minister Boris Johnson have seen their follower number more than triple over the past year and 27 accounts have seen their follower numbers double year-on-year.
Obviously, leaders of the most populous countries where Twitter penetration is growing have a clear advantage in garnering a large army of dedicated followers. The number of followers of a country's leader has, in some cases, become a question of national pride.
The 10 most followed world leaders have one thing in common: They have discovered Twitter as a powerful one-way broadcasting tool. In general, they are only following a handful of other world leaders (if any) and they are not very conversational, which is almost impossible given the sheer size of their audience.
Who is the Most Influential World Leader on Twitter?
Large Twitter accounts clearly translate into large interactions (the total of likes and retweets). Over the past 12 months the @realDonaldTrump has achieved 166 million interactions, almost five times as many as Indian Prime Minister Narendra Modi, with 35 million interactions, and 12 times as many as the Turkish President and Pope Francis. His overall interaction rate (the sum of all interactions divided by the number of tweets and the average number of followers) is 0.34 percent, on par with Pope Francis.
Honduran President Juan Orlando Hernández, who has garnered six million interactions on his 1,752 tweets over the past 12 months, enjoys one of the best interaction rates of almost two percent. However, King Salman of Saudi Arabia has an interaction rate of more than four percent on the ten tweets he sent over the past 12 months.
Since the number of retweets is the measure of effectiveness, Saudi Arabia's @KingSalman is the most effective world leader on social media, considering that each of his tweets has received an average of 147,456 retweets. He posts exclusively in Arabic and without any visuals, but every tweet is a digital home run.
The personal Twitter account of President Trump @realDonaldTrump is the second-most effective Twitter account of any world leader, considering that he receives an average of 13,000 retweets per tweet. His @POTUS account is in fourth place with almost 6,000 average retweets per tweet, behind the Spanish and English Papal accounts with more than 10,000 average retweets per tweet. Jordan's King @KingAbdullahII also places in the top 10 with 2,800 average retweets on his 23 tweets since setting up his personal account on March 26, 2017.
Making Twitter Great Again
The political discussions on Twitter is credited by Twitter executives with helping the platform add 9 million new users in the first quarter of 2017.
Especially Donald Trump's tweets resonate well with his supporters as he uses simple but powerful language. His most retweeted tweet, written in capital letters, was sent on election night 8 November 2016. The tweet "Today we make America great again" had more than 900,000 retweets and likes.
The U.S. President uses his personal Twitter handle, @realDonaldTrump, as his preferred channel for executive communications and global policy statements, rather than the official @POTUS account set up under Barack Obama for the President of the United States. On the day of his inauguration he asked the audience at the Freedom Ball: "Should I keep the Twitter going or not? Keep it going? I think so." President Trump continued to explain that he sees Twitter as "a way of bypassing dishonest media."
The U.S President is among a very select group of world leaders who manage their own Twitter account. Other leaders who tweet themselves include European Council President @DonaldTusk, Denmark's Prime Minister @LarsLoekke Rasmussen and Foreign Minister @AndersSamuelsen, Latvia's Foreign Minister @EdgarsRinkevics and Norway's Prime Minister @Erna_Solberg who admitted to suffering from dyslexia and makes the occasional spelling mistake.
Just days before the U.S. elections, European Council President Donald Tusk famously tweeted advice from his wife: "One Donald is more than enough!" capturing the mood of concern surrounding the then U.S. presidential candidate.
How to Engage with @realDonaldTrump on Twitter?
The key questions foreign governments are asking is whether they should follow the personal account of the U.S. President and how they should they engage with @realDonaldTrump on Twitter. Many world leaders have tweeted the customary congratulatory tweet when he took office on January 20, 2017. The @realDonaldTrump account is now followed by 137 world leaders, up from 97 at the end of January, while 226 world leaders follow the official @POTUS account.
The frequent use of Twitter by the U.S. President presents unprecedented challenges to traditional diplomacy, and only a handful of world leaders have engaged directly with Donald Trump on Twitter. In one of her first radio interviews, new Swiss President Doris Leuthard explained that she was "worried" about the use of Twitter by President Trump: "It is a bit unexpected and we will see if he calms down," she said. Former German Foreign Minister and now President Frank Walter Steinmeier acknowledged that: "Every President needs to develop and coin their own style," adding: "I can't imagine that tweets will be the way to go in the long run."
The diplomatic community has been stunned by the Presidential tweets and does not react directly to rebuke him, not wanting to pick a Twitter fight with the most powerful world leader. The UK Foreign Office stayed mum when President-elect Donald Trump tweeted that former UKIP leader Nigel Farage "would do a great job" as the UK ambassador to the United States. While a spokesperson for Number 10 was quick to explain that "There is no vacancy. We already have an excellent ambassador to the U.S." neither the Foreign Office nor the UK government reacted publicly on Twitter in an apparent attempt to downplay the diplomatic incident.
The Canadian government decided not to reply directly to Donald Trump's tweet claiming that "Canada has made business for our dairy farmers in Wisconsin and other border states very difficult. We will not stand for this. Watch!" However, Prime Minister Justin Trudeau picked up the phone the following day to discuss bilateral trade issues with President Trump and Foreign Minister Chrystia Freeland went on Bloomberg TV to address the looming trade war.
Pope Francis's two most popular tweets are clear references to Donald Trump's policies without mentioning the U.S. President: "How often in the Bible the Lord asks us to welcome migrants and foreigners, reminding us that we too are foreigners!" he tweeted on February 18, 2017 and "I invite you not to build walls but bridges, to conquer evil with good, offence with forgiveness, to live in peace with everyone", posted on March 18, 2017.
Only a handful of world leaders have directly addressed @realDonaldTrump on Twitter. On May 1, 2017, Hilda Heine, the President of the Marshall Islands, pleaded with President Trump not to abandon the Paris agreement on fighting climate change: "From one President to another, staying in #ParisAgreement is best way to create jobs grow economy. US has most to gain" she tweeted, as the U.S. President declared May 2017 as Asian American and Pacific Islander Heritage Month.
The governor of Puerto Rico replied on Twitter to Trump's tweet stating that "Democrats are trying to bail out insurance companies from disastrous #ObamaCare, and Puerto Rico with your tax dollars. Sad!" Ricardo Rosselló hit back: "The American citizens of Puerto Rico deserve to be treated fairly. Health and civil rights are not partisan issues.
On the day President Trump issued the travel ban for citizens from a number of Middle East countries, Canadian Prime Minister @JustinTrudeau tweeted the exact opposite message: "To those fleeing persecution, terror war, Canadians will welcome you, regardless of your faith. Diversity is our strength #WelcomeToCanada." This not so subtle sub-tweet has become the most popular tweet of any world leader over the past 12 months with 1.2 million likes and retweets.
Mexican President Enrique Peña Nieto, who is the 12th most followed world leader on Twitter with more than 6.3 million followers on his @EPN account, is so far the only foreign leader who has replied directly to one of Donald Trump's tweets.
After a meeting with the candidate Donald Trump in September 2016, @EPN bluntly replied to Donald Trump's tweet that "Mexico will pay for the wall!," explaining, in Spanish, that "Mexico would never pay for a wall," a Twitter spat which has attracted more than 48,000 retweets.
After Donald Trump signed the executive order to build the border wall, the Mexican President posted a video reply on Twitter reiterating: "I've said time and again; Mexico won't pay for any wall. I regret and condemn the decision of the United States to continue construction of a wall that, for years, has divided us instead of uniting us." He added that "Mexico doesn't believe in walls." When President Trump replied in a tweet that: "If Mexico is unwilling to pay for the badly needed wall, then it would be better to cancel the upcoming meeting," Peña Nieto promptly cancelled the meeting in a tweet.
And Swedish Deputy Prime Minister Isabella Lövin tweaked President Trump by posting a picture signing a climate bill surrounded by her female staffers, a subtle reference to the pictures from the White House showing U.S. President surrounded by an all-male staff when signing an executive order barring U.S. federal funding for foreign NGOs that support abortion.
Amplifying the Government's Message
Governments or world leaders without many followers find it more and more difficult to get their messages heard. Some governments, therefore, encourage their diplomatic missions to amplify the tweets of the foreign minister or the foreign ministry.
Tagging up to 10 Twitter users in a picture is an easy way to drive engagement and get the message across. The Russian Foreign ministry consistently tags its relevant embassies and other influential Twitter users in its pictures, and the French government tags its ministers. The people tagged in a picture will receive a notification, ensuring that the tweet is seen, and possibly retweeted, by the relevant stakeholders.
In 2016 Twitter introduced Twitter Moments, an easy way to create a collection of tweets and give them a second life. So far, 67 governments and foreign ministries have created such Moments which work very well on mobile devices and are a great way to recycle and highlight memorable events such as state visits.
The social media team of Indonesia's Presidential account (@KSPgoid) has created 48 such collections, highlighted on its Twitter profile. The Armenian Foreign Ministry (@MFAofArmenia) publishes a weekly moment with the Twitter highlights of Armenian diplomacy and has compiled 24 collections. The French Foreign Ministry collated the congratulatory tweets from world leaders after the election of President Emmanuel Macron in a Moment and the UK Foreign Office memorialized the Brexit signing in four tweets. Canada's Prime Minister Justin Trudeau posted the Twitter highlights of 2016 and the UK @RoyalFamily collected the Royal Twitter Moments from 2016.
The governments of Japan and Monaco both have paid Twitter ads to promote their respective accounts and boost their follower numbers. The French government has used paid Twitter promotion to amplify its campaign against racism by promoting the hashtag #TousUnisContreLaHaine (Everyone Against Hate) on the platform.
A few governments are rumored to have used click farms and bots to improve the Twitter ranking of their leaders, or to generate massive retweeting of a post, however we did not find any evidence of unorthodox activities in our study.
On the @Twiplomacy Twitter account we often use direct messages to alert journalists and world leaders about our latest studies, sending one direct message to up to 5,000 accounts following us. We also do receive the occasional private message from government officials such as this one from the Foreign Ministry of New Zealand inquiring about our upcoming Twiplomacy study. Other have sent us private messages, sharing tweets for amplification or alerting us about new accounts to include.
The Israeli Foreign Ministry has mastered the art of identifying influencers and spreading its messages to a global audience. The Foreign Ministry in Jerusalem regularly identifies key influencers and it frequently asks members of the Israeli diaspora to amplify specific tweets via direct message campaigns.
The #IsraelRetweetedMe campaign, launched in May 2016, is a case in point. Here, Twitter users are asked to show Israel some love on Twitter and the best tweets will be rewarded with a collective retweet from the 153 official Israeli diplomatic accounts, reaching a global audience of more than 1 million followers. More than 990 Twitter users, sympathetic to Israel, signed up to participate in the collective amplification campaign on the platform.
Creating Mutual Connections
Building alliances is key to spreading a government's message and to winning global hearts and minds. Quite a few foreign ministries use the platform to establish mutual Twiplomatic relations.
It comes as no surprise that the EU External Action Service (@EU_eeas) is the best-connected foreign office, mutually following 128 foreign ministries and world leaders. The Russian Foreign Ministry continues to make a conscious effort to connect with peers on its English-language account @MFA_Russia and is in second place with 127 mutual connections with peers. The German Foreign Office has moved into third position among the best connected Foreign Ministries with 116 mutual connections, just ahead of the UK Foreign Office which boasts 115 mutual connections. The Foreign Ministries of Norway, Iceland, Lithuania, Israel, the Netherlands and France have also made mutual connections their priority and complete the Top 10 list. The existence of mutual connections on Twitter is a good indicator of the diplomatic relations between two countries or the personal relations between their leaders.
While the Twitter accounts of the @WhiteHouse and @POTUS are the two most popular among their peers, followed by 272 and 226 world leaders respectively, they are giving all other world leaders the cold shoulder. The Trump @WhiteHouse is mutually following the @Cabinet, @POTUS, and @realDonaldTrump accounts, but the account is no longer following Russian Prime Minister @MedvedevRussiaE, and the UK's @Number10gov accounts as the @ObamaWhiteHouse did.
The U.S. State Department used Twitter to re-establish ties with its Cuban counterpart on May 26, 2015 and the Cuban Foreign Ministry reciprocated several hours later, two months before the official re-establishment of diplomatic relations. The State Department is unilaterally following 10 other world leaders including Iran's President @HassanRouhani and Foreign Minister @JZarif, in an attempt to establish relations between the United States and Iran on Twitter. The State Department enjoys mutual Twitter relations with 50 other leaders, mainly foreign ministries, and it is unilaterally followed by 185 other world leaders including the Russian Foreign Ministry, but it has no mutual Twitter relations with the Russian Foreign Ministry.
Being mutually connected on Twitter is not only a courteous gesture, but also allows these leaders to direct message each other and to have private conversations on Twitter, a feature which can also be turned on by default. A number of foreign offices have used this channel to reach out to peers and other influencers to set the record straight, or to coordinate their digital campaigns.
Twitter allows especially smaller countries to make valuable connections with their peers. The Foreign Ministry of Peru (@CancilleriaPeru) and the Croatian government (@VladaRH) have made a conscious effort to establish mutual connections on Twitter, unilaterally following respectively 461 and 420 other world leaders. The Swedish Foreign Ministry (@SweMFA) unilaterally follows 266 world leaders in the hopes of tweeting eye-to-eye with other world leaders.
Creating a Virtual Diplomatic Network
"We need an army of diplomats using new digital tools in an authentic, engaging and purposeful way," wrote former UK Ambassador Tom Fletcher in the Future FCO Report, lamenting that 'only' 105 British heads of missions and 12 deputy heads of mission are active on Twitter. "More senior diplomatic staff at Post should build their social media profiles," he added.
The UK @ForeignOffice has probably the largest 'twiplomatic' network and it maintains a public Twitter list with a record of 394 embassies, ambassadors and deputy heads of mission on Twitter. The State Department is in second position with 284 official accounts of the State Department and its missions abroad. The Russian Foreign Ministry lists 246 embassies, consulates and trade missions on its Twitter list and the Swedish Foreign Ministry counts 190 missions on its Twitter list.
Only 53 accounts have created such public Twitter lists, which is time consuming, but helps promote other relevant accounts such as diplomatic missions and other government accounts. The foreign ministries of Austria, Canada, France, India, Israel, Poland, Spain and Ukraine each list more than 100 diplomats and missions on Twitter and most foreign ministries have expanded their digital diplomatic network over the past few years. However, not all countries encourage their ambassadors to tweet; Russian and Swiss ambassadors for example have been advised not to engage personally on the platform.
Since 2014, Canada's Department of Foreign Affairs put most of its embassies and missions on Twitter with the added complication that all missions must have separate accounts in English, French and sometimes also in the local language.
According to the Twitter lists on @Twiplomacy, more than 4,100 embassies and 1,100 ambassadors are now active on Twitter. In Brussels, Geneva, London, New York and Washington, foreign diplomatic missions can no longer ignore the diplomatic activity in the Twittersphere. Even the Chinese missions to Canada, the EU, Turkey, and the UN in New York, and Geneva are now actively tweeting.
@USEmbassyManila is the most followed mission on Twitter with 708,515 followers, ahead of Russia's mission to NATO (@NATOmission_RU) and the U.S. Embassy in China (@USA_China_Talk) with 657,509 and 651,762 followers, respectively. @NikkiHaley, the US ambassador to the UN and former Governor of South Carolina, is the most followed diplomat with 338,640 followers. All 5,306 embassies and ambassadors combined, have 26.1 million followers and the median average of each ambassador and mission is 1,299 followers.
The United Nations (@UN) is followed by 2,153 ambassadors and missions, ahead of @TheEconomist and our own @Twiplomacy account, followed by 1,649 and 1,532 ambassadors and missions, respectively.
Who else do World Leaders Follow?
Burson-Marsteller's researchers also looked at the accounts most followed by world leaders and found that the United Nations Twitter account, @UN, is the most popular, followed by 338 of the 856 world leaders' Twitter accounts, ahead of @BarackObama and the @ObamaWhiteHouse which are followed by 312 and 254 world leaders respectively. @UNICEF is the second-most followed international organization and The New York Times (@NYTimes) is the news organization most followed by world leaders.
Our own @Twiplomacy account, which boasts 50,000 followers, made it into seventh position of non-governmental accounts, followed by 184 world leaders behind former U.S Secretary of State @JohnKerry and ahead of @Reuters and @TheEconomist.
This chart clearly illustrates that the number of followers is not as important as the quality of these followers, whether one has an account with millions or just several thousand followers.
Visual Communications on Twitter
The analysis of the 946,000 tweets sent by world leaders since January 1, 2016 shows that Twitter is first and foremost a text-based social network. Three quarters of all tweets are simply text tweets including link tweets which automatically display the visual from the linked website.
Less than a quarter of the tweets reviewed included a picture attached natively which generally boosts the chances of a retweet by 35 percent, according to Twitter's own analysis. And only 1.3 percent of the tweets captured included a Twitter native video.
According to CrowdTangle, which captures only original tweets without retweets, tweets with native video garner 2,044 average interactions (likes retweets) compared to only 329 interactions for links to videos on other platforms such as YouTube or Vimeo. Tweets containing links to other website receive an average of 371 interactions and tweets containing a picture are liked and shared 619 times on average. However, simple text updates still garner the most engagement with 2,696 average interaction per post.
Since Twitter now allows users to post 140-second long videos, governments are slowly posting more videos natively to Twitter. Those governments which have access to Twitter's Amplify platform can post even longer videos on the platform.
Twitter's Periscope app, used for live broadcasts, has seen a major uptake over the past 12 months by government leaders. While 207 world leaders have secured their live channel, only 118 have gone live on the platform and the broadcasts no longer disappear after 24 hours. Colombia's President @JuanManSantos was the first head of state to use Twitter's livestreaming application Periscope at the 7th Summit of the Americas in Panama in April 2015.
Turkey's President Recep Tayyip Erdoğan has received 5.4 million likes for his 53 live broadcasts and the 37 broadcasts on his presidential channel have garnered 1.7 million likes. President Trump has close to 400,000 followers on Periscope and his only live broadcast from an election rally in Pennsylvania, the day before the elections in November 2016, received 1.2 million likes. The Russian Foreign Ministry 'scopes' the weekly press briefing of spokeswoman Maria Zakharova as well as the press conferences of Foreign Minister Sergei Lavrov and its 99 broadcasts have garnered close to half a million likes. Periscope is a cost-effective way to stream press conferences and quite a number of Latin American leaders such as the President of Venezuela, the Presidency of Paraguay, the Presidency of Bolivia and Guatemala, as well as the government of Pakistan, are avid users of the platform. While many governments will stream their weekly press conference on the platform, no world leader has done a live QA session on the platform yet.
On International Women's Day 2017, the Swedish Foreign Ministry organized the first digital video summit of female foreign ministers streamed live on YouTube, Facebook and Periscope simultaneously. The broadcast hosted and moderated by Foreign Minister Margot Wallström was a live discussion between the foreign ministers of Kenya, Luxemburg, and Panama.
A number of world leaders have use animated gifs to lighten up their tweets in a fun and playful way. Gifs are a great way to bring static pictures to life and several governments have stitched together photos of bilateral meetings to create short silent video animations as gifs. Others used gifs to animate infographics and charts.
On International Peace Day in September 2016 the European Commission used a gif to underscore how the EU has ensured 70 years of peace on the continent and the UK Cabinet Office stitched together a gif of the 12 Prime Ministers who served during Queen Elizabeth II's reign. Indian Prime Minister Narendra Modi created a gif to promote his mobile app.
The German Foreign Office used gifs to celebrate Germany's goals during the Euro 2016 football championships and occasionally attaches Twitter's pre-loaded gifs in reply to comments from followers. Iceland's Foreign Minister Guðlaugur Þór Þórðarson sent a Jimmy Fallon high five gif in reply to another member of parliament.
Gifs have largely replaced six-second Vine videos, which were Twitter's first video product, a platform which was shuttered at the end of 2016. While 43 world leaders had set up Vine accounts, very few governments had mastered the art of editing looping six-second videos. The French Elysée Palace and the German Foreign Office, who were among the most creative users of Vine, still feature their dormant Vine channels and the million Vine loops on their Twitter profiles. Read all about World Leaders on Vine here.
Hashtag Diplomacy
This word cloud illustrates the most used hashtags by world leaders. #EU, #UNGA, #Rio2016, #Turkey, #Ukraine and #Brexit are up at the top of the most talked about international topics.
Rwandan President Paul #Kagame and #Rwanda feature prominently as they are consistently mentioned on his government's Twitter accounts. India's #PresidentMukherjee, Polish Foreign Minister Witold #Waszczykowski, German Chancellor Angela #Merkel, and former German Foreign Minister and now President Frank Walter #Steinmeier are also among the 250 most used hashtags. Lacking personal Twitter profiles, their respective governments consistently mention them using hashtags.
The hashtags which have generated the highest volume of retweets, thanks mainly to the social media footprint of President Trump, are #MakeAmericaGreatAgain and #MAGA for short with a combined total of more than 2 million retweets. These are followed by the hashtags #DrainTheSwamp and #AmericaFirst, which have generated 881,407 and 762,023 retweets, respectively. The hashtag #WelcometoCanada initiated by Canadian Prime Minister Justin Trudeau has been retweeted 622,694 times.
This world cloud shows us the most mentioned world leaders. Venezuela's President @NicolasMaduro is the most mentioned Twitter account, often quoted in tweets by his very active presidential accounts. The EU Foreign Policy chief Federica Mogherini (@FedericaMog), Ecuador's former President Rafael Correa (@MashiRafael), Puerto Rico's Governor @RicardoRossello, Polish Prime Minister @BeataSzydlo, Chile's President Michelle Bachelet (@MBachelet) and former French President François Hollande (@FHollande) are also prominent in this world cloud of the 250 most mentioned accounts by world leaders over the past 12 months.
Are World Leaders Conversational on Twitter?
Twitter allows citizens direct access to their leaders. Anyone can @mention a world leader on Twitter. Whether the world leader answers, however, is another matter, although a select few do reply to their followers' @mentions.
The Dutch government is the most conversational on its @Rijksoverheid account, answering citizens' questions about policies, laws and regulations Monday to Friday between 8:00 a.m. and 8:00 p.m. More than 95 percent of their tweets are @replies to other Twitter users. The government of Nepal is in second position with the "Hello Government" account, consistently answering questions from users.
Quite a few African leaders seem to use Twitter solely to converse with their followers. Rwanda's President @PaulKagame is the most conversational world leader with 79 percent of his tweets being @replies to other Twitter users. @PaulKagame sometimes gets into memorable Twitter exchanges with his critics, even sometimes chats publicly with his children. Paul Kagame's personal Twitter engagement shows that, even if you have 1.6 million Twitter followers, you can still be on top of the conversation and personally reply to comments on your Twitter feed.
Rwanda's Prime Minister Anastase Murekezi is in fifth position, occasionally holding Twitter chats with the hashtag #TalkToPMRwanda and half of the 2,219 tweets of Rwanda's Foreign Minister Louise Mushikiwabo are also direct replies to questions from followers.
Two thirds of the tweets from Norway's Prime Minister Erna Solberg are replies to her followers and German Foreign Minister makes it into the top 10 with almost half of his tweets being @replies to other Twitter users.
A number of world leaders occasionally sit down for Twitter chats, answering selected questions sent by their followers. Austria's Foreign Minister @SebastianKurz did a Twitter chat on the sidelines of the UN General Assembly in September 2014; the hashtag for the chat was #KurzGefragt which literally means "Quick Question."
The Foreign Ministry of New Zealand is the only government institution which has integrated Twitter's business features, adding its opening hours on its Twitter profile. The account is 'most responsive' between 10:00 a.m. and 5:00 p.m. (Auckland time) which is nighttime in Europe.
The @MFATgovNZ account, which was activated in June 2016, accepts direct messages from any Twitter user, sporting a 'Message' button on its profile. Since activating the feature in November 2016, the foreign ministry has received 20 direct messages, which shows that opening direct messages to anyone is a smart and effective way to interact with Twitter users.
In 2015 Indian Prime Minister Narendra Modi sent a Direct Message to his then 12.5 million followers celebrating one year in government. Today selected accounts can still send him direct messages and are greeted by this welcome message.
The Foreign Ministry of the Dominican Republic (@MIREXRD) is the only institution which has added its telephone number to its Twitter bio, which is a more traditional way to open its doors to two-way conversations with its citizens.
Both foreign ministries are also proudly flying their colors in their Twitter name. Since we suggested the addition of the flag emojis in the name or the Twitter bio, 67 accounts are now sporting their national flags adding a touch of color to their Twitter profiles including the UK Foreign Office, the Brazilian, French and Russian foreign ministries.
Most Listed World Leaders
Another sign of Twitter popularity is the number of times an account appears on a Twitter list. This is one statistic that is hard to fake and early Twitter adopters are the clear favorites. @realDonaldTrump is the most listed world leader, appearing on 68,886 Twitter lists. In comparison, his predecessor @BarackObama appears on 223,125 Twitter lists. Russia's Prime Minister @MedvedevRussia is in second position, on 44,436 lists, followed by the disaster readiness account of the Japanese government @Kantei_Saigai. Pope Francis @Pontifex, the UK Prime Minister @Number10gov, Indian Prime Minister @NarendraModi and Jordan's @QueenRania are featured on more than 20,000 Twitter lists. The @POTUS account has remained in the top 10 of the most listed accounts, while the new @WhiteHouse account has dropped out of the top listed accounts.
Only 117 accounts of governments and foreign ministries have created public Twitter lists, very useful tools to catalogue other government ministries and agencies or diplomatic missions abroad and those accredited in their respective country.
The Colombian Presidency has created a record 44 lists including list of government agencies, municipalities, athletes, journalists and selected international summits. The European Council media department (@EUCouncilPress) maintains 27 lists, often for specific council meetings and events, to be able better to follow online discussions of participants. The Australian Foreign Office (@dfat) maintains 21 Twitter lists, and the Russian Foreign Ministry has 23 lists on the @MID_RF account and 20 on the @MFA_Russia account.
Only 117 have subscribed to a Twitter list, which is a very convenient way to follow specific Twitter activity on these accounts. Colombian President Juan Manuel Santos has subscribed to a record 52 lists. Greece's Foreign Minister Nikos Kotzias is following 31 lists and the Italian Foreign Minister Angelino Alfano has subscribed to 21 lists.
Quite a number of world leader accounts have subscribed to one of the 50 public Twitter lists on the @Twiplomacy Twitter account, including the full list of heads of state and government and a list of foreign ministers and their institutional accounts as well as a list with all diplomatic missions and a list with the heads of missions worldwide.
Most Active Twitter Accounts
As of May 22, 2017, all world leaders combined have sent a total of 5,204,579 tweets since their account creation. Latin American governments are by far among the most active on Twitter. The Mexican government (@GobMx) is the most prolific government account, posting 123 tweets each day on average. The government often repeats its tweets several times over several days to capture different audiences at different times and has posted more than 127,000 tweets in total since inception.
Venezuela's Foreign Ministry (@vencancilleria) is the second-most active, with an average of 95 tweets per day and has posted more than 97,000 tweets in total since the account's creation. Venezuela's President @NicolasMaduro is equally prolific on his Spanish account with 82 tweets per day, 97 percent of which are retweets from other accounts. His English, French and Portuguese accounts also made it into the top 10 of the most active accounts. The governments of Puerto Rico, El Salvador and the Presidencies of El Salvador, Panama, Indonesia and the Dominican Republic are averaging more than 40 tweets per day. These governments use Twitter as their automated governmental newsfeed, although their hyperactivity does not translate into more engagement.
It is interesting to note that Twitter, which until recently did not allow users to tweet the same tweet, now allows the retweet of one's own tweets once, which is practical to capture different audiences at different times of day with the same message.
Who Tweeted First?
Barack Obama was the first world leader to set up a Twitter account on March 5, 2007 as user #813,286 when he was still Senator of Illinois. The @Japan account was also registered in March 2007 but the government in Tokyo only took ownership of the handle in March 2015. The Mexican President Enrique Peña Nieto (@EPN) and the U.S. State Department (@StateDept) are among the early adopters having signed up to the micro-blogging service a decade ago. Most world leaders followed suit between 2009 and 2014.
The latest to have joined the Twitterverse in May 2017 is French Prime Minister Edouard Philippe who set up his @EPhilippe_LH account which was renamed to @EPhilippePM on May 18. Jordan's @KingAbdullahII signed up in March 2017 and Australian Prime Minister, Malcolm Turnbull created an institutional account for the Office of the Prime Minister @thePMO.
Thirty accounts are inactive and have never sent a single tweet, and seven are protected accounts and 114 are dormant for more than a year. More than half of the accounts (453 accounts out of 856) have been officially verified by Twitter, giving them a blue star of appreciation on their Twitter profiles.
Dormant Accounts
Quite a few politicians use social media – Twitter in particular – only during election campaigns. The personal Twitter account of South African President Jacob Zuma @SAPresident has been dormant since 2013 and his 425,000 followers are still waiting for their next tweet.
Other leaders such as Indonesian President Joko Widodo (@Jokowi), Chile's President Michelle Bachelet (@PrensaMichelle), and former President François Hollande (@FHollande) also suspended their Twitter activity for a period of time, but then reactivated their accounts as the next election campaign approached.
About this Study
Twiplomacy is the pre-eminent global study of world leaders on social media, conducted by leading strategic communications and global public relations firm Burson-Marsteller.
Burson-Marsteller identified 856 Twitter accounts of heads of state and government, foreign ministers, and their institutions in 178 countries worldwide. The study analyzes each leader's Twitter profiles, tweet history and their connections with each other.
Data was collected on May 22, 2017 using Burson-Marsteller's proprietary Burson Tools to analyze the 731,880 possible Twitter connections between world leaders. Other variables considered included: tweets, following, followers, the date the user joined Twitter, tweets/day, retweets, percent of retweets, @replies, percent of @replies, tweets retweeted, average number of tweets retweeted.
We also used Crowdtangle.com to capture the historic data for all accounts including the total interactions (likes and retweets), interaction rates as well as all video views and posts over the past 12 months.
Burson-Marsteller looked at each account to see if it has a header picture, if the account is dormant, active or protected and if the world leader tweets personally. We checked the language the account tweets and checked for the presence of Twitter lists.
The full Twiplomacy data set can be downloaded here.
Matthias Lüfkens
@Twiplomacy
Geneva, May 31, 2017
Please follow and like us: