Evolution of Public Diplomacy One Mutation at a Time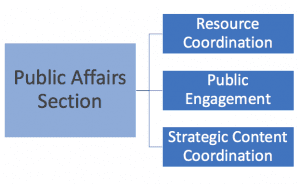 Joe B. Johnson, Public Diplomacy Council, April 15, 2019; JB note: More recent articles pertaining to Public Diplomacy can be found on the Public Diplomacy Council blog
Last week offered two glimpses of U.S. public diplomacy's [JB emphasis] gradual evolution.The State Department received confirmation that a merger between two of its three public diplomacy bureaus will move ahead. International Information Programs and the Public Affairs bureau will become the Bureau of Global Public Affairs.A less visible but deeper change went public Thursday, courtesy of the Advisory Commission on Public Diplomacy. The congressionally mandated body called leaders from the Office of the Under Secretary for Public Diplomacy and Public Affairs to discuss the "modernization of public diplomacy."Chairman Sim Farar, Commissioner Anne Terman Wedner and about 100 audience members heard four staffers from the office – called "Ripper" after its acronym R/PPR — describe three initiatives that may be transformat..
Copy and paste this URL into your WordPress site to embed
Copy and paste this code into your site to embed