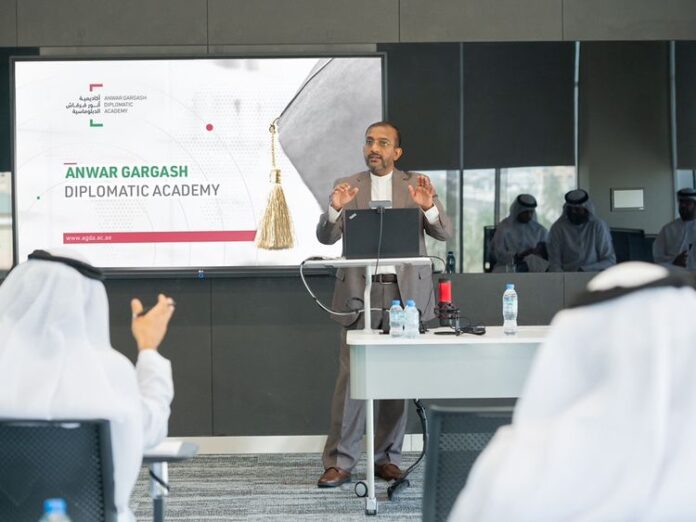 Warning
: Undefined array key "chkIconSize" in
/www/webvol29/96/dr3o8os9p35egxy/bidd.org.rs/public_html/wp-content/plugins/customize-external-links-and-add-icon/customize-external-links.php
on line
301
Anwar Gargash Diplomatic Academy held course in partnership with foreign affairs ministry
---
---
Abu Dhabi: The Anwar Gargash Diplomatic Academy (AGDA) in Abu Dhabi has successfully concluded the second 'Summer Academy Programme' in partnership with the Ministry of Foreign Affairs and International Cooperation (MoFAIC).
The academy welcomed 55 Emirati diplomats that joined the programme from May 23 to 26, both virtually and at its campus. The programme was exclusively designed for diplomats and was organised by the Academic Department. The participants took part in sessions taught by AGDA's faculty members, as well as experts working in the field of 21st century diplomacy and foreign affairs.
The programme offered participants with a platform to discuss a variety of topics relevant to modern diplomacy, with experts and academics. The programme covered topics including Lessons Learnt from Expo 2020; China-Middle East Strategic Partnership; Negotiations; Space Diplomacy; Peacekeeping, Humanitarian Assistance and Disaster Relief; Russia-Ukraine Crisis and the Changing Global Order, as well as Geoeconomics.
Diplomats were also taken through theoretical and practical-based sessions in the fields of diplomacy and international relations, and discussed environmental challenges, during interactive sessions titled 'Environmental Diplomacy and Road to COP 28'.
Dr Abdul Nasser Alshaali, Assistant Minister of Economic and Trade Affairs, and Head of Human Resources Diplomatic Committee at MoFAIC, said: "We are proud to continue our key partnership with AGDA and launch the second Summer Academy Programme that provides our world-class diplomats and elite ambassadors with insight, extensive knowledge and skills that are crucial for modern diplomacy, particularly during testing times, geopolitical shifts and global fluctuations."
https://gulfnews.com/uae/55-uae-nationals-complete-21st-century-diplomacy-course-1.88243520