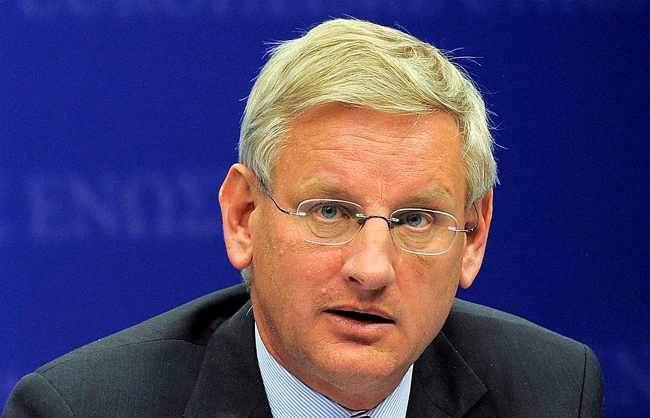 Warning
: Undefined array key "chkIconSize" in
/www/webvol29/96/dr3o8os9p35egxy/bidd.org.rs/public_html/wp-content/plugins/customize-external-links-and-add-icon/customize-external-links.php
on line
301
From Wikipedia, the free encyclopedia
Nils Daniel Carl Bildt, Kon:sGM12 m kedja (born 15 July 1949) is a Swedish politician and diplomat who served as Prime Minister of Sweden from 1991 to 1994. He was the leader of the liberal conservative Moderate Party from 1986 to 1999 and has served as Sweden's Minister for Foreign Affairs since 6 October 2006.
Bildt has also been noted internationally as a mediator in the Balkan conflict , serving as the European Union 's Special Envoy to the Former Yugoslavia from June 1995, co-chairman of the Dayton Peace Conference in November 1995 and High Representative for Bosnia and Herzegovina from December 1995 to June 1997, immediately after the Bosnian War . From 1999 to 2001, he served as the United Nations Secretary-General 's Special Envoy for the Balkans .
Background
Bildt was born on 15 July 1949 in Halmstad , Halland , to an old Norwegian –Danish -Swedish noble family traditionally domiciled in Bohus county . The family's most prominent lineage comes from Norway, where at least three of Bildt's ancestors have been in a leadership position comparable with a modern prime minister. In the 16th century, Nils Henriksson av Østråt (Gyldenløve ) served as Lord High Steward of Norway and Vincents Vincentson Lunge served as Viceroy of the Kingdom of Norway. In the 17th century, Jens Ovesonn Bjelke served as Lord High Chancellor of Norway, and was descended from King Haakon V of Norway through his daughter Agnes Hakonardottir, Dame of Borgarsyssel .[clarification needed] His great-great-grandfather, Baron Gillis Bildt , served as Prime Minister a century earlier and as a diplomat and a Marshal of the Realm of Sweden (riksmarskalk). His great-grandfather, General Knut Bildt, was chief of the Swedish General Staff . His great-grandfather's brother, Carl Bildt, served in the Ministry of Foreign Affairs as Cabinet – Secretary (Swedish : kabinettssekreterare), the under secretary of state of foreign affairs, and was a renowned diplomat and member of the Swedish Academy . Bildt's grandfather Nils Bildt was a colonel and chief of the Halland Regiment . Colonel Bildt and his family were neighbours to the Palme family. Bildt's father Daniel Bildt (1920–2010) was a former major in the reserves of the now defunct Halland Regiment and a former bureau director in the now defunct Civil Defense Board's Education Bureau. Daniel Bildt married Kerstin Andersson-Alwå in 1947.
Bildt's brother, Nils, was born in 1952. Bildt was married to Kerstin Zetterberg from 1974 to 1975, Mia Bohman (daughter of former Moderate party leader and Minister of Economy, Gösta Bohman ) from 1984 to 1997 and, since 1998, has been married to Anna Maria Corazza . Bildt has two children from his second marriage, Gunnel (born 1989) and Nils (born 1991). From his third marriage is Bildt's son Gustaf (born 2004).
Early career
Bildt attended Stockholm University but never graduated. In 1968, while studying at Stockholm University, Bildt opposed the occupation of the Student Union Building and co-founded the Borgerliga Studenter – Opposition '68 group. He served as chairman of the FMSF Confederation of Swedish Conservative and Liberal Students , a centre-right student organisation, in the early 1970s. Bildt displayed his commitment to the European Union project through joining the Young European Federalists and later becoming vice president of the Swedish section. In 2012, he stated, through his Twitter account, "I still believe that we must continue building federation of nation states. Necessary evolution to meet new challenges."[1]
When the non-socialist formed government in 1976, Bildt served as the Moderate Party coordinator as close collaborator of the party leader and Minister of Economy Gösta Bohman. Bildt became a Member of Parliament in 1979, although he instead served as State Secretary for Policy Coordination in the reformed non-socialist government after that election. As an MP in the early eighties, he became noted as an incisive and combative debater on foreign affairs, and found himself pitted against prime minister Olof Palme . Bildt was elected leader of the Moderate Party in 1986, succeeding Ulf Adelsohn . In 1991, the Social Democrats were defeated by a four-party coalition led by Bildt's Moderate Party.
Prime Minister
On 4 October 1991, Bildt became the first conservative prime minister in 52 years. His government policies focused on liberalizing and reforming the Swedish economy and making Sweden a member of the European Union. It initiated negotiations for Sweden's accession to the European Union, though the work to prepare the ground, at home and versus the EEC/EU, had already started during the final year of the Social Democratic government. The Social Democrats' volte face on possible accession to the EEC was most likely a prerequisite for the positive referendum result. Bildt signed the accession treaty at the European Union summit of Corfu , Greece, on 23 June 1994.
Economic reforms were enacted, including voucher schools , liberalizing markets for telecommunications and energy, privatizing publicly owned companies and health care, contributing to liberalizing the Swedish economy. Arguably, the subsequent budget cut-backs agreement with the Social Democrats and the continued spending cuts by the Social Democratic government following 1994 did more to reform the Swedish economy and the Swedish model than Bildt's government's program. The government's effectiveness was hampered by in-fighting, most memorably over the construction of the Oresund Bridge .
The period was marked by a severe economic crisis.[2] In November 1992, the crisis reached its climax when Sweden left the European Exchange Rate Mechanism (the "and let the Krona float, after having defended the fixed exchange rate at tremendous cost. In some people's opinion, single-minded defense of the Krona led to and continues to draw heavy criticism. Emergency cut-backs were negotiated with the Social Democrats during the crisis. The measures helped reduce the public deficit in 1994 and 1995, and allegedly revived growth in subsequent years. There is debate on whether the economic growth of 2006 were due to the devaluation of the Krona. Some see the increased importance of the export industry as testament to this.[citation needed]
Although Bildt's Moderate Party scored a slight gain in the 1994 election, the Social Democrats gained slightly more ground, enough to unseat him after only one term. Bildt served as leader of the opposition until 1999, when he was succeeded as party leader by Bo Lundgren .
Balkan conflict
After his term as prime minister, Bildt was active as a mediator in the Balkans conflict, serving as the European Union Special Envoy to Former Yugoslavia from June 1995, co-chairman of the Dayton Peace Conference in November 1995, and High Representative for Bosnia and Herzegovina from December 1995 to June 1997 immediately after the Bosnian War . From 1999 to 2001, he served as the United Nations Secretary General's Special Envoy for the Balkans.
Bildt has been considered persona non-grata in several countries for remarks he has made against various governments. These remarks included one made in Croatia , where he "lost the credibility necessary for the role of a peace mediator" by suggesting that the former President of Croatia, Franjo Tuđman , was as guilty of war crimes as the Krajina Serb leader Milan Martić .[3] [4] He was considered unwelcome in Russia after comparing their handling of the 2008 South Ossetia War to Nazi Germany under Hitler , and he was prevented from visiting Sri Lanka .[3] [4] [5]
During Operation Flash and Operation Storm in Croatia, he demanded that the UN and NATO launch military operations against the Croatian army .[citation needed]
Minister for Foreign Affairs
On 6 October 2006, Bildt was appointed as Minister of Foreign Affairs in the newly formed cabinet of Fredrik Reinfeldt . This was seen by many as a surprising move. Not only had Bildt already served both as prime minister and as leader of the Moderate Party, but he and Reinfeldt had previously not gotten along very well.[6] He retained this post following the 2010 general election .
Controversies and criticisms
Opposition parties, politicians and journalists have questioned Carl Bildt's suitability as Sweden's Foreign Minister for his private stance on international issues and his private affairs as a businessman with interest in Russian gas giant Gazprom and Lundin Petroleum , an oil company with activities in war-torn Sudan .[7] [8]
Lundin Oil operations in Sudan
Carl Bildt joined the board of directors of Lundin Oil AB in 2000[citation needed], after serious concerns had surfaced that the oil industry was exacerbating the war in Sudan. Lundin Oil was the lead operator of a consortium that worked in the area that had become the center stage of Sudan's civil war. Despite the allegations were backed by successive UN Special Rapporteurs [2] and a Canadian Government investigation [3] , Bildt won the public controversy in Sweden, allowing Lundin Oil to pursue its activities in Sudan. In June 2010, the European Coalition on Oil in Sudan published the report 'Unpaid Debt' , arguing why Lundin may have been complicit in war crimes and crimes against humanity. The company has denied any wrongdoing, but after studying the report, the Swedish public prosecutor opened a criminal investigation. Following the decision by the public prosecutor, Members of Parliament in Sweden requested Bildt to step down, however, he refused. Human Rights Watch has in their report placed blame for the activities in Block 5A in Sudan on Lundin Oil saying that "no war-related displacement at all took place there until 1998", the year when Lundin Oil established themselves in Sudan.[9]
Personal interests
After leaving his position as leader of the Moderate Party in 1999, other than engaging in international issues, Bildt took positions in the private sector and positions with international think tanks . His positions in think tanks included serving as the first non-US member on the Board of Trustees of the RAND Corporation in Santa Monica , and on the Advisory Board of the Centre for European Reform in London. He was a member of the board of the European Policy Centre in Brussels , the International Institute for Strategic Studies in London, and the International Advisory Board of the Council on Foreign Affairs in New York.
Bildt served as non-executive director of the Baltimore-based US assets management company Legg Mason, Inc. He served as chairman of the board of Teleopti and chairman of the public affairs consultancy Kreab AB, and board member of the IT consultancy HiQ AB. He was chairman of Nordic Venture Network, which brought Nordic high-tech VC firms together in an informal network. In 2002, Bildt joined the board of directors of Vostok Nafta , a financial company primarily with holdings in Gazprom . Bildt was a member of the board of independent oil company Lundin Petroleum . He left his positions on the boards upon becoming Foreign Minister in October 2006.[citation needed]
Bildt has been criticized for the potential conflict of interest due to his previous position in Vostok Nafta, although he could not divest his stock options until the first two weeks of December 2006. The conflict of interest has the potential to affect Sweden's relations with other European Union countries and Russia, since many EU countries are dependent on Russian oil and gas for their energy needs.[10] [11] On 20 October 2006, Ulf Holm , a member of parliament for the Green Party, reported the Foreign Minister to the Riksdag Constitutional Committee to determine whether Bildt's private economic affairs might represent a conflict of interest. Carl Söderbergh, Secretary General for the Swedish section of Amnesty International , has criticized Bildt since Human Rights issues are within the portfolio of the Minister for Foreign Affairs.[12] The criticism of Bildt for his interests subsided after he announced his intentions of divesting himself of all financial ties with the company. The work by the Constitutional Committee of the Parliament could not find any grounds for questioning the activities of Bildt in these regards. It was revealed that Swedish state pension funds (Swedish : AP-fonderna) had invested over one billion Swedish krona (140 million US$ or 75 million GBP ) in Vostok Nafta.[13]
Bosnian war mediator criticisms
Carl Bildt has been criticized for his role as mediator in the Bosnian war . While prime minister, he was accused of indifference to the ethnic cleansing and genocide committed by the Bosnian Serb forces against Muslim and Croat civilians.[14] [15] Bildt opposed any military intervention and criticized the former British prime minister Margaret Thatcher in 1993 for calling NATO to intervene against the Bosnian Serb forces, which led to the Sunday Times describing Bildt and other EU leaders as "robotic political pygmies" and their acceptance of the ongoing genocide as "shameful".[15]
Following Bildt's appointment as the EU special envoy to Yugoslavia, Tom Warrick from the Coalition for International Justice described Bildt as "dangerously misinformed about his own job description" and largely ignorant about the region.[14] [16] The New York Times criticized Bildt for a nonchalant attitude towards the Srebrenica massacre when over 8,000 Bosniaks were killed,[14] and described him as being burdened with a reputation for accepting Bosnian Serb claims of good behavior at face value and overlooking evidence of atrocities against civilians.[17] International governments criticized Bildt for being ineffective and too closely affiliated with the Serbs in Bosnia and Serbia .[18] British historian Marko Attila Hoare accused Bildt of downplaying the number of victims killed in the Srebrenica massacre and ignoring Serbian war crimes.[19] Bildt was criticized for not mentioning the Srebrenica massacre during a lunch meeting on 15 July 1995 in Belgrade with the Serbian President Slobodan Milošević and the commander of the Bosnian Serb Army , Ratko Mladić , despite having received reports about the ongoing massacre.[20]
Following the early release of convicted war criminal Biljana Plavšić from Swedish prison in 2009, Bildt was reported to Sweden's Committee on the Constitution for being disqualified to take part in such a decision. Bildt was accused of being personally involved in the case and being personally close to Plavšić.[21] [22] Bildt testified at Plavšićs trial in 2002 at the Hague praising her, calling her post-war actions "brave" and "courageous".[23]
Other controversies
Bildt has been questioned for his role as a member of the International Advisory Council of the Committee for the Liberation of Iraq , a group with ties to the Bush administration pushing for an invasion of Iraq in 2003 .[24] [25]
On 8 April 2008, during his visit in Israel and Palestinian Authority , Bildt gave an interview to Swedish state radio, where he responded to a question on whether it would be possible to strike a peace deal without the involvement of the Palestinian group Hamas , which remained under international boycott. He responded that the Palestinian Fatah -backed government could deal with Israel, in the same way that it was possible for the Israeli government to make peace with Fatah over the objections of the former Israeli prime minister Benjamin Netanyahu , who, similarly to Hamas opposed a two-state deal. Israeli officials issued very strongly worded condemnations of this, describing it as "horrible and stupid" and an example of "chutzpah" and "complete ignorance of the Middle East", on the grounds that they saw it as comparing Hamas and Netanyahu as equals.[26]
After the 2008 South Ossetia war , Bildt wrote on his blog that the Russian rationale for its intervention, concern for the welfare of its expatriates in the Near Abroad , had similarities with the rationale for the annexation of Sudetenland . The Russian reaction was strong, and the Russian Foreign Ministry announced that Bildt was no longer considered welcome in Moscow.[27] Bildt called South Ossetian independence "a joke", and said it would be supported only by a "miserable" lot of countries.[28]
It was revealed following the organization WikiLeaks release of classified diplomatic documents that US diplomats considered Bildt as "stubborn", "arrogant" and to have "limited political skills".[29] Bildt was described as thinking he has more power and influence than he really has and a "medium size dog with big dog attitude".[30] The US president George W. Bush was advised before a meeting to "play on Bildt's desire to operate at a high level" and to pretend to be impressed by his previous international assignments.[31] Other US diplomats and politicians were also advised to play on Bildt's self-image to "keep him on a good mood".[30]
There have been reports that Wikileaks has documents proving Carl Bildt is a US spy, with various sources claiming Wikileaks is attempting blackmail.[32]
In August 2012, Bildt accused his Ecuadoran counterpart of living in a "fantasy world" for granting political asylum to Wikileaks founder Julian Assange .[33]
Internet activities
Bildt was an early pioneer among politicians of using the Internet for communicating. On 4 February 1994, he sent an email message to US president Bill Clinton , which was the first publicly known electronic message sent between two heads of government . In the message he praised Clinton's decision to end the trade embargo on Vietnam .[34]
In the same year, he also started a weekly electronic newsletter which was active until 2005. He is an active blogger, starting his first blog in February 2005. His current blog, started in January 2007, is one of the most widely read political blogs in Sweden.
On 30 May 2007, he officially opened a "Swedish embassy" in the virtual world Second Life .[35] The embassy, called "Second House of Sweden", is a virtual replica of House of Sweden , the Swedish embassy building in Washington, D.C. .
During Bildt's time as Foreign Minister, the Ministry of Foreign Affairs has opened a channel on YouTube which has been active since early 2008.
Bildt maintains a personal Twitter feed in English with approximately 250,000 subscribed followers.
Human rights advocacy
Carl Bildt is involved with the Institute for Information on the Crimes of Communism , where he is an honorary member and contributor to its publications.[36]
Honors
Bildt has an honorary doctorate from the University of St Andrews .
Bildt is a member of the Club of Madrid ,[38] an independent non-profit organization composed of 87 democratic former presidents and Prime Ministers from 57 different countries.
References
External links
| | |
| --- | --- |
| | Wikimedia Commons has media related to Carl Bildt . |