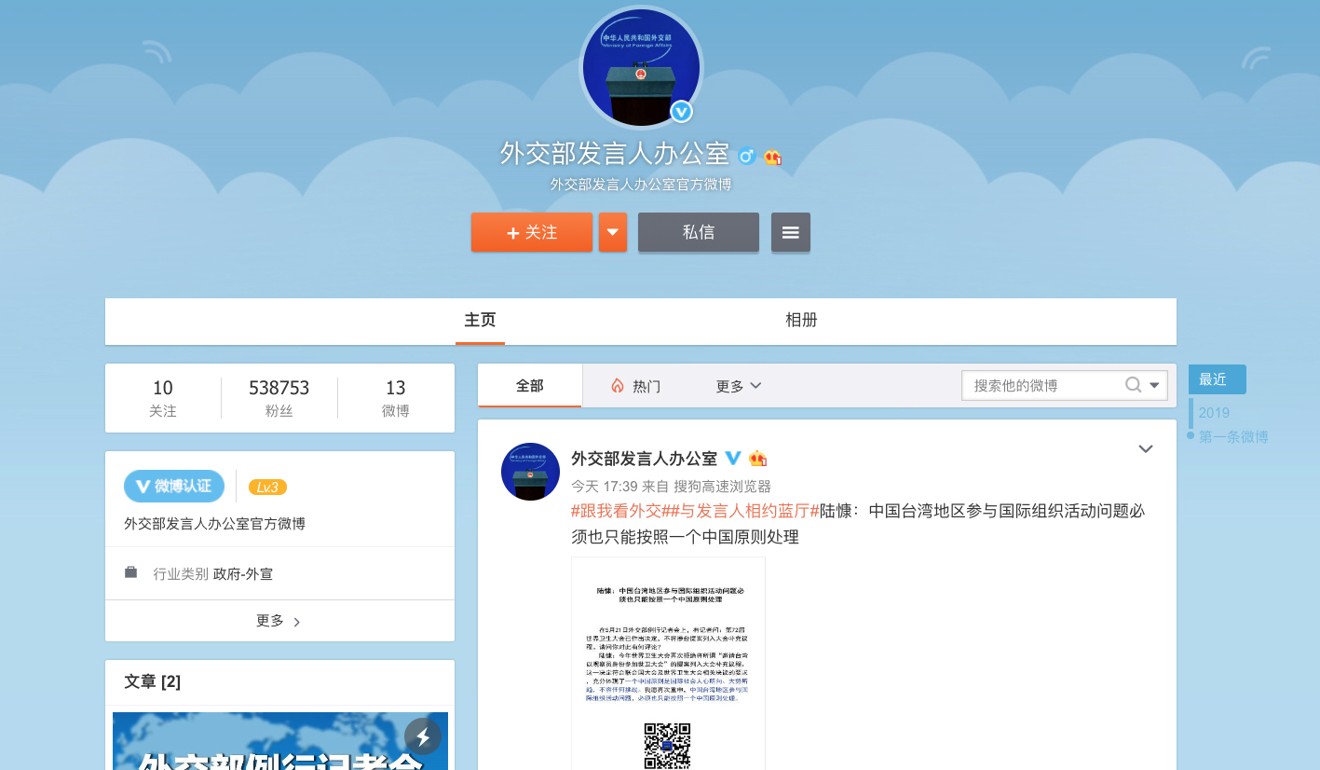 The official voice of China's foreign ministry has made its debut on Weibo, one of the country's biggest social media platforms, as it tries to better connect with younger Chinese, 10 years after the microblogging site first began operations.
The effort to use social media to promote the government's official line comes amid the escalating confrontation with the United States and was described by one observer as a sign of a bureaucracy that was belatedly "waking up" to social media.
Without the singular rhetoric of US President Donald Trump's early morning tweets, foreign ministry spokesman Lu Kang announced the official opening of the ministry's Weibo account in a 10-second video clip posted on Monday afternoon.
By late Tuesday, the post had received 7.9 million clicks and the account had gained around 530,000 followers.
Many of the most enthusiastic responses came from other official accounts, including ones from state broadcaster CCTV and the Communist Party mouthpiece People's Daily.
"You're here, you're here – you're finally here!" the official media outlet for the People's Liberation Army commented, adding a starry eyed emoji. The foreign ministry spokesperson's account replied with a heart emoji, saying: "Yes, yes, I am here."
Although Chinese social media is tightly controlled, it has still provided a platform for young people to speak on social issues such as women's, gay and labour rights.
Now officials are trying to overhaul their use of social media to better connect with tech-savvy millennials and keep a lid on public discontent as economic growth slows.
The new foreign ministry Weibo account was created a decade after the site, China's equivalent of Twitter, launched in 2009.
Until now its only presence on the platform came from its public affairs office, which confined itself to listing official engagements with foreign governments and officials.
Last year the ministry opened an account on WeChat, the country's most popular social media and messaging platform, which it uses to share news from the ministry.
In a social media post on Tuesday, P eople's Daily commented that the foreign ministry would use the new account to explain China's positions on major world events.
"Their response will sometimes be aggressive or humorous, but always well-founded, powerful and moderated – neither haughty nor humble in the manner befitting a major power," it said.
For several years Twitter, which is blocked in China, has been used by many foreign governments and politicians – most notably Trump – as one of the primary platforms for spreading their message.
Kerry Brown, director of the Lau China Institute at King's College London, said Weibo had been around for nearly a decade, and the foreign ministry's new account reflected "a bureaucracy that is waking up quite a long time after it really should have".
He added: "Of course, it's really, really important … to communicate Chinese foreign policy more and more to the domestic audience.
"So I suppose that this is a sign that they are not only keen to tell the Chinese story to the world, but they realise that they have got to tell the Chinese story within China too – sometimes those can be quite different stories."
China's most popular app is a propaganda tool teaching Xi Jinping Thought
Steve Tsang, from the School of Oriental and African Studies in London, said recent diplomatic setbacks – including "muted criticism of the Xinjiang human rights abuses", the US trade war and an international backlash against Huawei – "have probably finally brought home the need to shape public opinion on foreign policy matters more proactively".
"Opening up a Weibo account now is more a sign of discomfort, if not weakness, rather than of confidence and strength," Tsang said.
Last December a statement from China's cabinet, the State Council, said the government aimed to establish a coordinated new media system that would streamline the release of official information, spread the voice of the party and government, and strengthen the interaction between the government and the people.
At the time it said 178,700 accounts had already been set up by Chinese government branches or their affiliated offices.
This article appeared in the South China Morning Post print edition as: Foreign ministry 'finally' gets on Weibo
https://www.scmp.com/news/china/diplomacy/article/3011200/chinas-foreign-ministry-finally-starts-using-weibo-promote-its