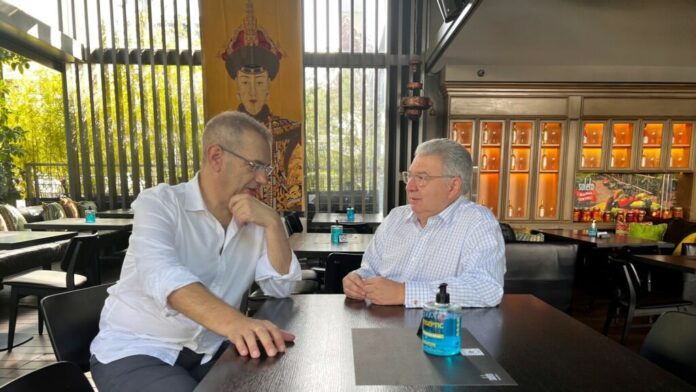 "Greek Diaspora are prized as cultural capital, they provide critical soft power and are crucial in public diplomacy," says John Chrysoulakis, the Secretary General for Hellenism Abroad and Public Diplomacy.1
Greece's "multifaceted policy" supports political, economic, parliamentary, cultural, religious, and educational diplomacy the secretary general says. We met in an airy seaside café in the seaside suburb of Glyfada. It is possibly one of the few times he has respite.
"I have so many events, it's a pleasure to be able to talk to you," he has to be somewhere else soon.
Chrysoulakis believes that Greek communities abroad play a vital role and the Greek state "wants to activate global Hellenism."
Greece is creating Diaspora networks, and members of the Diaspora are important players in the global economy he says then highlights the "political, economic, and cultural capital" the Greek Diaspora provide Greece.
Building Diaspora networks
Asked why after decades of discussion Greece has still not wholly harnessed, what he calls the "power of the Diaspora" as Israel has, a nation like Greece – in terms of origin, size, regional location, and Diaspora – Chrysoulakis says the Greek government is "drawing on the know-how of Israel in organizing the journey."  He adds, "We have begun in earnest."
"Israel has a globally recognised practice of using the Diaspora to promote a country's image and goals," he continues.
"The approach of constructing Diaspora networks requires long-term planning across many spheres of activity and Greece along with Cyprus is now working with Israel in building capacity by harnessing the global Hellenic Diaspora."
A "memorandum of tripartite cooperation between Greece, Cyprus, and Israel in Diaspora matters" has been ratified by the president of Israel, Isaac Herzog when he was the President of the Jewish Agency for Israel (JAFI).
Chrysoulakis says the 21st Century requires the "successful use of Diaspora and the development of systematic creation of networks."
"Among Diaspora networks, new political, economic, social, and cultural capital is created, and we can coordinate our national interests, and support nation branding."
The secretary general accentuates the work Greece is doing such as, hosting expatriate scientists, researchers, and academics, "to establish channels of communication and bridges of cooperation" within them, and with Greece.
The First World Interdisciplinary Medical Conference in Thessaloniki in August at the Aristotle University had scientists from Australia like leading virologist, Professor Vasso Apostolopoulos from Victoria University and Professor Magdalena Simonis the General Practitioner, and primary care researcher with the University of Melbourne.
Chrysoulakis is brandishes his contacts with young Greek Diaspora that began with students in Perth, "from that we created the Global Communication Network of Young Greek Diaspora."
He also commend the "work of Greek diaspora associations and communities" who he believes are "tradition bearers and custodians of Hellenic cultural heritage."
"These are informal bodies of cultural diplomacy and act as the heart, presence, and voice of Greece across the world."
The secretary general mentions also the "cooperation with expatriate parliamentarians and elected local government officials from all over the world."
"Our cooperation with the World Inter-Parliamentary Union of Hellenism, in close cooperation with the Greek government and the Hellenic Parliament, promotes the cultural and democratic values of Hellenism and assists in diplomatic pursuits of Greece."
Diaspora residency and passports
Many Greek Australians still find the process of obtaining Greek passports frustrating due to red tape and Chrysoulakis is in "constant pursuit of the issue".
"According to Greek legislation, citizenship is a right, which exists from birth for the children of Greek citizens," Chrysoulakis says.
The right to Greek citizenship can be established from a parent who had the right to acquire Greek citizenship, even if he never exercised it.
He wants to streamline processes and focuses on the "the digital transformation of the consular services."
Since January 2022, Greek consular authorities can register all requests from abroad in a Register of Citizens.
"Digitisation has cut down the registration time, it bypasses the need to register with municipal authorities through the Special Registry Office in Athens, it reduces bureaucracy and modernizes operations across all consular authorities," Chrysoulakis says.
He endorses the online government service MyConsulLive which allows one to make appointments and interact via video call with the consular authorities and Greek citizens abroad.
The services include applying for a certificate of permanent resident abroad, certificate of marital status, birth, residence, extract of notarial act, declaration of pension beneficiary, and applications reports.
The service through gov.gr under Citizen and Everyday Life and sub-section Remote Service for Citizens allows one to identify a client through the government's Taxisnet codes which confirm their details, and during a video call identity can be "established by showing a public document like an identity card, or passport."
The Virtual Digital Assistant assists applications to link all digital information and service platforms of the Ministry of Foreign Affairs, and "provides access to all the information and requests submitted to the consular authorities as well as guidance on how to process them."
"The aim is to reduce the need for physical presence in embassies, general consulates, and consulates thus save time, and money."
The secretary general also talks up reforms by his New Democracy government which provide voting rights to Greek citizens abroad.
"The government honoured its commitment, and we are now implementing a constitutional mandate, that for years remained unimplemented, to allow expatriates to vote."
Legislation passed in December 2019 "gave expatriates the right to vote for the first time in history from their place of residence."
In the past, Greek citizens abroad could vote in Greek elections only from their local Greek jurisdiction – city, town, or village.
"It is our desire for all Greek citizens abroad to vote, and I express the certainty that this will happen soon."
Double taxation
Diaspora who want to live in, and/or invest in Greece often raise the issue of double taxation, where income generated in Australia is taxed again in Greece.
Chrysoulakis recognises the issue as "a serious concern for expatriates in Australia, and for Australian entrepreneurs who wish to live or invest in Greece."
This is also an issue for "Greek companies or investors wishing to do business in Australia," Chrysoulakis says and adds that the double taxation convention between Greece and Australia "is currently being negotiated."
"The solution is to prevent taxpayers from having to pay twice for the same income, facilitating business cooperation and eliminating tax barriers between of the two countries," Chrysoulakis says.
There has been correspondence between the two countries "at the highest level, including letters between the [Greek and Australian] prime ministers, expressing a commitment to conclude the convention".
The secretary general underlines that "Greece has concluded double taxation agreements with 57 countries, which have boosted trade and secured greater foreign investment".
"The completion of negotiations with Australia, our partner in the OECD, is a high priority."
Greek language schools in Australia
Greek language schools in Australia need more materials, and more Greek language teachers. Since the financial crisis some ten years ago Greece has provided less than it did pre-crisis.
"The Greek language is the unbreakable cord with Greece and is a key issue for the preservation of Greek identity in Diaspora Hellenism, and we attach enormous importance to it," Chrysoulakis is emphatic.
His secretariat, through the Ministry of Foreign Affairs, has implemented "a number of actions for the promotion of Greek language education in collaborations with many academic and community organisations."
"The creation of the digital platform Staellinika.com, is a tool for learning Greek and is the outcome of collaboration with the Stavros Niarchos Foundation, which financed the initiative, and the Center for Greek Studies of the Stavros Niarchos Foundation at Simon Fraser University, in Vancouver, Canada."
The application is accessible on tablets and smartphones, and for Android and IOS operating systems.
"Parents, teachers, and students can take advantage of new lesson modules on Greek language and culture, which are aimed at students of different age groups."
Registered pupils and students, Chrysoulakis across 157 countries have "exceeded 38,000 subscriptions and two million visitors."
Chrysoulakis is keen on exchange programs such as the Youth Greek Centres summer learning programs, as well as collaborations with universities. He reels off a range of programs like scholarships, competitions on Greek culture, language, and history, and conferences in aid of Greek.
"Look at our programs for young Diaspora, such as the collaboration with the Greek Community of Melbourne… we hosted 40 young people from Australia, they were immersed in Greek language, history and culture.
"They acquired new knowledge about the birthplace of their Indigenous ancestors and improved their Greek."
The General Secretariat's "support and promotion of Greece as a destination for university studies, with a range of programs in education, research, and innovation" is equally important for him.
John Chrysoulakis' portfolio crosses over key departments – economy, diplomacy, education, science innovation and politics –  as he pursues a multi-departmental approach to the Diaspora project .
A challenge for him, (as for others in the past), might be to convince all parliamentary colleagues, including the opposition, and Greeks in Greece, of the political, economic and cultural value of the global Greek Diaspora.
https://neoskosmos.com/en/2022/09/27/news/australia/chrysoulakis-greek-diaspora-provide-critical-soft-power-and-are-crucial-in-public-diplomacy/