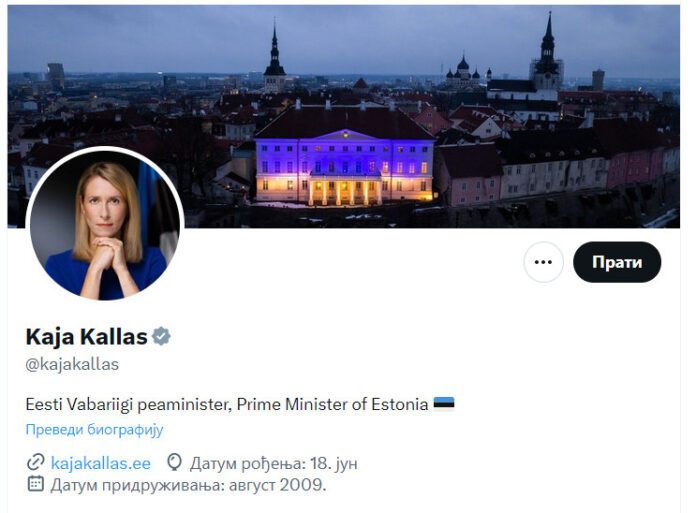 Mada je premijerka Kaja Kalas (Reforma) možda upletena u aktuelni skandal vezan za prošle poslovne aktivnosti njenog supruga, ona se i dalje ističe na pozitivan način zbog svoje sposobnosti da koristi onlajn komunikacije, društvene medije i posebno Tviter, primećuje novinarka Hanes Rum u komadu za nedeljnik Maaleht.
Estonski novinar koji radi u Švedskoj jednom je primetio inverznu proporcionalnost između spoljnopolitičke sposobnosti švedskog premijera i njegovog domaćeg učinka, poređenja radi, tvrdi Rum, koji se danas može primeniti na Kaju Kalas – čija spoljnopolitička dostignuća mogu biti na drugom mestu, odmah iza onih Marta Laara, premijera od 1992. do 1994. i ponovo od 1999. do 2002. godine,  ali čije su domaće nedaće delimično bile njegova propast.
Jedna stvar koju Laar nije imao dok je bio premijer bio je Tviter, ili X kao što je sada poznato, i prateća "Tviplomacy", odnosno diplomatija preko tog kanala na društvenim mrežama – i do koje mere osoba obraća pažnju na društvene medije, njihovo prisustvo tamo, i koliko je to prisustvo i prateća slika efikasna.
Kvalitativno govoreći, autentičnost je ključna u "Tviplomaciji" Rum, navodeći kao dobre primere to što su američki predsednik Džo Bajden i ukrajinski Volodimir Zelenski.
Takođe je korisna sposobnost da se razgovara sa narodom – o tome je dokazano tvitom koji je poslala bivša SAD. Prva dama i predsednička kandidatkinja Hilari Klinton u iscrpljivanju tadašnje premijerke Finske Sane Marin da "nastavi da pleše", u vreme kada se ova druga suočavala sa pritiskom kod kuće zbog percepcije javnosti o komparativno događajnom društvenom životu.
U međuvremenu, uspešna digitalna diplomatija Kaje Kalas svodi se na činjenicu da prvo, često ima nešto važno da kaže, a drugo, ume da izrazi svoje misli na način koji privlači pažnju – o čemu dokazu i brojni veliki naslovi svetskih medija na čijim veb stranicama je od tada uvek prisutna, pa čak i ranije,  aktuelni rat je počeo.
To je smešta uz dva bivša predsednika Estonije, Kersti Kaljulaid i Tomasa Hendrika Ilvesa, kaže Ramm.
Pored toga, tvitovanje se prirodno može uraditi u bilo koje doba dana ili noći po praktično nikakvoj ceni – to liderima malih zemalja posebno pruža mogućnost kako da se oponašaju i da utiču na lidere većih nacija, tvrdi se u delu Maalehta.
Suprotno tome, šefovi država i Kine i Rusije nisu prošle godine napravili neke liste od 50 najuticajnijih ljudi širom sveta, uprkos veličini i budžetu država koje vode i verovatno delimično zbog sasvim drugačijeg prelama na PR i onlajn komunikacije.
U delu se takođe razmišlja o tome da li će se i u kojoj meri Kalasov naslednik, ko god to bio i kad god se pojavi, takođe poklopiti sa njenim nousom za digitalnu diplomatiju.