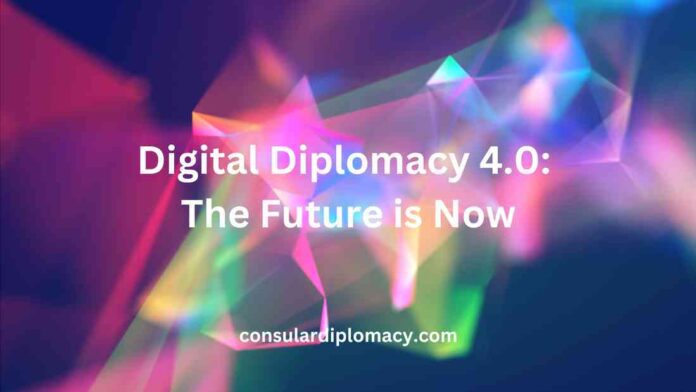 After participating in the Summit on Digital Diplomacy and Governance organized by DiploFoundation (see my blog post here), I realized that today's diplomats need to not only know about the current trends in technology and their impacts on diplomacy but also need to be able to actively participate in the discussions, such as the UN's Global Digital Compact. Therefore, in the coming months, I will work on a special project titled "Digital Diplomacy 4.0."The well-known digital diplomacy scholar Corneliu Bjola explains that we are now in the fourth iteration of digital diplomacy. The first occurred with the Arab Spring, showcasing social media's impact on the real world. The second wave happened in 2015 and 2016, with the appearance of the "dark side" of technology and its effects on the U.S. presidential election and the Brexit vote (Bjola, 2022).
The COVID-19 pandemic launched digital diplomacy 3.0, with the ubiquitous use of Zoom and other platforms that allowed continuous interactions among diplomats and other international actors when the world shut down (Bjola, 2022).
Prof. Bjola indicates that today digital diplomacy has moved forward to a new phase, what I call 4.0, due to the arrival of disruptive innovations such as Artificial Intelligence and the Metaverse (Bjola, 2022). As their predecessors, these new technologies will considerably impact the digital and real worlds. The idea is consistent with the Highlights from the Summit on Digital Diplomacy and Governance that took place in November 2022.
Since then, the arrival of ChatGPT has turned the world upside down. It is amazing the speed that things are happening. In the last months, there has been a tremendous number of events to discuss the impact of AI on everything. Here are some of them:
Diplomats worldwide cannot wait until these new technologies mature to embrace them, and they need to take the bull by the horns and start learning these disruptive inventions. The DiploFoundation is an excellent resource, and it is ahead of most capacity-building institutions that perfectly combine courses on technology and internet governance, and diplomacy.
Besides, governments need to work on their digital strategies, and the ministries of foreign affairs need to incorporate them into their foreign policy and diplomatic efforts. Some countries, like Switzerland, have already are working on them and in late 2020 presented its digital foreign policy strategy.
Here are some resources that I found extremely useful to start diving into the realm of digital diplomacy 4.0:
In the coming days, I will discuss Technology Diplomacy or TechPlomacy. Here is my previous blog post about the subject.
Reference:
Bjola, C. (2022). Stratcom-Talks, Episode 29 (podcast interview).
DISCLAIMER: All views expressed on this blog are that of the author and do not represent the opinions of any other authority, agency, organization, employer or company.
https://bityl.co/IUXR
https://www.bidd.org.rs/chatgpt-the-end-of-diplomacy-as-we-know-it/