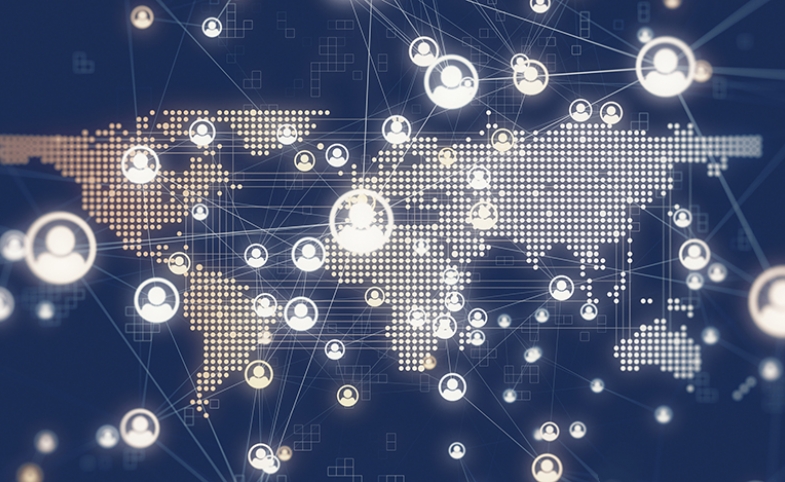 As the UK's ambassador to war-torn Yemen, Michael Aron is more accustomed to the
travel restrictions
and disruptions brought about by the
coronavirus crisis
than most.
With the capital Sanaa under the control of the rebel Houthi movement and the second city Aden still prone to in-fighting and instability, Aron's tenure has required flexibility – and more than a little patience – to ensure the UK's diplomatic channels with Yemen remain active.
Based in Jordan's capital, Amman, Aron recently experienced one of the toughest lockdowns enacted by any government in the world to deal with the coronavirus pandemic.
"My means of working have changed significantly due to the lockdown. Before, I travelled frequently across the region and to meetings in Europe, sometimes on my own, sometimes with colleagues… sometimes with ministers, joining them for official visits," Aron told The New Arab.
"Since the lockdown I have been based in Amman and have only been able to speak to contracts by phone – or better – by video conferencing tools like Zoom."

Digital diplomacy
Over the past two years, Aron has become a major proponent of digital diplomacy, inspired in part by finding ways around the logistical obstacles he has faced as ambassador to Yemen.
This new form of statesmanship requires the vigour and out-of-the box thinking more akin to the entrepreneurial spirit of Silicon Valley than the centuries-old
traditions of statecraft in Whitehall
.
"I take digital diplomacy to be the conduct of diplomacy using internet-based means," Aron told The New Arab.
"The use of social media has not significantly changed as a result of Covid-19 – instead of people shaking hands there are now photos of people sat in front of their computer screens."
The tools of digital diplomacy will be familiar to most who have seen their homes transformed to offices during the epidemic and commutes a short skip from the couch to the bedroom desk.
Zoom, WhatsApp, Skype – and during out of office hours, Houseparty – have become so
ingrained in daily habits
they will likely remain part of our lives once lockdowns are lifted.
Tech companies, such as Facebook, are allowing employees to work from home and other companies are seeing the advantages of more flexible working habits.
In diplomatic circles, some of the technology and habits adopted over the past two months during the crisis will seep into post-corona lives.
New ambassadors will probably no longer receive credentials from heads of state via online video once the lockdowns are lifted, but video conferencing will likely remain.
Given the importance of personal relationships, the inability to meet people in person is undoubtedly a disadvantage
– Michael Aron, UN ambassador to Yemen
"I think the new ways of working will to some extent continue after the lockdowns end. People are much more used to the idea of Zoom meetings because they are often more convenient, especially if they avoid people having to fly from one country to another," said Aron.

Tech revolution
Despite the revolutionary advantages that technology afforded to the ambassador, it will not replace the trust and intimacy built from face-to-face meetings and relationships over time.
"Given the importance of personal relationships, the inability to meet people in person is undoubtedly a disadvantage, and in particularly when it comes to interacting with people I haven't met before," Aron said.
"But whereas there were people I would meet relatively infrequently, when I visited the city they happened to be in at the time, I can now call them anytime and thereby keep in closer touch with them than before."
The ease of connecting politicians and ambassadors through digital means could also be a boon for peace efforts in Yemen, Aron said, something confirmed by the UN Envoy to Yemen's office in an email, saying plans are underway for "virtual world" negotiations.
Aron said previously having the ambassadors to Yemen of the five permanent UN Security Council member states meet the Houthi spokesperson Muhammad Abdesalaam in
Muscat
was almost impossible.
Through digital diplomacy, all five ambassadors recently held a video conference with the Houthi spokesperson from the comfort of their respective homes in Riyadh and Amman.
"One possible way we are thinking of using the current constraints to our advantage is to set up virtual ministerial meetings. For us, it was already impossible to get ministers into Yemen, we have only had one such meeting since the conflict began," said Aron.
"But we are planning a virtual meeting that would include meetings with the usual counterparts, but we are also looking at."

Peace building
Plans are underway for 
Doctors Without Borders
 (MSF) to introduce the Riyadh-based Yemeni foreign minister to doctors and patients at a Aden hospital via video call, Aron said.
A UNHCR representative will also be able to show the same minister around a refugee camp in the capital Sanaa from their smartphone.
Both cities are controlled by rival authorities – Sanaa by Houthi rebels, Aden by the UN-recognised government and southern separatists – but this digital channel has helped bridge this divide.
"I think digital diplomacy can be an effective tool for peace building and negotiations. Travel is hugely consuming and the ability to negotiate with parties to a conflict often based in different countries or where it is difficult to travel from one side to the other," said Aron.
A smart phone can now help politicians and ambassadors get a more accurate picture of the situation on the ground in war-torn countries without being exposed to dangers of combat.
Warring parties can connect without the brinkmanship of face-to-face meetings when hours are often expended by diplomats on choosing the right hotels for delegates and seating arrangements.
More importantly it can also potentially give a stronger voice to those affected by fighting, global warming and poverty – there are fewer excuses for refugees, activists, and non-state actors not to be at the forefront of peace making and diplomacy during the age of digital diplomacy.
In traditional diplomacy their voices are often heard, but during the hustle and bustle of peace negotiations they are kept very much on the fringes of decision making.
"You would be surprised that during the height of the migrant and refugee crisis in both the UN, EU and others, everyone was being consulted apart from the refugees themselves," Abdy Yeganeh, director of Independent Diplomat, a NGO offering diplomatic advice to governments and groups, told The New Arab.
"So, it is about creating a platform where their voices are heard, but also there being on the table plausible policy options that are now being picked up by the UN and international community."
The turmoil created by the coronavirus crisis offers an opportunity to stop and address this. A more radical and inclusive form of diplomacy can be created in the post-coronavirus world order, ensuring more inclusivity in diplomacy.
It can also allow those most affected by war to be part of efforts to establish a sustainable peace.
"Traditional diplomacy is very set in its ways and binary. On many occasions the people who are being engaged in these diplomatic efforts are relevant, but you cannot say that they always represent the voices on the ground," said Yeganeh.
It is about creating a platform where their voices are heard, but also there being on the table plausible policy options that are now being picked up by the UN and international community
– Abdy Yeganeh, Independent Diplomat
"Traditional diplomacy has always been slow to react to changing factors if you look at non-state parties in Syria, Yemen, Iraq, it's a completely different context to 20, 30 years ago and those diplomatic processes haven't yet caught up."
Over the
past decade the Middle East
has seen the price of stalled diplomatic efforts in Sudan, Yemen, Syria, Libya and elsewhere, not only causing headaches for diplomats but also costing tens of thousands of lives.
Last year's 45-member
Syrian constitutional committee
did include 15 representatives from civil society but ended when the regime delegation reportedly blocked the agenda for talks.
The UN Special Envoy to Syria said this month that talks between warring parties could take place in Geneva once the coronavirus crisis is over and ruled out virtual negotiations.
"I think at times these voices on the ground are often pigeonholed and it can be seen to be a box ticking exercise. These groups don't want to be consulted, they want to be part of the process and part the solution," said Yeganeh.
"Our ethos at Independent Diplomat is who is best to be part of the process than those who the outcome matters to the most."

Digital divide
Virtual talks might not be a substitute for face-to-face interactions, but the coronavirus pandemic provides diplomats with the opportunity to think creatively about diplomacy and ensure that future negotiations are more participatory.
This is particularly true with the rise of new global threats such as disease pandemics, refugee movements and global warming that make it even more vital to consult those most affected.
Digital diplomacy offers to bridge this divide, providing direct access to refugees, activists, and non-state parties, often in remote areas, but the digital divide is a hurdle that must first be overcome.
"While poor internet networks could prove a hinderance for these groups at present, efforts should be made to build infrastructure in less-developed areas, including territories controlled by non-state parties who are always weaker actors in negotiations," said Yeganeh.
These groups often lack a lobbying presence in diplomatic hubs such as Washington, New York, and Brussels. Instead, they are neglected in overcrowded refugee camps – often in third-party states – where digital diplomatic channels are equally inaccessible due to poverty and poor internet infrastructure.
This is particularly true of the Rohingya,
Myanmar's Muslim-minority
, who are mostly confined to makeshift camps in Bangladesh after fleeing their homes in Rakhine state.
In part due to their lack of outreach in major diplomatic hubs – such as New York, Brussels and Washington – their plight is often overlooked by media and diplomats.
Jane Kinninmont
, head of programmes at The Elders, said the basic internet infrastructure of the camps in Bangladesh means the digital divide is not just an issue of outreach but also of life and death, when it comes to refugees accessing critical health information.
"The Rohingya refugees are marginalised in many ways and one way is that they are cut off from the internet. The Bangladesh government has imposed a shut-down of internet – particularly in Cox's Bazaar – apparently for security reasons, but this has a very negative impact for refugees being able to access basic health information about the coronavirus pandemic," said Kinninmont.
"When you think about the opportunities for digital diplomacy this is hugely revolutionary, but you need an inclusive infrastructure to create participation."

Tech fix
Philanthropists and tech firms could help with fill the
digital divide
by providing internet accesses to refugee camps or remote areas, something that would benefit local economies but also help activists and NGOs get their messages out to the world.
I do think that although a shift to digital diplomacy is being forced on people it is essential to consider the opportunities to make it more inclusive
– Jane Kinninmont, The Elders
The coronavirus crisis presents an opportunity to reflect on this digital divide and the urgent need for internet access in more remote and poorer parts of the world.
It also allows those limited opportunities to travel – such as Palestinian activists or politicians due to Israel restrictions – the ability to reach decision makers and influencers elsewhere in the world.
"I do think that although a shift to digital diplomacy is being forced on people it is essential to consider the opportunities to make it more inclusive," said Kinninmont.
"If you have peace talks online then the question of who is able to travel and who is mobile becomes less important. People feel less connected when they see their representatives going off to five-star hotels in Geneva."
Like all the other people who spoke to The New Arab on the issue, Kinninmont pointed out some of the pitfalls of talks in a virtual realm. This includes privacy issues and concerns that delegates might stick rigidly to party lines if they suspect they are being recorded.
"This is never very helpful because what you need in diplomacy is to try and explore areas of flexibility and common ground," said Kinninmont.
Digital diplomacy still provides an opportunity for more creative and informal discussions about peace making, which should include a more significant role for people not in official positions or party representatives.
"This could mean people who are involved in in Track II diplomacy – opinion formers, scholars, civil society activists, who can understand their society and government but aren't speaking for them and can speak more freely for that reason," she said.
"Location becomes a lot less important with digital diplomacy. The [need] to be present in major capitals becomes a lot less important and that opens up a lot more opportunities to the relatively marginalised."
Paul McLoughlin is a news editor at The New Arab and author of Syria Weekly.
Follow him on Twitter: @PaullMcLoughlin
https://english.alaraby.co.uk/english/indepth/2020/5/29/digital-diplomacy-could-reshape-politics-in-the-middle-east