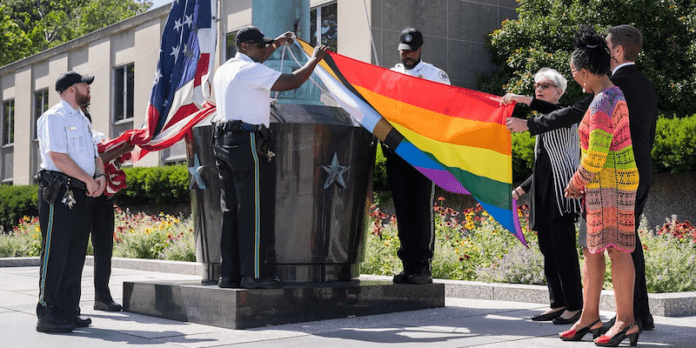 More than a decade ago, Victor (not his real name), a U.S. Foreign Service officer then in his 30s, started a tour in a Middle Eastern country. He wanted to bring along his partner, who wasn't a U.S. citizen. Even though the U.S. government didn't officially recognize same-sex relationships, the State Department tolerated them. The bigger problem was the host-country, which refused to grant Victor's partner a visa. Eventually, the U.S. Embassy found a "workaround": the only way for the couple to be together was for Victor to hire his partner as a "domestic employee." So the embassy declared him as Victor's driver to the host-government, and it issued a visa.
"It was demeaning and hugely demoralizing," Victor recalled. Although the two lived together, his partner was deprived of all diplomatic protections and immunities Victor received. In 2009, the State Department began issuing diplomatic passports to the American same-sex partners of U.S. diplomats. Victor's now-husband became a U.S. citizen years later, after the Supreme Court legalized same-sex marriage in 2015.
Life for gay, lesbian and bisexual U.S. diplomats and their families has improved significantly in the last decade — transgender Foreign Service members still face serious challenges — and they finally enjoy equal treatment by their own government, Victor said. However, most of a diplomat's career takes place abroad, and about 70 countries still deny visas to same-sex spouses — in most, it's illegal even to be gay — making more than one-third of the world practically off limits to LGBTQ diplomats. Victor is currently bidding on his next assignment, and though he spent most of his career in the Middle East and speaks Arabic, he is not considering posts in that region. Most of Africa isn't an option, either, he said.
"Employees with same-sex spouses and family members have to make a choice between career and family, due to accreditation issues, while colleagues in opposite-sex relationships do not," GLIFAA, an organization of LGBTI+ employees of foreign affairs agencies, said in a recent report. "Patchwork agreements sometimes permit spouses to be legally present in a country, but in most cases, they do not allow for same-sex spouses to be afforded privileges and immunities, and therefore do not guarantee their safety, eligibility to work, and in some cases the ability to enter and leave their host-country freely."
At GLIFAA's urging, "the State Department sends cables every year asking posts to deliver demarches" to host-governments requesting accreditation and better treatment of same-sex spouses, but some embassies' "front offices don't think this is a priority," Victor said. For many officers, the only option is to serve only in countries that recognize and accredit same-sex spouses, but that can hurt their chances for promotion, he added. Because the Foreign Service has an up-or-out system, failure to get promoted after a certain number of years results in forced retirement. Although in theory there is another option — spouses can apply for certain embassy jobs and get accredited that way — in reality, many have careers that are more satisfying than those typically clerical or other support positions. Moreover, they have to apply every time they move to another country, and many posts may not have any openings at the beginning of a tour.
Even if embassies find "workarounds" that allow spouses to reside in LGBT-hostile countries, the toll such arrangements take on couples and relationships is often unbearable, diplomats said. It also affects the practice of diplomacy. Feeling "unwelcome" in a foreign country makes it more challenging for a diplomat to "develop positive relationships with interlocutors," said Ken Kero-Mentz, a former GLIFAA president who recently left the Foreign Service. "There is definitely a net negative when confronted with those sorts of situations," he said. The first eight months of Kero-Mentz's tour in Sri Lanka, beginning in 2009, were spent fighting with embassy leadership and the host-government to find a way for his then-husband to stay in the country. "It was definitely frustrating," he said.
The frustration has been even bigger for transgender diplomats and their families. According to a 2020 report by the International Gay and Lesbian Association, which has members in 168 countries, 37 governments de facto criminalize transgender identity and 11 have explicit, de jure criminalization. Robyn McCutcheon, the first transgender Foreign Service officer to transition while serving abroad, acknowledged that the days when the U.S. government acted as if same-sex relationships and transgender employees didn't exist, are gone. However, the challenges diplomats face today depend on "which letter of the rainbow you come under," said McCutcheon, who is also a former GLIFAA president and has since retired.
GLIFAA, whose members exceed 1100, estimates that the State Department has more than 100 transgender employees. In addition, "there are families with trans spouses and children," McCutcheon said. Life in a foreign country can be particularly difficult for children undergoing transition — schools can force them to dress in compliance with the gender assigned at birth, and authorities can deny requests for name changes on official documents. Even at home, it was only weeks ago that the State Department decided to allow U.S. citizens to declare their self-identified gender on their passports without providing a medical document. It also added a non-binary option.
McCutcheon herself "fully expected to be fired" when she announced her transition at the embassy in Romania in 2011. The outgoing deputy chief of mission wanted her "out of the country on psychiatric grounds," but the incoming one was supportive and pushed back on attempts by the State Department to delay her transition, she said. After completing her tour, she served in Kazakhstan, where she engaged actively with the country's LGBTI+ community, she added.
McCutcheon and Victor expressed concern about recent anti-LGBTI+ policies and legislation in Poland and Hungary. "Our embassies there can be more active and visibly supportive of LGBTQ rights," Victor said. "They should work with allies and like-minded partners. They shouldn't be quiet, without putting anyone at risk, of course."
Submissions Welcome
The Diplomatic Diary welcomes article submissions from current and former diplomats on a wide variety of topics related to the practice of diplomacy.
CONTACT US
As GLIFAA prepares to mark its 30th anniversary next year, it acknowledges that its members "have a lot to be proud of since our founders first met, under a shroud of secrecy." In the past two years, the organization "has called on the department to employ a broader range of tools to encourage countries to accredit our spouses," and "several additional countries have agreed to accredit our same sex-spouses," its report said.
Still, "more work remains," it said. U.S. ambassadors "should proactively engage with host-governments on accreditation, not wait until" gay officers are assigned to their embassies, "and not hand the task" to lower-level employees, the report said. It also urged the State Department to take a "stronger stance" against "employees engaging in hate speech" targeting LGBTI+ colleagues on "their personal social-media" profiles.
"Last year, the board surveyed members on diversity and inclusion within GLIFAA," the report noted. "The responses indicated that many people, particularly people of color, do not feel that GLIFAA has been welcoming over the years. We have to do better as an organization. GLIFAA, given our intersectionality, has a unique opportunity to set an example for the rest of the department."
Last month, the State Department flew the rainbow flag in front of its main building in Foggy Bottom for the first time. During a ceremony presided over by Deputy Secretary of State Wendy Sherman, she hailed it as a "signal to people everywhere that the United States is firmly committed" to fighting for LGBTI+ rights.
"Today, we are flying this progress flag for many people, and in doing so we are remembering and honoring those who serve and have served our country with honor and dignity," GLIFAA president Jeff Anderson said at the ceremony. "And we are inspiring a new generation of public servants to enter those doors, no matter their gender identity or sexual orientation."
Nicholas Kralev, the executive director of the Washington International Diplomatic Academy, is the author of "America's Other Army: The U.S. Foreign Service and 21st‐Century Diplomacy."
Louis Savoia is an intern at the Diplomatic Diary.