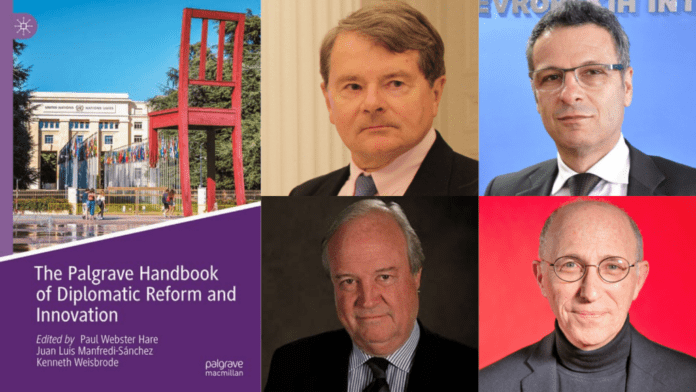 Ambassador Paul Webster Hare, Senior Lecturer in International Relations at the Frederick S. Pardee School of Global Studies, coedited a new book – The Palgrave Handbook of Diplomatic Reform and Innovation – that proposes ways to improve the effectiveness of contemporary diplomacy and explores diplomatic practices beyond theoretical debates. Hare's Pardee School colleagues – Ambassador Vesko Garčević, Professor of the Practice of International Relations; Ambassador Jorge Heine, Research Professor and Interim Director of the Frederick S. Pardee Center for the Study of the Longer-Range Future; and Ambassador Mark Storella, Professor of the Practice of Diplomacy and Director of the African Studies Center – contributed chapters to the volume ranging in topics from digital modernization to multilateralism.
The book was edited by Hare, Juan Luis Manfredi-Sánchez, Prince of Asturias Distinguished Visiting Professor at the School of Foreign Service at Georgetown University and Professor at the University of Castilla-La Mancha, Spain; and Kenneth Weisbrode, Assistant Professor of History at Bilkent University in Turkey. In it, 40 scholars and practitioners from some 30 countries take a critical look at the contemporary practice of diplomacy. Diplomacy is now a neglected global issue; this text seeks to not only identify current problems diplomacy is facing but also identify some practical options for reform and innovation.
In a chapter titled "Small States: From Intuitive to Smart Diplomacy," Garčević argues that if small states want adapt to new global trends, they also need to adapt their diplomatic practices. Taking the example of small countries from the Balkans – Albania, Bosnia and Herzegovina, Kosovo, North Macedonia, and Montenegro (WB5) – this chapter argues that if the smalls want to adapt to new global trends, they need to create professional, cost-effective, non-orthodox diplomacy, also known as "smart" diplomacy.
Heine co-authored his chapter, titled "Digitalizing South American MFAs: Reform and Resistance," with Daniel Aguirre, a professor at Arizona State University. The two discuss the need to digitize the practice of diplomacy as well as the cultural and organizational obstacles to this undertaking. Heine and Aguirre's chapter tracks how ministries of foreign affairs (MFAs) in Argentina, Brazil, Chile, and Peru overcame resistance to the digitization of diplomacy and examine what they did right as well as what they did wrong in so doing.
Finally, in his chapter titled "Reforming Global Health Diplomacy in the Wake of COVID-19," Storella addresses how nations can address critical shortcomings of global health diplomacy. He discusses how nations should reform their own preparation to engage in health diplomacy and poses questions on whether diplomacy is a tool to advance global health, how governments should seek scientific advice to support their international engagements on global health, and what the best practices are for staffing international health negotiations that best serve both large and small states.
The Palgrave Handbook of Diplomatic Reform and Innovation can be read on SpringerLink. Garčević, Heine, and Storella's chapters can also be individually accessed on SpringerLink as well.