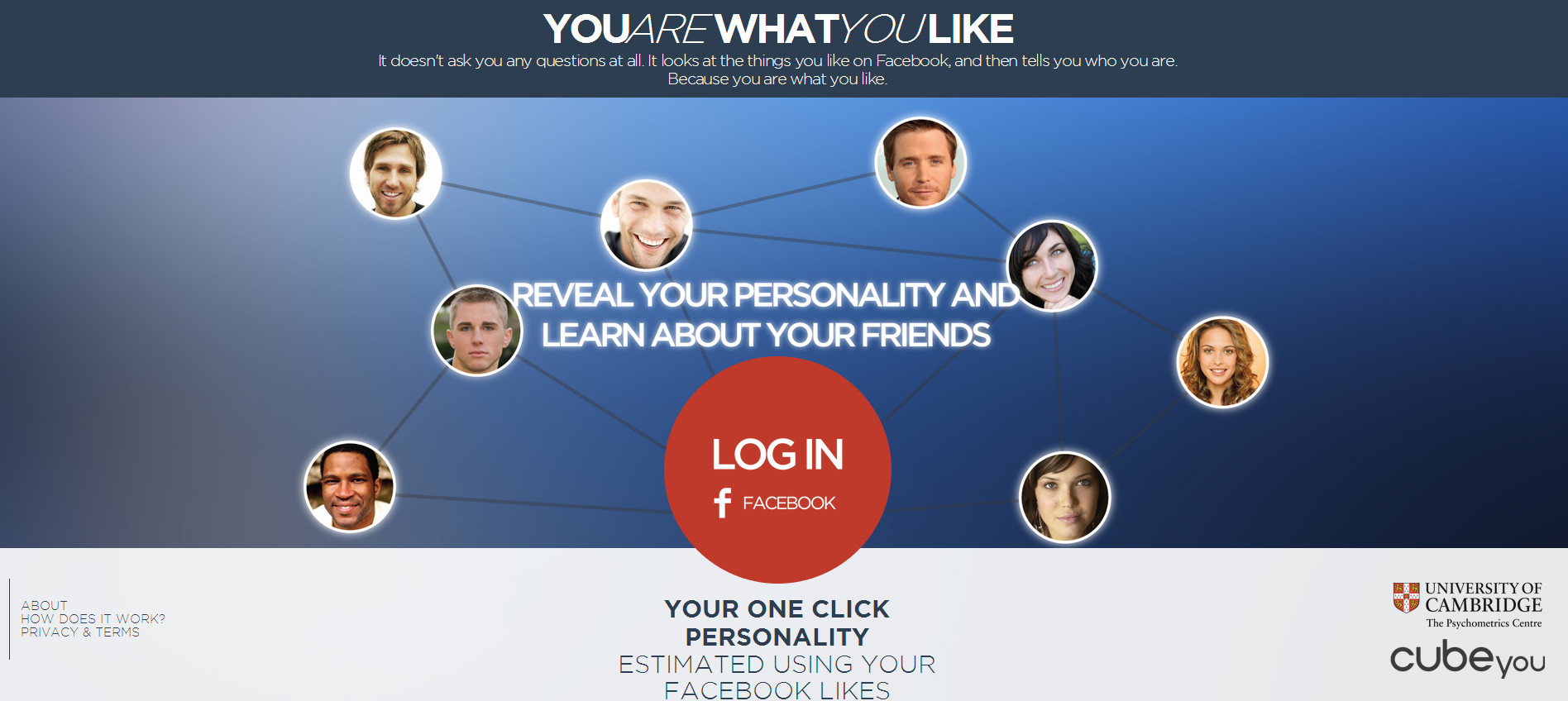 Warning
: Undefined array key "chkIconSize" in
/www/webvol29/96/dr3o8os9p35egxy/bidd.org.rs/public_html/wp-content/plugins/customize-external-links-and-add-icon/customize-external-links.php
on line
301
Do sada smo znali ko je Veliki Brat, i da nas posmatra, ali sada on zna ko smo mi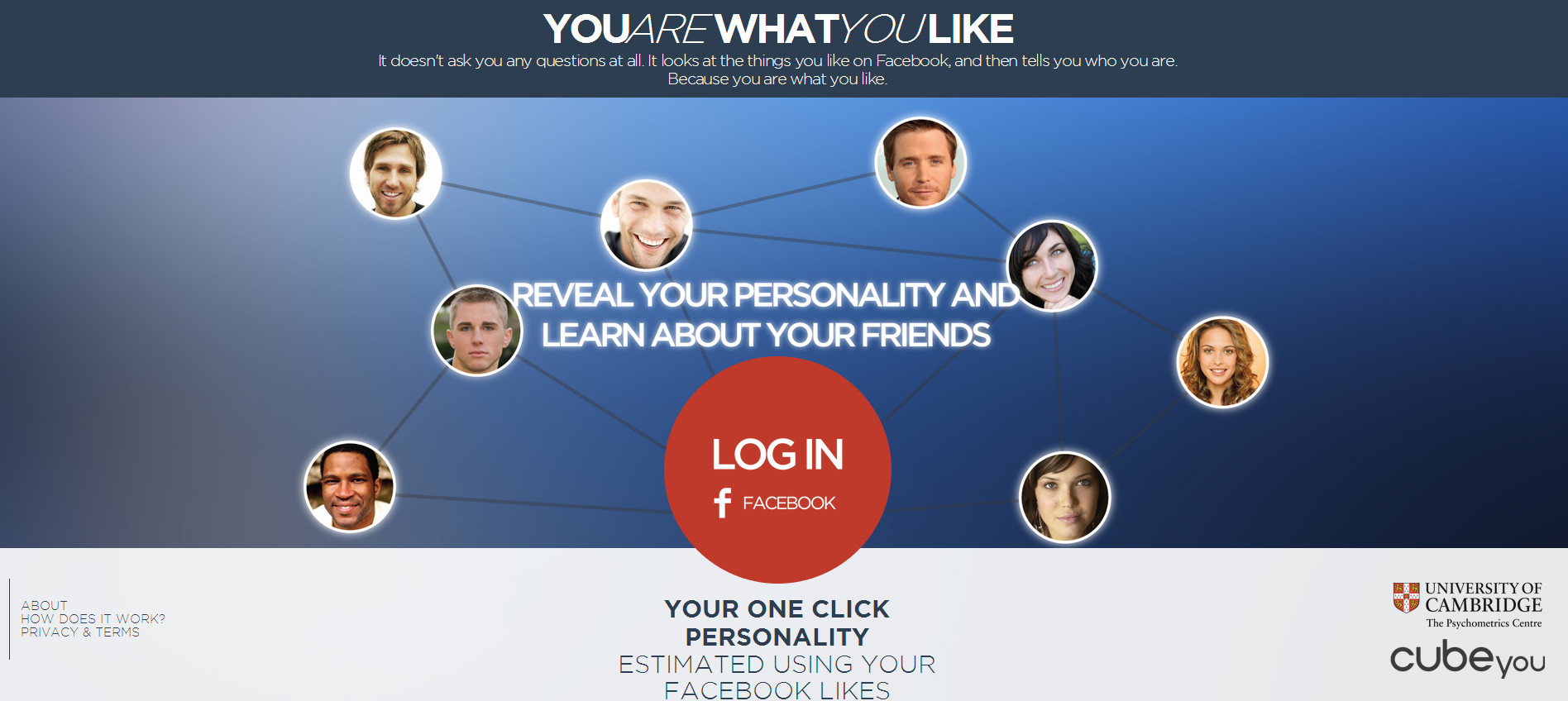 Učtiva rečenica: "Da, čuo sam za vas, baš mi je drago što smo se upoznali", danas ima sasvim drugi smisao.
Opsežno istraživanje u SAD testiralo je novi računarski program koji je na osnovu lajkova na "Fejsbuku" određivao ko je i kakve osobine ima korisnik.
Rezultati su sledeći: ako se unese 10 lajkova, računar bolje sagledava ličnost od njegovog poslovnog okruženja. Sa unosom 30 lajkova, precizniji je od šire porodice, na 150 je bolji od uže porodice, a na 300 bolje sagledava ličnost od supružnika.
Pri unosu 100 lajkova softver precizno određuje: rasu, godine, pol, koeficijent inteligencije, politička opredeljenja, seksualna opredeljenja i karakterne osobine.
I taman kad je već bio red da se upoznamo, kada sve znamo jedni o drugima, umesto stiska ruke dočekao nas je računar. Baš kako i dolikuje Velikom bratu. Na toj strani nema bilo kakve ljudskosti. Samo moć u širem smislu, a u krajnjoj instanci novac. Zato mi novca nemamo, a oni ga imaju, svako od njih jedan odsto, više nego što bi čovek mogao da izbroji ako bi, svakoga dana, celog života brojao novčanice od 1.000 dolara.
Pa dobro, nije neki problem, nećemo imati "Fejsbuk" stranicu i gotovo. Ne može.
To što mi nemamo želju da otvaramo svoje srce njemu, ne znači da će nam biti dozvoljeno da sebe sakrijemo.
U toku je već nekoliko godina edukacija svih koji u kompanijama rade na zapošljavanju, s jasnim uputstvom da se činjenica da kandidat za posao nema "Fejsbuk" stranicu mora smatrati razlogom za eliminaciju. Nešto krije ili je čudak, ili nije socijalizovan. Kako god, ali čim nemate "Fejsbuk" stranicu ne možete da se zaposlite. Odnosno, još uvek negde možete, ali u velikom broju slučajeva već ne možete, a u dogledno vreme nećete moći nigde dokle seže transnacionalni kapital.Pored ostalog, obožavanu parolu i naših političara da je ključ razvoja u stranim investicijama, treba razumeti i u ovom kontekstu.
E, sad ovo već sve više liči na otrcanu teoriju zavere. U svoju odbranu izgovoriću samo: Asanž i Snouden. Da li je i to teorija zavere? Nažalost, puka je činjenica da SAD zvanično upozoravaju studente da svako ko pristupi "Vikiliksu" mora računati s tim da se nikada neće moći zaposliti u bilo kojoj državnoj službi. Ako ćeš da radiš za državu, onda je isključeno da pokušaš da znaš istinu.
Ili što bi on rekao, imamo mi svoju decu, od nas jedan procenat, kojoj saopštavamo istinu: da je naše bogatstvo sve veće, ali da pretnje da se i siromašnima nešto od toga preraspodeli nikako ne prestaju, te da su stoga sva sredstva ne samo dozvoljena, nego već i uveliko u upotrebi.
Možda nema veze sa ovim što pišem, ali Kina je u prošloj godini donela sledeće odluke: izbacuju se IBM operativni sistemi iz svih finansijskih institucija, zabranjuje se ugradnja "Microsofta" u nove personalne računare koji se prodaju na teritoriji Kine i zabranjuje se svim državnim kompanijama da angažuju strane konsultante i revizore. Pa vi sami zaključite.
Ako vam ipak drugačija objašnjenja izgledaju uverljivije, ja imam samo jedno objašnjenje, kao u onoj reklami: "Kad si gladan nisi sav svoj."
Advokat