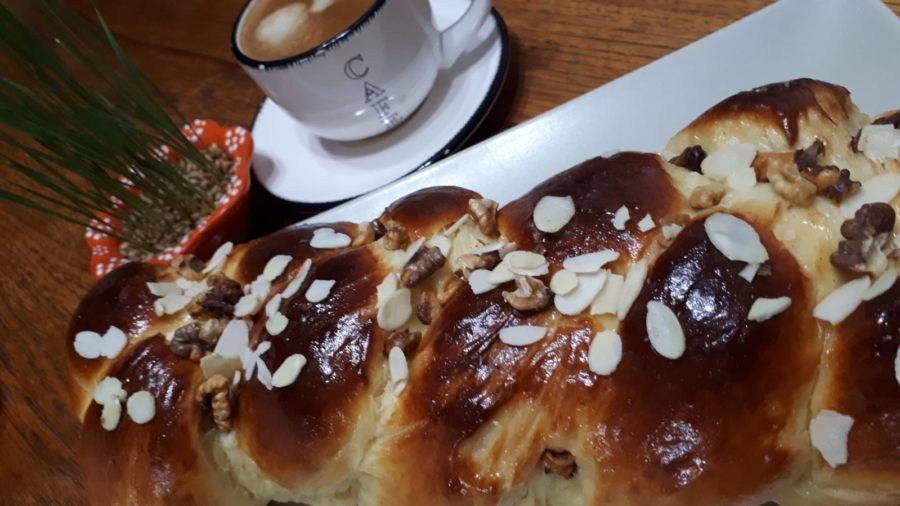 My name is Mare Janevska and I am the Manager and Chef of the British Residence in Skopje. It was an honour to be chosen for this position that I have been working in for 13 years now. I am working on both positions in parallel but the role as Chef at the Residence is my favourite as it is creative, which makes me happy and everyone should work on what makes them happy. For me cooking is a passion, love, respect, emotion and I find inner peace in the dishes I am preparing and cooking for the guests at the Residence. When I see everyone happy and satisfied, I know that I have accomplished my goals and job well done. I have been privileged to cook for high level visitors to North Macedonia such as Ministers, Prime Minister and also members of the Royal Family.
I am writing this blog to share my experience of one of the biggest Orthodox holidays that is celebrated in North Macedonia which is Orthodox Easter. There are a lot of local traditions we as Macedonians follow but as a Chef at the British Residence, I will share one of my favourite dishes and recipe I love to make for my family at home when we celebrate this holiday together.
Its traditional name is Kozinak or Milibrod, which is significantly known as Brioche and while prepared it spreads an amazing aroma in the house. The secret of the taste does not come only from the ingredients, but also from the person who prepares it. It takes a lot of love, time and attention to deliver its perfect appearance and taste. I am emotionally attached to such dishes, which are associated with the most important holidays for us locally. It is very important to remain calm during the procedure so that something does not go wrong. One of the secrets I would like to share is to put nuts in the dough before your children make them disappear the minute you turn your back. At least this is what has happened as one of my personal experiences.
For four beautiful Kozinaks you need to firstly make the dough.
Ingredients
4 eggs, 250 gr sugar, 200 gr sour milk, 150 gr milk, 1 dry instant yeast, 150 gr melted butter, orange peel, vanilla ½ a teaspoon of mahlep ½ a teaspoon of salt.
You add the flour in the end to get a fine soft dough of about 800 gr to 1 kg.
Break the eggs in room temperature into a deep bowl and add the sour milk and all the other ingredients except the butter.
Mix the yeast with the slightly warmed milk, add 1 tablespoon of sugar and 1 tablespoon of flour in order to activate the yeast. When the yeast is ready, add it to the other ingredients and gradually add the flour. Knead until you get the desired texture. The dough should still stick to your hands but separate from the dish. Then start to add the melted butter, slowly kneading the dough. This way you get a dough that is very pleasant to eat and has a beautiful appearance. You divide the dough into layers, or as lo
cal people traditionally say, divide it into threads.
After the whole procedure, it is time to let the dough rest. The growth will take about two hours because the butter and sugar will need to allow the yeast to activate. After two hours, the dough should have doubled in volume. Take out 12 equal parts, from which you form equal balls, and then leave them on a floured surface covered with nylon foil to grow again.
Meanwhile, prepare two baking trays by coating them with a nice layer of butter.
From the dough balls form strips about 30 cm long and then form about 3 strips for the braids.
Put them on the baking trays, 2 in each, coat with beaten egg with a little water and leave to rise again. Meanwhile, turn on the oven at 200 C without a fan. The braids are baked for about 5 minutes at 200 C and another 10 minutes at 180 C.
One more secret I will reveal for an even more aromatic and personal Kozinak, I make a glaze of 30 gr butter, 150 ml of milk and 5 tablespoons of powdered sugar, to be warm and to melt the butter.
When the Kozinak is ready, take it out of the oven, sprinkle the surface a little bit with the glaze and sprinkle with almond leaves. Then put it back in the oven for another minute or two and take it out of the oven. This way, the strong aromas will be retained and a wonderful glassy glow of the bread will be obtained.
During the whole procedure, the aroma of the Kozinak will spread inside your homes.
Also add a boiled egg in the middle to form a recess, in which we would put a painted egg just like our grandmothers used to do.
You can also add raisins, dry fruit, minced poppy seeds or traditional wild figs preserve to enhance the flavours.
Bon appétit and happy Orthodox Easter to all that celebrate!
Mare Janevska
Manager and Chef at British Residence
Guest blogger for UK in North Macedonia
Part of UK in North Macedonia
16th April 2020 Skopje, North Macedonia