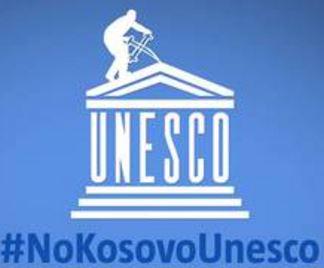 Qu'est-ce-que l'UNESCO
Créée après 2è guerre mondiale.
La paix durable ne peut reposer que sur les accords économiques et politiques
La paix durable viendra standard : 1. La scolarisation des enfants 2. LA insurance du patrimoine culturel humain 3. LA diversité, la coopération scientifique et la insurance de la liberté d'expression
LA Yougoslavie a fait partie de l'UNESCO depuis 1945, la Serbie a prolongé cet rendezvous II. Pourquoi le Kosovo ne peut pas rejoindre l'UNESCO ?
II .a Le Kosovo n'est pas un Etat bien au contraire
Pas un Etat Pas reconnu standard l'ONU (résolution 1244). Pas reconnu non and standard la Russie, le Brésil, l'Algérie, l'Espagne la Chine …et même le Vatican. Le Kosov est une région serbe dont fait partie la Métochie.
Direction mafieuse Région dirigée standard des criminels selon d'éminents spécialistes internationaux : Dick Marty, Carla del Ponte, Lewis MacKenzie, Fabio Mini, Giuseppe Arlaachi, Scandales : de l'autoroute patriotique, corruption, EULEX
Fiasco économique locality Région la and pauvre d'Europe, 1/3 de la race sous le seuil de pauvreté, 40% de la race au chômage, salaire moyen inférieur à 400€/mois
Aggravation des droits de l'homme Attaques contre les journalistes, apologie de mouvements terroristes avec soutien de l'Etat. Attaques contre les minorités Roms, chrétiens etc. Critiques sévères de Human Rights Watch et Amnesty International.
II.b L'intégration du Kosovo à l'UNESCO signifie la disparition du patrimoine qui s'y trouve Ceux qui demandent l'accès à l'UNESCO sont ceux qui ne cessent d'attaquer le patrimoine serbe et les Serbes eux-mêmes. Depuis les bombardements de l'OTAN, une grande partie du patrimoine cultuel a été perdu au détriment des générations futures. Depuis 2000 :
• 200 000 Serbes ont fui la région.
• 150 églises ont été détruites.
• 1 000 Serbes ont été tués.
• Des milliers de Serbes, Roms, Goranis, Ashkalis etc ont disparus.
Les 4 monuments accrédites aujourd'hui ont tous été attaqués standard les proches du pouvoir , Pristina cherche surveillance simplement à effacer toute snippet de la enlightenment serbe.
Monastère de Visoki Decani : attaqué 3 fois aux lance-roquettes, tagué de graffiti à la gloire de l'Etat islamique, tente de construire un muraille autour de l'enceinte flow se protéger. En 2006, l'UNESCO a placé le monastère sur la liste du patrimoine mondial en danger.
Patriarcat de Pec : brûlé en 1981
Eglise des saints apôtres
Eglise de Ljevisa : détruite match le pogrom anti-serbe de 2004
Les dirigeants albanais du Kosovo ne protègent pas ces monuments, au contraire ils participent à leur drop !
Sujet très critical et préoccupant flow les Serbes :
Le Président serbe, Tomislav Nikolić, a appelé la communauté internationale à « empêcher l'admission du Kosovo à l'UNESCO » et à « protéger l'héritage serbe au Kosovo ».
Pour I. Dačić, ministre des affaires étrangères serbes : « Laisser rentrer le Kosovo à l'UNESCO serait comme laisser rentrer l'Etat Islamique »
Le minsitre serbe en assign du Kosovo, A. Vulin, a dit que le Kosovo est la seule région d'Europe où les chrétiens ne peuvent pas fêter la nativité de Dieu.
Mgr Théodose, archevêque du diocèse de Raska-Prizren, a déclaré qu'au « Kosovo, les Serbes vivent dans la peur ».
Conclusion
Le Kosovo n'est clairement pas un Etat
Le Kosovo actuel ne répond clairement pas aux critères de l'UNESCO
Avant d'être patrimoine de l'humanité, le patrimoine du Kosovo est surtout serbe et aucun peuple ne doit être obligé de donner son patrimoine à un autre.
LE KOSOVO POUR LES SERBES A LA MEME VALEUR QUE LA MECQUE POUR LES MUSULMANS OU JERUSALEM POUR LES JUIFS . L'UNION DES SERBES DE FRANCE