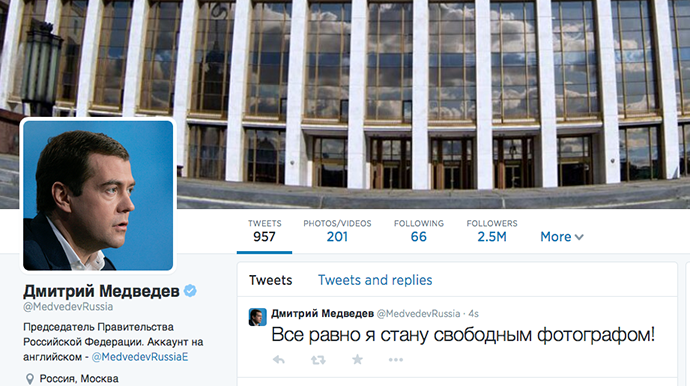 Warning
: Undefined array key "chkIconSize" in
/www/webvol29/96/dr3o8os9p35egxy/bidd.org.rs/public_html/wp-content/plugins/customize-external-links-and-add-icon/customize-external-links.php
on line
301
Medvedev's Russian-language account was hacked at approximately 10:20am Moscow time (06:20 GMT). It took PM's office several minutes to report the breach to the media.
The hacker produced a flurry of tweets over the 40 minutes he or she was in control.
"I resign. I am ashamed for the actions of the government. I'm sorry," the first tweet said.
"I'll still be a freelance photographer," another one said.
"I've been longing to say this. Vova [Putin]! you are wrong!" another said.
Apparently the hacker is Russian, since the messages show good knowledge of Russian political memes. For instance, his/her latest tweet addressed to President Vladimir Putin is a reference to the famous words of Mikhail Gorbachev, who said "Boris, you are wrong!" to Boris Yeltsin in response to his criticism of the Communist Party in 1988.
Medvedev's English-language account on Twitter apparently was not compromised.
The news of the hack topped the Russian Twitter trends.
http://rt.com/news/180204-medvedev-twitter-resigns-hacked/