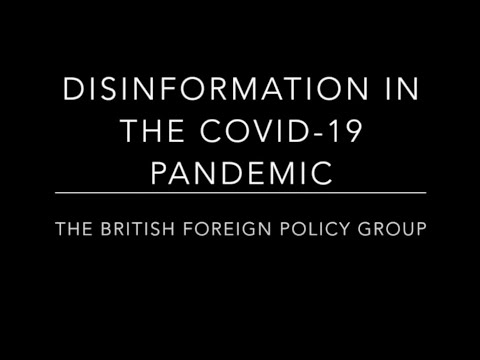 Sophia Gaston spoke with Nina Jankowicz and Peter Pomerantsev, two of the leading expert researchers into contemporary disinformation, to explore the role that it is playing in the Coronavirus pandemic. They discussed the differing ways in which disinformation was being harnessed, the challenges of studying a landscape fraught with as much misinformation as disinformation, the next phases of government regulation, and the likely prominence of disinformation in the 2020 US Presidential Election.
Nina Jankowicz works at The Wilson Center in Washington, D.C., where she studies the intersection of democracy and technology in Central and Eastern Europe. Her book, 'How to Lose the Information War', will be published in July 2020. Ms. Jankowicz has advised the Ukrainian government on strategic communications under the auspices of a Fulbright-Clinton Public Policy Fellowship. Prior to her Fulbright grant in Ukraine, Ms. Jankowicz managed democracy assistance programs to Russia and Belarus at the National Democratic Institute for International Affairs.
Peter Pomerantsev is co-director of the Arena project and Senior Fellow at the Institute of Global Affairs, LSE. Peter is an author, TV producer and media expert. Peter has testified on the challenges of information war to the US House Foreign Affairs Committee, US Senate Foreign Relations Committee and the UK Parliament Defence Select Committee. His book on Russian propaganda, 'Nothing is True and Everything is Possible', won the 2016 Royal Society of Literature Ondaatje Prize, was nominated for the Samuel Johnson, Guardian First Book, Pushkin House and Gordon Burns Prizes. His most recent book is 'This is Not Propaganda: Adventures in the War Against Reality'.
A recording of the video can be watched below.
Nina Jankowicz & Peter Pomerantsev on the Future of Disinformation