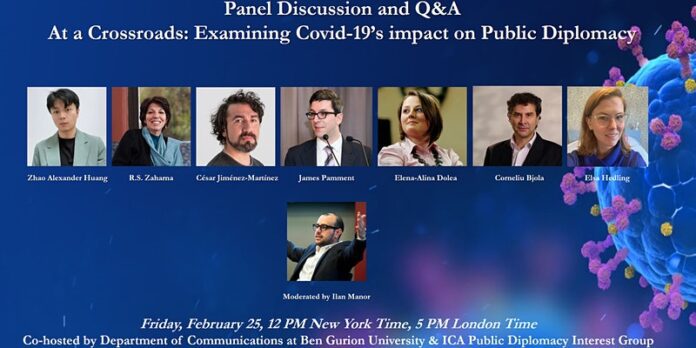 Fri, February 25, 2022    6:00 PM – 8:00 PM CET
Online Panel and Q&A
Co hosted by the Department of Communications at Ben Gurion University of the Negev and ICA's Public Diplomacy Interest Group
The Covid-19 pandemic is a unique global crisis that has significantly changed social, cultural, and political behaviours. For one, the world is no longer as international: airports and borders have closed, and hurdles such as frequent testing and quarantine have deterred cross-border travel. Additionally, countries reasserted their sovereignty: by seeking to demonstrate their ability to provide good governance, many promoted their own interests against their neighbours. Trust in others became a rare commodity.
Third, people around the world have undergone similar trauma: the loss of close ones, a need to protect the vulnerable, a decline of jobs and industries, fear of losing basic services, as well as social distancing and isolation. The need to feel connection to countries, institutions, colleagues, friends, and loved ones despite physical distance invites a rethink of the role—actual and potential—of public diplomacy as a force for good in international relations.
This panel, which follows the publication of a special Forum in the journal Place Branding and Public diplomacy, brings together a host of scholars to discuss how Covid19 has impacted the conceptualization and practice of public and digital diplomacy. Speakers will explore how Covid19 impacted the public diplomacy efforts of Brazil, China, France, Germany, India, Japan, Mexico, Norway, Romania, Russia, Sweden, the UK, and the US. Speakers will also explore conceptual issues impacting public diplomacy ranging from empathy to digitalization, belonging, authoritarianism and populism, global protest, reputational security, crisis communication, and narrative battles.
The panel discussion will be followed by a live Q&A.
Speakers:
Pro. Corneliu Bjola, University of Oxford
Dr. Zhao Alexander Huang, Université Paris Nanterre
Prof. R.S. Zaharna, American University
Dr. César Jiménez-Martínez, University of Cradfiff
Pof. James Pamment, Lund University
Dr. Elena-Alina Dolea, Bournemouth University
Dr. Elda Hedling, Lund University
The event will be moderated by
Dr. Ilan Manor, Ben Gurion University of the Negev
https://www.eventbrite.com/e/at-a-crossroads-examining-covid-19s-impact-on-public-digital-diplomacy-tickets-259308106527