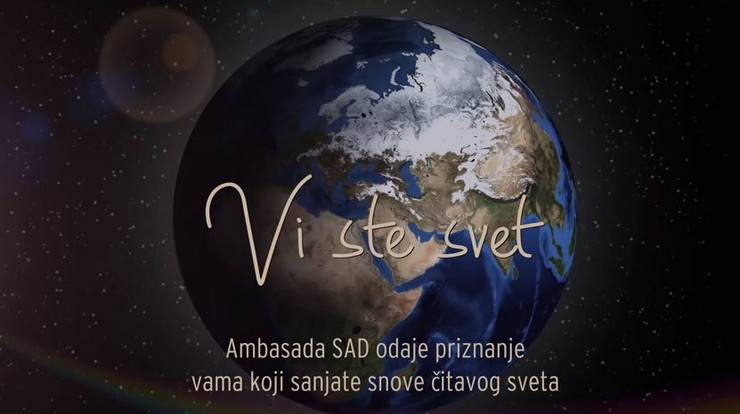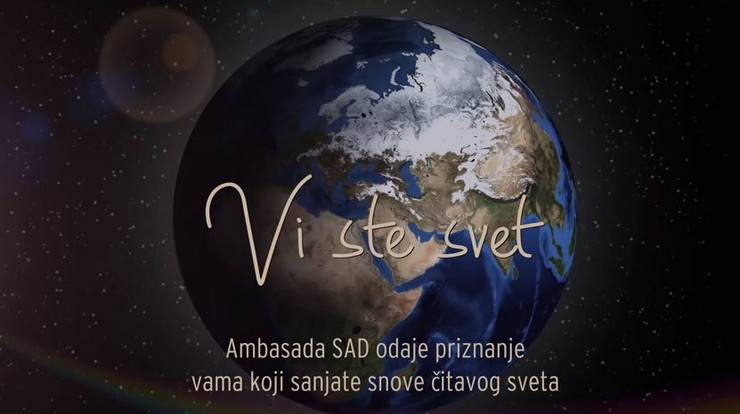 Za tačno 10 dana navrašava se sto godina kako je nad Belom kućom vijorila srpska zastava, što je bilo prvi put u istoriji SAD da se na rezidenciji američkog predsednika zavijori jedna strana zastava. Zbog važne godišnjice u istoriji srpsko – američkih odnosa, koju obeležavaju dve zemlje, Amabasada SAD u Beogradu pripremila je promotivni spot pod nazivom "Vi ste svet".
– Ako se desi da je neko od vas svetu podario struju, da bez vas ne bi postojao telefon, da je neko od vas otkrio najveće tajne planete, da među vama ima onih koji su žrtvovali mnogo da bi osvojili sve… Ako se sve to desi, mogli bismo da kažemo da je vaša zemlja – zemlja ljudi i njihovih snova. Neki snovi počnu u Srbiji i menjuju živote do vas. Neki snovi iz Srbije promenili su čitav svet – navodi se, između ostalog, u spotu.
U spotu se mogu videti i prelepi prizori iz Srbije, a kroz fotografije i snimke Mihajla Pupina, Nikole Tesle, Novaka Đokovića i Vlada Divca, prikazana je njihova uloga u kreiranju identiteta zemlje… Ipak, budući da spot potpisuje Američka amabasada u Srbiji, on je izazvao različite reakcije.
Ambasada SAD: Za Amerikance, vaša žrtva nije mogla biti neprimećena
U Ambasadi SAD kažu da je cilj da se oda počast Srbima koji su zadužili čovečanstvo.
– U obeležavanju ovog događaja i kampanjom 'Vi ste svet', Ambasada SAD takođe odaje počast Srbima koji su dali značajan doprinos čovečanstvu, doprinos koji se poštuje i pozdravlja u SAD i širom sveta, doprinos koji nas je sve obogatio. Veze između Srbije i SAD stvaraju naši ljudi, pojedinci čiji talenat i rad doprinose razvoju nauke, kulture i sporta, sa izuzetnim postignućima u njihovim pojedinačnim oblastima. SAD su ponosne što su mogle da doprinesu njihovom razvoju i uspehu – navodi se u odgovoru "Blicu".
Oni su istakli i da ove godine, SAD i Srbija zajedno – u Beogradu i u Vašingtonu – obeležavaju sto godina od dana kada se nad Belom kućom vijorila zastava Srbije, 28. jul 1918.
– Predsednik Vudro Vilson je bio prijatelj sa Mihajlom Pupinom, i želeo je da iskaže poštovanje prema srpskom narodu i njegovoj posvećenosti vrednostima koje obe zemlje dele. U vreme kada je Predsednik Vilson doneo takvu odluku, svet je još uvek pokušavao da se oporavi od jednog od najstrašnijih i tragičnijih ratova u ljudskoj istoriji, rata u kojem je Srbija izgubila gotovo trećinu svog stanovništva. Za Amerikance, takva žrtva nije mogla biti neprimećena – navode iz ambasade.
Kako dodaju, u čitavoj istoriji SAD, zastava neke druge države se vijorila nad Belom kućom samo još jednom, kada je to bila francuska zastava 1920.
– To je ono što čini ovaj događaj tako značajnim i za Amerikance i za Srbe, i zbog čega smo želeli da ga ovako obeležimo – zaključuju u ambasadi.
Pogledajte video i prosudite sami.
https://www.blic.rs/vesti/drustvo/pogledajte-spot-koji-je-americka-ambasada-pripremila-u-cast-srbije-video/nzg54cc