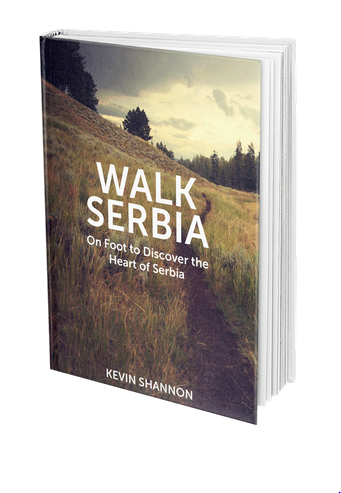 Warning
: Undefined array key "chkIconSize" in
/www/webvol29/96/dr3o8os9p35egxy/bidd.org.rs/public_html/wp-content/plugins/customize-external-links-and-add-icon/customize-external-links.php
on line
301
What is one thing that can be very annoying about having so many Serbian Facebook friends? Having your inbox flooded with the same info and links on anything that is going on in Serbia. That is how I first heard of Kevin Shannon, the adventurer , who was planning to march all the way across Serbia. There were over 20-30 folks who were sending me something from the local newspapers and tv stations about him and his mission. We had connected over Facebook and he asked me to join in on part of journey. I wish I had taken the opportunity to do so not only for my health, but to experience a little bit of his adventure.
We bumped into each other again the "Exit Festival Global Adventures" tourism conference. I was there to giving a presentation on my social network and blog while he was there to present  "Walk Serbia". I decided to quiz him with some more detailed questions about his time in Serbia.
1. Where are you from and what do you do?
So: my name is Kevin Shannon and I'm from the UK. Currently I run my own small creative design studio called Chips Gravy studios
I originally visited Serbia the first time in the autumn of 2010 whilst on 10,000 km cycling expedition from the UK to the far end of Turkey and then back again. On that visit to Serbia I completely fell in love with the country and made some great friends. During the 3 to 4 months that I spent in Serbia I spend most my time in Belgrade, Novi Sad, Sabac and Nis. When I returned home I realised that I'd only seen a fraction of Serbia and although I had learnt about the country a little there was still Hell of a lot more to see. So I decided that one day I would return to Serbian  and walk the length of the country.
Before I visited Serbia first time I didn't really know that much about the country. I had simply drawn a line across Europe and Serbia happened to be on that path. I knew the region was obviously famous for conflicts and I had a they recollection of seeing the NATO bombings on television when I was younger, but that was really it. But as I was cycling through countries before I got to Serbia I was warned that Serbian people what do horrific things to me once I crossed the border. Of course I don't believe this but when your cycling on your own across Europe these warnings do not fill you with confidence.
The walk is actually two walks. The first in February 2013 took me five weeks and during that time I walked from the border with Hungary down to the city of Nis. My second walk was in July 2013 and I walked from south west Serbia back to the north of the country, which also took five weeks.

6. Biggest complication.
I was in a small village about 75 km north of Nis, feeling very tired and the little homesick and out of nowhere a group of young kids came up to me with pieces of paper and pencils. The oldest had a hand written note in English which said that they were big fans and have been following my journey in the newspapers. Because they knew my route, they knew I would be passing through the village and so had taken it in turns to keep a eye out for me, just so they could get an autograph – they had been waiting for 3 days.
I never really felt threatened or in danger, even in small Kafanas in the middle of god knows where surrounded by big, burly Serbian guys. The biggest issue with regards to safety to me was the packs of wild dogs. They were always a concern when I was walking in the mountains or sleeping out at night.
11. What 4 words would you use to describe Serbia after walking from top to bottom and back?
12. Will you return to Serbia? What would you say to someone that is considering a visit to this part of the world?
 13. You have decided to publish a book about this exciting adventure, right? Tell me a little about the project.