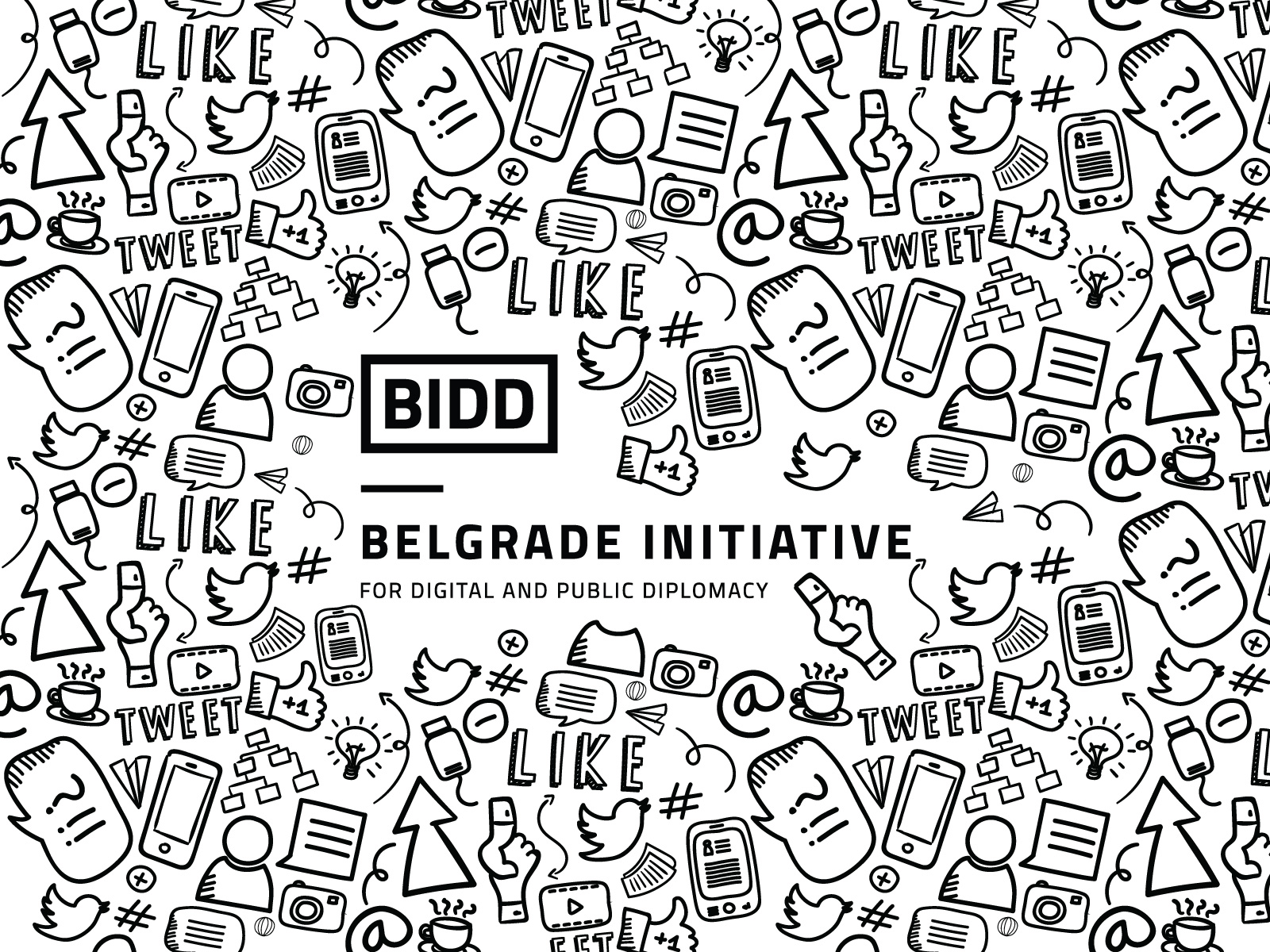 Warning
: Undefined array key "chkIconSize" in
/www/webvol29/96/dr3o8os9p35egxy/bidd.org.rs/public_html/wp-content/plugins/customize-external-links-and-add-icon/customize-external-links.php
on line
301
By Molly McCluskey
When Ambassador Ritva Koukku-Ronde of Finland finally took the dive into Twitter in December 2012, she was in the company of another famous diplomat who joined the same day. Her first tweet? "Dear friends of Finland, if the Pope can do it I can do it, too."
Barring cheeky references to Pope Benedict XVI (who started @Pontifex , which now has 3.5 million followers), conversations about digital diplomacy usually contain the same corporate jargon-laden catchphrases. Social media platforms are ways to "engage the public," "promote cultural understanding," and "encourage informed debate."
Social media does do all of that, but more to the point, it is a way to communicate with the masses — whether it's Kosovo striving for global legitimacy, or France sharing its famed "Map of Kisses," or Greece posting photos of Byzantine art to promote its exhibit at the National Gallery.
However, diplomats who use social media solely to push out their message have quickly found their accounts unheeded by the very people they're trying to reach. Instead, a range of creative and, more important, focused campaigns have proven effective at gaining ground in a digital space that grows more overcrowded each day.
Photo: Anatoliy / iStock
A blooming array of resources, from organizations devoted to digital diplomacy to consultants and conferences, can help cut through the clutter. And, of course, embassy staffers who have figured out how to promote their nations are key to successful digital campaigns.
Social Media Becomes Standard Practice
Maintaining a Facebook and Twitter site has become de rigueur for the city's embassies and ambassadors (also see "Tweet This: Embassies Embrace Digital Diplomacy " in the April 2013 issue of The Washington Diplomat) — to say nothing of the many other platforms diplomats are also learning to navigate, from Flickr and Tumblr to Instagram and Pinterest.
Ambassador Nathalie Cely Suárez of Ecuador joined Koukku-Ronde on the digital diplomacy panel at The Diplomat's second annual Country Promotion Strategies Conference (#CPS2013) last November. Stuart Holliday, head of the Meridian International Center and conference moderator, called Cely — who has more than 50,000 Twitter followers — an "early adapter and trailblazer" in the digital realm. 
Cely said her first rule of social media is that you need to like it. "If you're doing it professionally, you need to take it seriously," she told the more than 200 diplomats gathered at the Ritz-Carlton in D.C. for the event. "I tweet about things I care about the most."
And the information has to be useful. She noted that the embassy developed an application — downloaded by more than 15,000 people — that helps Ecuadorians in the United States (and Americans who've retired in Ecuador) locate consulates to obtain visas.
The ambassador also said she balances political posts with personal observations and opinions to ensure authenticity and build a fan base that can relate to her — an aspect of social media that can be difficult for professional diplomats whose job, after all, is to be diplomatic. 
"Sometimes I'll share something very personal if it's relevant…. You have to develop a persona," she said. "People need to know it's you. People are very smart. They'll know if it's not." 
Katie Harbath , policy manager at Facebook, who also spoke at the CPS Conference, agreed that being authentic will attract more fans. For instance, she suggested postings that chronicle a "day in the life of an ambassador" to give fans an inside look at what goes on at an embassy.
James Barbour , press secretary and head of communications for the British Embassy, said social media has upended traditional diplomacy — and journalism for that matter. "It's absolutely a paradigm shift, like the invention of the newspaper."
Barbour said that Twitter, Facebook and other platforms have changed the way communications professionals engage with journalists. "Social media can be so fantastically visual," he said. "You do more if you tweet it than send it out as a press release."
While the official British Embassy Twitter feed (UKinUSA ) primarily shares policy and hard news updates, the embassy's Facebook page has more of a mix, with a focus on cultural events, study abroad information and theater reviews, including a celebration of the 50th anniversary of the classic British television series "Doctor Who."
But perhaps the most notable change in the U.K.'s social media policy is the emergence of the Northern Ireland Bureau (NIB) as a separate presence. "The rising influence of social media could not have come soon enough for Northern Ireland," said Bronagh Finnegan, administration and public affairs officer for the NIB. "As a region that constantly finds itself trying to overcome negative and anachronistic coverage in the traditional press, our digital diplomacy campaign has allowed us to convey a more accurate picture of Northern Ireland through a prism that better reflects the reality on the ground.
"The impact of this shift is staggering as a new generation in the U.S. has a greater understanding of a region with important historic, economic and ancestral ties to America," Finnegan said.
Social media can indeed amplify the voices of smaller groups. For example, despite its small size, Kosovo has leveraged its substantial online presence (it was recently ranked fourth in the world for its digital diplomacy efforts by the Turkish diplomatic publication Yeni Diplomasi) to push for greater recognition on the world stage since it unilaterally declared its independence from Serbia in 2008. That includes getting Internet giants like Google and Amazon to recognize Kosovo's independence on their sites.
"We had a 17-year-old kid who managed to convince Twitter to recognize Kosovo as a country," Petrit Selimi , Kosovo's deputy foreign affairs minister, said at a discussion last September at Johns Hopkins University in D.C. "LinkedIn just recognized Kosovo. Our big aim is Facebook. And we're in dialogue with Google as well."
Two-Way Street
While social media has given nations an unprecedented avenue to quickly disseminate information to the public and press, for a digital campaign to succeed, it has to be a two-way street.
Finding strategies — and the time — to genuinely engage with people online is a challenge not only for ambassadors, but for world leaders as well.
A global study called "Twiplomacy" released last summer by the PR firm Burson-Marsteller found that more than three-quarters of world leaders have a Twitter account.
But the same study found that a Twitter presence did not necessarily translate into connectivity. For example, while President Obama is the world's most followed leader on Twitter, he is not the best-connected leader. @BarackObama only mutually follows two other world leaders: Norway's Jens Stoltenberg and Russia's Dmitry Medvedev. Likewise, @WhiteHouse and @StateDept are followed by 132 and 99 peers, respectively, but they barely follow any other world leaders. On the flip side, Uganda's prime minister (@AmamaMbabazi) is the most conversational world leader, with 96 percent of his tweets being @replies to other users.
"This study illustrates how Twitter and social media in general have become part and parcel of any integrated government communications," said Jeremy Galbraith, CEO of Burson-Marsteller Europe, Middle East and Africa. "While Twitter is certainly not the only channel of communication and will not replace face-to-face meetings, it allows for direct peer-to-peer interaction."
And that interaction is crucial. "You're using it the wrong way around if it's only one way," Ilse van Overveld , counselor for public diplomacy, press and culture at the Netherlands Embassy, said of social media at the CPS Conference. She recommended question-and-answer sessions with ambassadors and diplomats to start a dialogue with online users. She also noted that in addition to public diplomacy officers, the Dutch Embassy is working to have diplomats who specialize in other areas, such as defense and economics, share their expertise online as well.
Fellow panelist Marc Johnson of APCO Worldwide said embassies should avoid a "push and pray model" — push a message out and pray that it sticks. Rather, he advised diplomats to genuinely engage with their audience and "find the conversations where you want to be relevant."
For instance, experts point out that Twitter hashtags are an easy way for embassies to hone in on conversations involving their respective nations. Other social media monitoring and marketing tools such as Radian6 can help organizations keep track of what's being said across the digital spectrum.
Overveld's embassy uses Storify to collect its various online media postings into a coherent story. She stressed that the Dutch Embassy also works with its consulates throughout the country to build a unified communications strategy.
Lior Livak also embraces an integrated approach. He's director of digital initiatives at the Embassy of Israel, where Twitter and Facebook are used in conjunction with a newsletter and website to ensure consistent messaging across a broad range of political and cultural topics. "We use Facebook as a political tool to complement our diplomats' messages, and to get our point of view across," Livak said. "But we also try to have fun with it."
Facebook's Harbath said postings should run the gamut, from emergency response updates during a national disaster to more lighthearted features. For example, she cited the Movember campaign, an annual initiative in November when men grow mustaches to raise awareness of men's health issues. The Canadian, British and other embassies regularly post updates on how their diplomats' mustaches are growing as part of Movember. "It gets people talking so the next time you post something, you have their attention."
Beneficial Back and Forth
With so many platforms to choose from, and so many distinct, but often overlapping audiences, it can be difficult to know how to engage. Andreas Sandre , press and public affairs officer at the Embassy of Italy and author of "Twitter for Diplomats ," points to the embassy's social media hub as a way to reach users in their preferred method, and discover why they're coming to Italy — online.
"People think of Italy as Michelangelo, Leonardo [da Vinci], pizza and pasta, but we're much more than that. People are looking at us for how to build a pair of shoes, or the engineering in the Maserati. We are our history, but we're much more than what Italy was. Social media helps us tell the story of what we're becoming. It lets us ask, 'What are you expecting from us? Are we doing a good job? How are people looking at Italy?'"
Direct engagement can also lead to surprising results. For Maria Galanou , press officer at the Embassy of Greece , a chance letter to the ambassador turned into one of the embassy's most successful outreach campaigns.
"Megan, an American student studying abroad in Greece, sent a letter to the ambassador called 'Battling Preconceptions with Reality in Greece,'" Galanou said. "In this letter, she stated how amazing her experience in Greece has been thus far, and that what she sees is nothing like what the media portrays."
So the embassy created a "Study Abroad in Greece" social media campaign, using Facebook , Twitter and YouTube, as well as the hashtag #studyabroadgreece. More than 25,000 social media users were exposed to the campaign.
"Our social media strategy consists of creating a relationship with our friends and followers. That is why we make sure to interact with them online," said Galanou. "We choose our content so as to highlight the connections between the American and Greek people, and we welcome content that our friends and followers have to share."
Although negative comments can be an unwelcome part of an embassy's social media presence, Galanou hasn't shied away from them. When a troll began spamming the embassy's Twitter feed with tales of animal abuse in Greece, Galanou and the press team contacted him directly. "We reached out to him, talked to him, asked him questions, shared positive content. He responded positively but then again started the same, because he's a troll. We also followed all the people who retweeted him, and this way we made them follow us — so our positive animal stories reached them as well, plus we got more followers!"
Innovative Collaboration
Galanou, Sandre, Barbour and Overveld all participate in the Digital Diplomacy Coalition (DDC), a rapidly growing, volunteer-based group that hosts local lectures, panels, happy hours and, most recently, an open house at the Embassy of Canada to showcase the various social media programs of Washington's diplomatic corps. "DDC is a brilliant initiative and a great source of information, knowledge and networking among digital strategists and communication professionals of the diplomatic community in D.C.," said Galanou.
Time and again, diplomats point to social media as a networking and promotional tool. Many embassies use social media to encourage their followers to attend a sporting match, celebrate holiday festivities, or simply connect in person.
The Embassy of Canada has capitalized on its prime real estate and digital savvy to take its branding campaign to the next level, so much so that since the 2013 presidential inauguration, the embassy building has had its own Twitter hashtag: #viewfrom501.
"The viewfrom501 hashtag came about through lively debate pre-inauguration festivities," said Alexandra Vachon White, a deputy spokesperson for the embassy. "We wanted a hashtag that would highlight our unique vantage point at 501 Pennsylvania Ave., NW, and at the same time be short, easy to remember, and applicable for any future event at the embassy. It allows us, and visitors, to include more content in our tweets when referencing the embassy. Space is at a premium in the Twittersphere, and #viewfrom501 saves those valuable characters."
And it's extremely effective. White points to the presidential inauguration as one of the embassy's most successful campaigns. "The 2013 Inauguration Tailgate event campaign was very well received. Our [Connect2Canada] followers on Twitter and Facebook who were not in attendance appreciated access to such a special day, and we were able to engage guests on site during the event by displaying their photos and tweets live on the Jumbotron in real time."
Such engagement wasn't a fluke. At the Digital Diplomacy Open House, attendees tweeted photos, links and updates using #viewfrom501, which provided a real-time experience from inside the embassy to those unable to attend, whether in Washington or around the world.
The Digital Diplomacy Coalition offers a forum for diplomats to share these kinds of tips with one another. Some embassies have the luxury of digitally dedicated staffs, while others rely on everyone to chip in online.
But given the rapid evolution of social media, there's a constant learning curve for almost everyone involved. Finnish Ambassador Koukku-Ronde said her Ministry of Foreign Affairs is encouraging its diplomats to embrace social media, although she is still navigating this newfound terrain.
She said she tweets occasionally and tries to limit the number of people she's following so as not to get overwhelmed. But she's learned one old-fashioned trick that seems to get people's attention. Taking a cue from BuzzFeed's viral videos of cute animals, Koukku-Ronde joked that when all else fails, "use pictures of cats."
---
About the Author
Molly McCluskey (@MollyEMcCluskey) is a contributing writer for The Washington Diplomat.
http://www.washdiplomat.com/index.php?Itemid=428&catid=1514&id=9963:social-media-helps-diplomats-engage–online-and-off&option=com_content&view=article