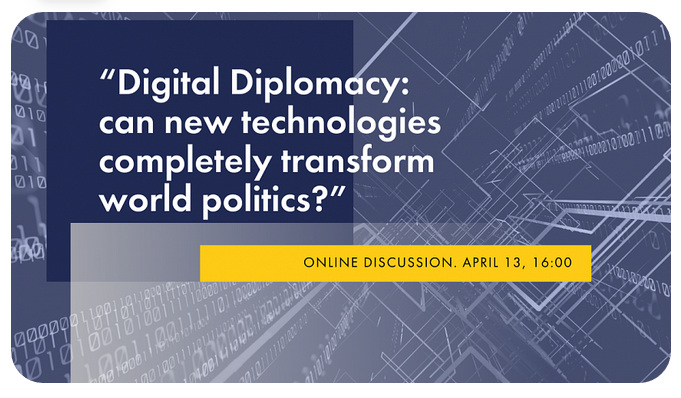 Warning
: Undefined array key "chkIconSize" in
/www/webvol29/96/dr3o8os9p35egxy/bidd.org.rs/public_html/wp-content/plugins/customize-external-links-and-add-icon/customize-external-links.php
on line
301
The Gorchakov Fund will host expert meeting "Digital diplomacy: Can new technologies completely transform world politics?" Tuesday, April 13 at 4:00-6:00 pm Moscow time
New technologies are consistently changing different aspects of life. Now, having a page in social media is not simply a requirement for a politician, but also a way to directly communicate with the electorate and the world. Technological innovations are taking their place in the foreign policy as well. Various diplomatic institutions in different countries are beginning to implement digital technologies into their work – they are expanding their presence in social media and conducting analysis of statements made by users on different topics using special programs.
Introduction of absolutely new forms of diplomacy also reflects the spirit of time. Thus, the government of Denmark has introduced an institute of "digital embassy" and has also established a position of a "digital ambassador" to stay in touch with large technology companies of the world. France has created a position of "an ambassador for digital affairs", who takes care of a large number of issues associated with cybersecurity and development of technologies.
The following experts were invited to attend:
Sergey Kiryushin, Ambassador-at-Large, Representative of the Ministry of Foreign Affairs of Russia for Digital Transformation;
Mikhail Petrosyan, Advisor to Director General of ANO Digital Economy;
Oleg Shakirov, Expert of the Center for Advanced Governance;
Nicholas Cull, Professor at Annenberg School for Communication and Journalism, University of South California;
Matthias Lüfkens, Founder & CEO at DigiTips, author of "Twiplomacy", ex-Head of Digital Media at the World Economic Forum;
Pawel Surowiec, Senior Lecturer in Public Relations and Strategic Communication, The University of Sheffield.
Discussion topics:
Does presence in social media represent an instrument of communication or is it a political tool of influence?
Can the online format substitute face-to-face diplomatic negotiations?
What opportunities and threats does application of technologies in development of foreign-policy decisions involve?
Technologies are inseparable from their creators. How should countries build relationships with technology companies?
When: Tuesday, April 13 at 4:00-6:00 pm Moscow time.
Where: Zoom
Languages: Russian and English with synchronous interpretation.
The event will be available to watch live online on the YouTube channel of the Gorchakov Fund in Russian and English .