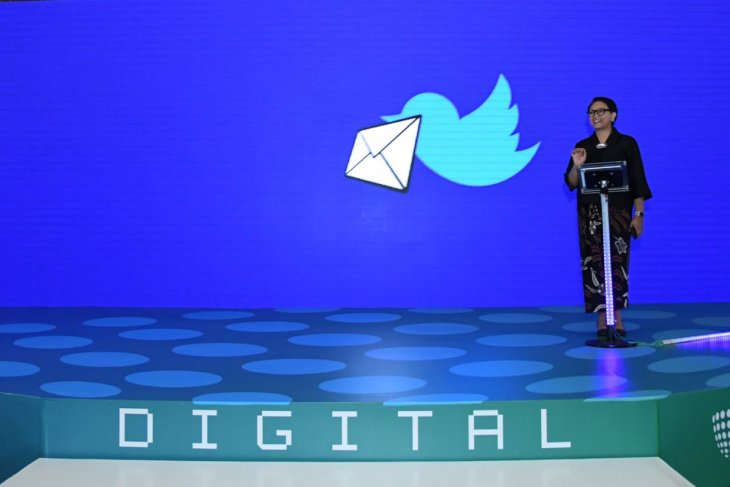 Jakarta (ANTARA) – Twitter's Chief Representative and Public Policy Head Agung Yudha seized the opportunity presented by the Regional Conference on Digital Diplomacy (RCDD) in Jakarta to edify diplomats on effective social media use in conducting digital diplomacy.
Some representatives from information and communication technology (ICT) giants and social network company Twitter were attendees at the conference held on September 10-11, 2019.
Yudha remarked that all diplomats must attune themselves to the current paradigms of digital communication in conducting their diplomatic work.
"As the way of communication has changed now, I am afraid — in a good way — that all diplomatic corps and governments in the world need to phase up with the technology and somewhat change the way they conduct diplomatic practices," Yudha stated.
He pointed out that every social media platform had its own uniqueness and ability in facilitating people to deliver their messages. Hence, diplomats need to grasp the true essence of social media platforms to utilize it accordingly.
Yudha also noted that every social media platform typically had its own users, thereby translating to the fact that one platform's users had a different character than those using other platforms.
"The character of people coming to one platform differs from that of the other. For instance, in Twitter, people come with — what we called as — a receptive mentality that is different from other platform. However, when I use other platforms, such as Facebook, Instagram, Whatsapp, I come with a different mentality," he pointed out.
Hence, he has put forth a suggestion to diplomats to take a cue and gain a broader understanding of the different traits of social media users to successfully deliver their messages.
"To understand the mentality of members of the audience, we can get to know the right way to deliver message and to deal with such people," Yudha stated.
Related news: Tom Hanks jokes Twitter CEO inspired his character in "the circle"
In the case of using Twitter, he called to apply a conversational approach as the key to using the social media platform for digital diplomacy.
"Hence, if you use Twitter, ensure that you use it effectively to support diplomatic efforts that you do. Ensure that you do it in a conversational manner, but it does not mean that you have to reply to all the messages and mentions," he stated.
"Being conversational means being responsive to other people's inputs to you, regardless of negative or positive, to get constructive inputs and work through them," he added.
Yudha pointed to another crucial aspect of exercising caution in making posts or tweeting on social media.
He called on diplomats to be cautious of what they post on social media since it can be quoted with direct link by the media.
"Nowadays, you cannot say 'I don't say that' because the media does not need to directly quote you. The media can just embed your tweet into their online article, and people can see that she or he is actually saying that in the tweets," Yudha expounded.
Lastly, he highlighted that the number of followers is not the main important aspect in using Twitter effectively to deliver messages to the public.
"The number of followers is not the main thing. You can just have a few hundred followers, but you can still have the same extent of influence as those having millions of followers. It is the positivity of the message being delivered that can get people to respond," he added.
Related news: Foreign minister opens regional conference on digital diplomacy
Related news: Twitter works with KPU to verify legislative candidates' accounts
https://en.antaranews.com/news/132578/twitter-chief-representative-shares-advice-on-digital-diplomacy