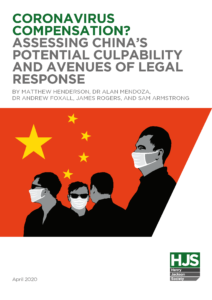 China's leaders are looking to turn the COVID-19 crisis to their advantage, but their task will be much harder than in 2008—and not only because many people across the world blame the Chinese government's initial suppression of news about the coronavirus for its rapid spread, notes Bloomberg analyst Mihir Sharma. Back then, China could point to Western countries and say: They broke global finance. This time, Chinese leaders will have to show that they themselves are capable of fixing what's broken. They will have to make a positive argument for global leadership.
Russia also clearly perceives the coronavirus pandemic as a welcome opportunity to advance its systemic rivalry with Western democracies, says Joerg Forbrig, GMF senior fellow and director for Central and Eastern Europe. The Kremlin sees its own worldview vindicated that open societies, democratic institutions, and multilateral arrangements are unfit for handling heightening global turmoil, whether it be economic, security, or health crises.
In taking a page out of Russia's playbook, adds Jessica Brandt, head of research and policy at the Alliance for Securing Democracy, China's goals appear to be twofold:
First, the government aims to highlight the strengths of its response to the crisis, while casting Western governments as comparatively feckless. This is part of a much broader strategy of positioning its governance model as an attractive alternative to liberal democracy.
Second, China aims to position itself as a capable partner for the United States' traditional allies in Europe at a moment when anxieties about the absence of U.S. leadership run high. It does all this while casting doubt about the origins of the virus.
As the virus' effects compound, a full court coronavirus propaganda war is about to unfold. but the U.S. is not postured to fight such a war, analysts suggest.
The debate surrounding influence operations shows that soft power is intimately connected to what the National Endowment for Democracy (NED) calls sharp power. Communication is a force multiplier, and if used effectively can generate asymmetrical effects, James Pamment writes for USC Public Diplomacy:
This is nothing new of course, but what we have seen over the past few years demonstrates that a willing underdog can create a disproportionate impact with relatively low-cost, low-risk efforts to pollute the information environment. Some countries and organizations will be inspired to conduct their own influence operations, perhaps upon targets that lack the resources of major Western democracies, and whose public spheres are all the more susceptible to manipulation.
By deploying sharp power, Beijing has deftly escalated its information campaign against the United States by having senior diplomats promote conspiracy theories that obscure its own role in the pandemic and shift blame to Washington, note Colin H. Kahl, co-director of Stanford University's Center for International Security, and Ariana Berengaut, the director of programs, partnerships, and strategic planning at the Penn Biden Center.
China has combined public diplomacy with coordinated messaging by state-controlled media, legions of social media bots and trolls, and offers of assistance by Chinese corporate giants to further amplify the narrative that China is both the victim of malign American action and the world's only savior at a time when the United States is pulling back, they write for War On the Rocks.
Until there is a shift in paradigm, the U.S. will continue to lag behind not only China, but also Russia and extremist groups with a more systems level approach to national information strategy, argue Matthew Coughlin, Director- Cyber Planning element for USSOCOM, and Chief Scientist Paul Lieber, PhD.:
The State Department's Global Engagement Center …. may not meet its mark unless its goal beyond to collect and direct toward forming a system of information capability. Existing doctrine and authorities do not need to be rewritten, rather re-purposed to empower specific entities to maximize effort in their current and respective lanes. There is also no reason the Global Engagement Center should not remain the place to do this. This isn't about ownership rather mindset.
If there is one lesson we can draw from these first months of the COVID-19 pandemic, it's that draconian emergency measures have become the new 'normal' and so will they remain for some time, adds HEC Paris Insights. We are all now subject to an increasing number of rules of unprecedented pervasiveness. Our governments have attempted to anticipate the virus timeline to avoid that "the virus makes the timeline". As of April 1, over half of humanity is in lockdown, cowed into their homes by governments through confinement, quarantines, curfews and/or intimidation, HEC writes for Forbes.
At least thirty regimes from Belarus to Venezuela have all looked to take advantage of the outbreak and the ensuing chaos to give themselves extraordinary new powers, while elections get delayed or forced to go ahead, depending on what suits the incumbent rulers, VICE News reports.
"Governments around the world, whether they're full-blown authoritarian, like China and Russia, or countries that are on the cusp of becoming less free, places like Hungary and the Philippines, are exploiting the crisis to expand their power and undermine human rights," Allie Funk, a research analyst for technology and democracy at Freedom House, told VICE News. "And as the pandemic gets worse and reaches a bunch of other countries in the global south, [we'll see] that this is only the tip of the iceberg."
But as the crisis spreads, the role of well-established international human rights standards in shaping and implementing effective – but also legitimate – measures is becoming ever clearer, argues Sonya Sceats, Associate Fellow in the International Law Programme at Chatham House.
The virus has reminded us of our interconnectedness as human beings and the need for global cooperation to protect our lives and health. This may help to revive popular support for human rights, creating momentum for the efforts to tackle inequality and repression – factors which have made the global impact of coronavirus so much worse than it might have been, she asserts.