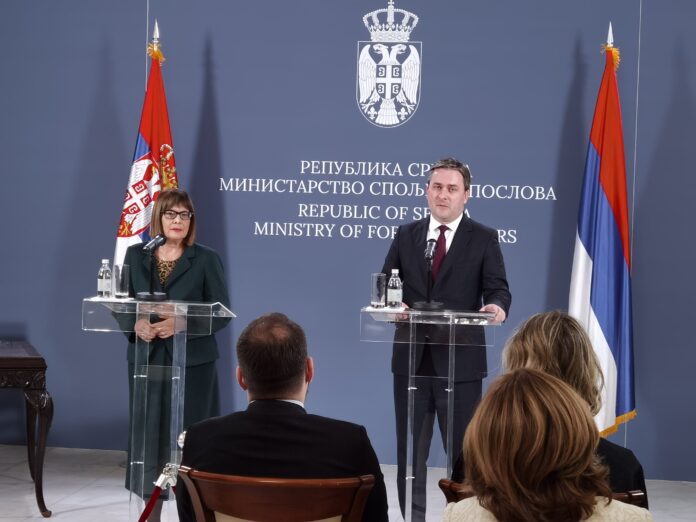 Minister of Foreign Affairs Nikola Selakovic and Deputy Prime Minister and Minister of Culture and Information Maja Gojkovic signed today the Principles of Cooperation and Promotion of Coordination between the Ministry of Foreign Affairs and the Ministry of Culture and Information in the field of public and cultural diplomacy.
At the joint press conference after the meeting, Ministers Selakovic and Gojkovic stated that the joint efforts to popularize our culture would continue, both in the most important world capitals and in areas where it is well known, such as the countries of the region.
Minister Selakovic said that the Director of the Cultural Centre in Paris was appointed in the previous period, that the Director of the Cultural Centre in Beijing would be appointed in the following three days, and that the procedure for opening the Cultural Centre in London was formally completed.
"We continue to popularize our culture and in the coming period we will focus on opening new cultural and information centres of our country. We are working to sign agreements with North Macedonia and Slovenia in the coming period on the opening of our cultural and information centres in Skopje and Ljubljana", Selakovic pointed out.
"I would like to emphasize that our efforts towards the popularization and protection of Serbian culture, Serbian cultural tangible and intangible heritage have culminated in the election of our Ambassador to UNESCO Tamara Rastovac-Siamashvili as Chair of the UNESCO Executive Board, which is the first time that Serbia has such a high-ranking diplomat in this UN agency", said the Head of Serbian diplomacy.
Minister Selakovic stated that consultations between the two ministries in the field of cultural and public diplomacy were taking place on a daily basis, and that one of the new practices was the constant monitoring of auction houses abroad and items that are important for Serbian cultural and historical heritage.
Deputy Prime Minister and Minister of Culture and Information Maja Gojkovic pointed out that the exceptional and substantial cooperation between the two ministries resulted in the signing of the Principles of Cooperation.
 "With the agreement, we have institutionalized our good cooperation, and we wish to focus even more on cooperation in international organizations, primarily UNESCO, but also the International Organization of La Francophonie", the Minister said.
She underlined that it was very important to present the culture of a country through diplomacy, noting that there was no classical diplomacy without culture.
"Serbian culture, as well as the culture of all national minorities who live and create in our country, deserves international attention", said Minister Gojkovic.
The Minister cited the example that the exhibitions at the Cultural Centre in Paris – the exhibition of painter Cile Marinkovic, the exhibition on diplomat and writer Ivo Andric and the exhibition of the Museum of Naïve and Marginal Art – attracted great attention from our diaspora and foreign audiences.