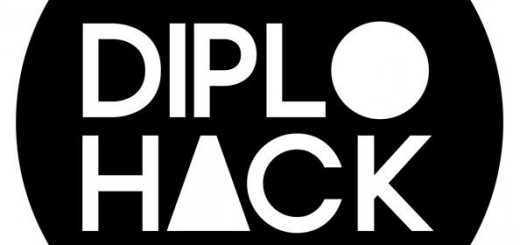 27 September 13 by Liat Clark
How many diplomats does it take to solve a crisis? It turns out the answer to that question might be one diplomat, one NGO, and a whole lot of developers. At least that was the premise being debated and played out at Diplohack this week at the Hub in Westminster.
"We wanted to do something innovative, using open data and technology," Jon Pelling, head of communications for the Swedish Embassy in London, told Wired.co.uk. "We're interested in using technology in diplomacy in general and have strong networks ourselves, with NGOs etc." The idea of Diplohack however, was to open up those networks and that knowledge to each other, and to the public, using technology to pave the way and help solve community problems. Pelling and his Dutch counterpart Weijer Vermeer, press and public diplomacy attaché at the Dutch Embassy in London, discussed the idea of a diplomat/NGO/developer hack day a year ago. And just four weeks ago they sat down to make it happen.
"We interviewed NGOs to come up with the questions, making sure we kept it broad and not too controversial," explains Stephanie Denamps, the MakeSense volunteer leading the day's hackathon. Denamps and her MakeSense colleagues gave up their time (her day job is at O2) to facilitate the debates and discussions, and steer the ten groups — each made up of a diplomat, a member of an NGO and a developer, or someone with relevant experience — toward a tangible plan. The morning consisted of a brainstorming session where what they saw as the biggest problems in the two chosen areas — sustainability in the food supply chain and freedom of speech in the arts — were hashed out. By the afternoon, the teams' chosen concepts were refined for the final presentation.
The two questions — "How can creative collaboration in the arts enhance freedom of speech and tolerance?" and "How can open data and technology improve sustainability in the food supply chain?" — were not designed to give life to concrete ideas that would result in app development. The point was the process. What happens when you stick individuals from totally different backgrounds, skillsets and agendas in the same room to hash out an idea.
That all three career fields are founded in creative problem-solving meant there was in fact a surprising amount of success, however, with more than a few great ideas filtering out of a process that drove one diplomat to comment, "All of the ideas have some kind of future". Of course, he may have just been being diplomatic. But his experience of the day was not a façade. It quickly became clear how much each diplomat gained from the experience of taking their ideas out of the office setting, from behind the gated communities of embassy life, and into a shared workspace. There they worked in tandem with strangers as enthusiastic about the issues at hand as they were.
"I like the creative part, it was very energetic," commented one. "We're all from such different backgrounds but we had a lot to talk about. We talk to a lot of people all the time, but sitting down to get an idea going was very productive. The setup is something I want to take with me back to Holland and the Hague."
Another Dutch diplomat said: "It shows we have so much to learn from each other, there is huge potential in this for us."
From the sustainability side, a few ideas stood out. Cropcheck is an app that allows farmers to alert the authorities to a pest problem. Tim Holmes of not-for-profit scientific research organisation CABI and Lisa Ommanney of design practice Something and Son worked on the design. The idea was to convince farmers to share data. Instead of immediately burning their crops if a problem arises, policy makers would incentivise them to share important data. In return, staff would be sent to investigate and give free advice. The app would also send alerts to farmers in the local area, asking them to check their crops.
An idea from Ed Dowding, founder of Food Trade, and an intern from the Dutch embassy focused on what to do if a crop disease or pests come to your country. The app would allow you to input categories such as what you want to buy and from where, and if there are any cases of diseases or pests being present, they are flagged up. It would also be integrated with a legal database telling you what tariffs would potentially be levied, and what to do to control the problem (quarantine etc).
The ideas for the freedom of speech apps drews the most debate.
Art in a Box, created by an employee from Global Partners Digital and a web consultant, would allow censored artists to sell work anonymously. They could be paid via Paypal or Bitcoin, and a bio explains their story — if they are in danger and why, why they have been censored, whether they are seeking legal help. They could even include a Twitter hashtag to get their story heard. "It empowers artists who don't want to disclose their identity," said one of the creators.
Bannedit, as the name suggests, showcases banned content. An interactive map would show where in the world an artist is. Policy makers could use it to see where there is tolerance and which areas perform badly, as communities emerge on the map. People can choose to like, distribute or support the artwork, with celebrity or even government endorsements a vital element. Content could also be curated and moved from the virtual world to the real, showcased at festivals.
Get Creating would allow artists to upload like audio files, to be modified by other artists. Users can then view all iterations; a history of the creative process. Other artists, supporters or governments could choose to support and endorse particular works. "Then it's more difficult to ban it," one designer said. It encourages artists to work together, creates a sense of solidarity and as clips get voted up or down, they gain notoriety.
Finally, journalist Rohan Jayasekera chipped in with an idea for banned films. Directors are asked to do a print of their film with the cut frames filled with black spaces. An app would allow viewers to lift their phone up when the banned content appears, and view it on the device. They can also listen to the director explain why the scene was important, and why it was censored.
The ideas are all obviously at their very, very early stages. Without the proper technological advice it was hard for the teams to outline how they might protect an artist's identity, or even how they would identify whether an artist is who they say they are. If an artist is banned, it's also likely authorities will know what their art looks like and could identify them that way.
It was suggested next time they get more makers involved — a few artists attended, but not enough –and more developers. "We need more techies to tell us if its actually possible," commented Rebecca Zausmer of Global Digital Partners. Dowding suggested incentivising developers with a prize, but also giving them a specific challenge. "We've done a lot of hacks and the more refined the question is the better the output," advised Quentin Johns from the Hub.
Nevertheless, the enthusiasm was infectious. One Dutch diplomat, Tanja Roling, was waxing lyrical about her app idea to Wired.co.uk. "I wanted to take it further, but there was no time left," she said, explaining the different mods to the original concept she would like to implement. She wants to bring together her idea, Bannedit, with Get Creative. "What do people want to see? They want something cool and visual." Combining the two would see artists modifying each other's work and creating a timeline of their creation.
Listening to Roling pontificate about the design and how to make it user-friendly made a clear case for using a creative process to disrupt what is a deeply traditional world of foreign affairs.
"Today we need to work across much broader fields," Swedish ambassador to the UK Nicola Clase told Wired.co.uk. "It's useful in diplomacy; we need to be a less closed field."
Sweden's foreign office is particularly savvy when it comes to the issue, partly because of their tech-loving foreign minister Carl Bildt. "A few years ago he needed to get in touch with the foreign minister in Bahrain and couldn't get hold of him, so he sent him a tweet," says Clase, with a hint of pride. "It's really important, we have strong support and are actually being pushed by the Foreign Minister. It's a top-down approach!"
This year, Bildt was named the best connected world leader — basically, more world leaders follow him back than any other minister. According to Clase, he ordered all diplomats to get a Facebook and Twitter account that they are trusted to use as they see fit for professional purposes. "It wasn't an option," she says. And most importantly, they know it's okay if they make mistakes — considering how new the concept of opening up is for the typically closed community of diplomacy, this is vital to encourage employees.
Today, Clase recounts a world where information flow has given diplomats access to what they need to know far quicker than ever before. "Today it's about teaching diplomats digital literacy and in the future getting information and pushing it back to the public where necessary."
"We're asking ourselves, can we be a platform for discussion?"
The Dutch and Swedish embassies plan on following up Diplohack with the two issues of sustainability and freedom of speech dealt with separately next time.
http://www.wired.co.uk/news/archive/2013-09/27/diplohack