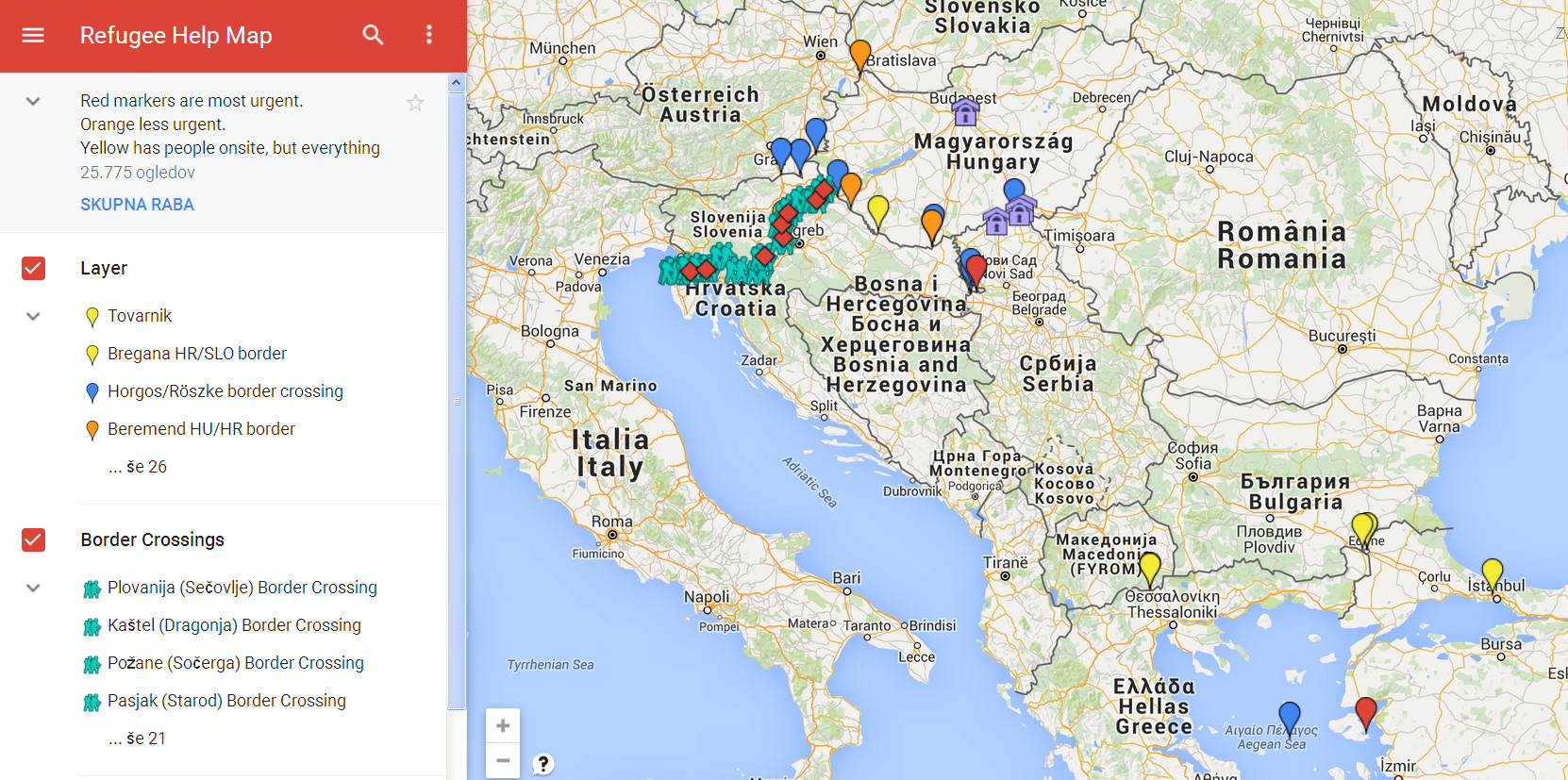 english français deutsch arabic farsi

English

This is a blog collecting important information for refugees and supporters. Because of the current situation refugees face in Germany and Austria, it is necessary to support as well as possible. There are a lot of people who want to help, support refugees and join the fight against the European repression of refugees. This blog collects information about law, refugee-organization, health and care and so on. We want to collect as many info as we can to support refugees themselves and also supporters. It is necessary to know your possibilities and your prospects, it is good to know where to ask and where to organize. Fight fortress europe.
Français
C'est un blog que collect des informations importantes pour des réfugés et des partisans.  On raison de la situation actuelle que des réfugiés sont exposées en Allemagne et en Autriche, il est necessaire de supporter à la meilleur manière. Il y a beaucoup des gens qui veulent aider, supporter des réfugiés et combattre la répression contre des personnes réfugiées et déplacées en Europe. Ce blog recueille des informations différentes comme sure le loi ou la santé. Nous voulons recueiller les plus d'informations possible pour aider des réfugiés et des partisans. Il est important de savoir ses droits et ses possibilités, il est important de savoir où et à qui s'adresser, où s'organiser. Chutez la forteresse Europe.
Deutsch

Dieser Blog sammelt wichtige Informationen für fliehende/geflüchtete Menschen und Unterstützer_innen. Aufgrund der aktuellen Situationen, denen sich geflüchtete und fliehende Menschen ausgesetzt sehen, ist es notwendig so gut wie möglich zu unterstützen. Es gibt viele Menschen, die helfen und unterstützen wollen und gegen die Repression  gegenüber fliehenden/geflüchteten Menschen in Europa ankämpfen wollen. Dieser Blog sammelt zu verschiedenen Themen Links/ Anlaufstellen etc.. Davon soll es so viele, wie möglich auf diesem Blog geben, um fliehende/geflüchtete Menschen und Unterstützer_innen so gut wie möglich zu unterstützen. Es ist wichtig und notwendig seine Rechte und Möglichkeiten zu kennen, es ist wichtig zu wissen, wen man fragen kann und wo man sich organisieren kann. Festung Europa einreissen.
Arabic
ما هذا ؟
هذه الصفحة تجمع معلومات هامة للاجئين ومؤيديهم. وبسبب وضع اللاجئين الحالي في ألمانيا والنمسا، فإنه من الضروري دعمهم باكثر الإمكان. هناك الكثير من الناس الذين يريدون المساعدة ودعم اللاجئين والانضمام إلى الكفاح ضد القمع الأوروبي للاجئين. هذه الصفحة تجمع المعلومات عن القانون وتنظيم اللاجئين والصحة والرعاية والمزيد ايضاً. ونحن نهدف لجمع معلومات كثيرة قدر المستطاع لدعم اللاجئين أنفسهم، وكذلك مؤيديهم فمن الضروري أن تعرف إمكانياتك ومن الجيد أن نعرف أين تسأل وكيفية التنظيم. حارب حصن أوروبا.
Farsi
این وبلاگ حاوی اطلاعات مهمی برای پناهندگان و حمایت‌کنندگان است. به دلیل شرایطی که هم اکنون پناهندگان در آلمان و اتریش با آن مواجهند، حمایت از ایشان حائز اهمیت فراوانی است. افراد بسیاری مایلند که به کمک، حمایت و مبارزه برای پناهندگان در مقایل سیاست‌های سرکوب‌کننده در اروپا بپردازند.
این وبلاگ به دنبال کسب اطلاعات هرچه بیشتر در زمینه قانون، تشکیلات پناهندگان، سلامتی و بهداشت و غیره برای کمک به پناهندگان و حامیان است. شناخت فرصت‌ها و امکاناتی که هم‌اکنون در اختیار شما می‌باشد از اهمیت بسیاری برخوردار است. باید بدانید کجا سوالاتتان را بپرسید و کجا سازماندهی انجام دهید. با سنگر اروپا بجنگید.
++ Please be aware of treating people respectful and without paternalism. / Bitte behandelt die Menschen respektvoll und nicht paternalistisch (von oben herab) / S'il vous plaît, traitez des personnes avec respect et sans paternalisme. / يرجى أن تعامل الناس باسلوب محترما ودون تكبر وأبوية. ++
You will find information for the following topics / Vous trouvez des informations sur des sujets suivantes / سوف تجد معلومات مفيدة عن المواضيع التالية:
شما میتوانید در اینجا اطلاعاتی درباره موارد زیر بیابید:
1. Information zum Asylverfahren in Deutschland / information regarding the asylum process in Germany / des informations sur la procédure de demande d'asile en Allemagne / ١. معلومات متعلقة بعملية اللجوء في ألمانيا
اطلاعات در زمینه مراحل پناهندگی در آلمان
2. Rechtsberatung und sonstige Beratungsstellen in Dtl. & Österreich & Ungarn / Legal advice and counceling centers in Germany & Austria & Hungary / consiels juridiques et bureaus des consultations en Allemagne et l'Autriche / ٢. مراكز المشورة والإرشاد القانوني في ألمانيا، النمسا وهنغاريا
مراکز مشاوره و راهنمایی حقوقی در آلمان، اتریش و مجارستان
3. Sprache / language (dictionaries etc.) / la langue (des dictionnaires etc) / ٣. اللغة (القواميس الخ.)
زبان – لغت‌نامه و غیره
4. Gesundheit/Medizin/Psychosomatik usw. / Health, medicine, psychological help etc. . / Santé, medicine, l'aide psychologique / ٤. مساعدات طبية، صحية ونفسية الخ.
کمک‌های بهداشتی، دارویی، روانی و غیره
5. Refugee Movement, migrant self organization, political support support / des organisation autonomes des réfugiés, des soutiens politiques / ٥. حركة اللاجئين، التنظيم الذاتي للاجئين، الدعم السياسي
جنبش‌های پناهندگان، اعم از خودجوش یا سیاسی
6. Suche nach vermissten Angehörigen / Search for missing family members / Recherches despersonnes disparues / ٦. البحث عن المفقودين من أفراد الأسرة
جستجو برای افراد گمشده‌ی خانواده
Please help us to share this blog! / يرجى مساعدتنا بنشر هذه الصفحة!
لطفا برای انتشار این وبلاگ به ما کمک کنید
Refugees Welcome! Bring your families! / مرحبا باللاجئين! احضرو عائلاتكم!
پناهندگان عزیز، خوش آمدید! خانواده‌هایتان را با خود بیاورید
Hashtag: #refugeeswelcomeinfo / #refugeeswelcomepad
Pad: https://pad.systemli.org/p/RefugeesWelcome
You also can send an Email with Information!
Every refugee is a political refugee!
Contact:
refugeeswelcomeinfo[@]riseup.net
Twitter: www.twitter.com/welcome_infopad 
https://refugeeswelcomepad.wordpress.com/