Skip to content
Part of Chevening Conversations UK in Sri Lanka
15th October 2020 Colombo, Sri Lanka
From applicant, scholar to panellist: A nervous Chevening journey
Nerves, nerves, and more nerves aptly describes my entire Chevening application experience. I was a bundle of nerves from the point of filling out the lengthy application online to that heart-racing moment I clicked open the acceptance email from the Chevening Secretariat. And this year – as I sat on the interview panel, grading the shortlisted candidates – I was reminded of how nerve-racking the whole experience was for me.
With this in mind, I felt it would be helpful to list out some advice to the 2021 applicants. I hope this helps you navigate the unavoidable anxiety, and outhustle those nerves so you don't miss out on a brilliant opportunity to not only obtain a Master's degree but also be part of the incredible Chevening journey.
The most basic yet crucial bit of advice I can share, is to not delay filling in the application form. It's a very de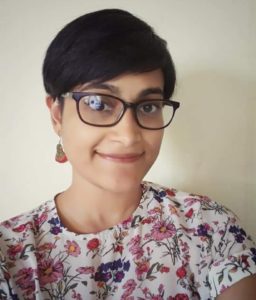 manding application – as it should be. If you put it off till crunch time, you will be rushed and may not answer the essay-type questions to the best of your ability. When I applied for the Chevening scholarship, I was a harried journalist; journalism and my involvement in various volunteer work took up most of my day, even my weekends, so I dedicated my late evenings to filling out the application. It was daunting, but having started weeks ahead, I had plenty of time to revise my essays till I was finally satisfied with what I had I written, and it certainly paid off.
Next, while filling out the application bear in mind that Chevening cares little to nothing about your high school achievements; whether you were a head prefect, or that you organised a staggering number of shramadanas in high school. This is a scholarship for adults who've completed their Bachelor's degree and have, at the very least, two years of working experience. Besides, there are plenty of individuals who were never given the opportunity to shine in school, but are brilliant nonetheless, and have accomplished so much as an adult. Harking back to your glory days in high school indicates you've accomplished very little since then. Write about your recent achievements in more detail instead. If you make it to the shortlist, keep this in mind during the interview as well.
Another important fact to remember while applying is that there are two aspects that Chevening looks for in a successful candidate. That is: how much potential the candidate has to excel in their field and how Sri Lanka and the Chevening community can benefit from them. The former is about you, why you are deserving of this scholarship, how can it help you develop and achieve your future goals. The latter is about what you have to offer Sri Lanka and the Chevening community once you've gained a Master's degree. During the interview sessions this year, I found that many candidates focus on only one of these aspects. Some very impressive candidates, who were able to provide strong examples of what they can offer the country once they complete a specialised Master's degree, appeared wholly unprepared and faltered when describing how they would personally benefit from the scholarship, and vice versa. I sincerely hope those candidates apply for the scholarship this year as well, and are better prepared for the interviews this time around.
As a Chevening alumnus and from my experience as a panellist, this is some of the advice I have to share with the applicants. Nerves are a given, Chevening will look beyond that, be sure to apply early and prepare for the interviews by bearing in mind what exactly Chevening expects from a successful candidate. Best of luck in applying for the Chevening scholarship!