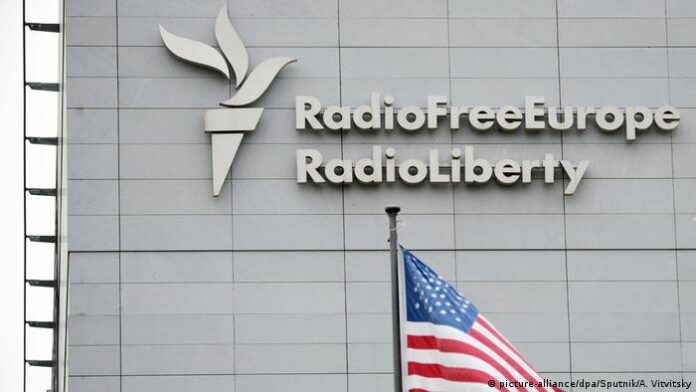 Radio Free Europe, also called Radio Free Europe/Radio Liberty (RFE/RL), radio broadcasting organization created by the United States government in 1950 to provide information and political commentary to the people of communist eastern Europe and the Soviet Union. In the absence of unbiased media in the communist countries, Radio Free Europe provided its estimated 35 million listeners with news from around the world and, more important, from their own countries. Because of its largely successful efforts to outwit communist censors and reach its listeners on a daily basis, Radio Free Europe is credited with having contributed significantly to the demise of communist regimes throughout eastern Europe.
Radio Free Europe first began transmitting from its headquarters in Munich, West Germany, on July 4, 1950, to Czechoslovakia. Soon it was transmitting to most of the Soviet-dominated countries and in 15 languages. The station was funded by the U.S. Congress through the Central Intelligence Agency (CIA). However, CIA involvement was kept secret until the late 1960s for fear of Soviet retaliation.
The CIA ended its involvement in Radio Free Europe's financing and operation in 1971, and control was transferred to a Board for International Broadcasting appointed by the U.S. president. Radio Free Europe was merged with a similar broadcasting organization named Radio Liberty in 1976, creating what is still called Radio Free Europe/Radio Liberty (RFE/RL). Despite the termination of CIA involvement in Radio Free Europe, the Soviet Union continued its attempts to jam the station until 1988.
During the Cold War, communist governments attempted to prevent information broadcast by RFE/RL from reaching listeners in their countries. They routinely jammed the radio signal or created interference by broadcasting noise over the same frequency. In addition, some RFE/RL staffers died under mysterious circumstances, the most famous being Bulgarian writer Georgi Markov, who died in London in 1978 after being stabbed with an umbrella that inserted a poisonous ricin-laced platinum pellet into his leg. RFE/RL headquarters in Munich was bombed in 1981 by terrorists underwritten by the Romanian government and headed by Venezuelan militant Carlos the Jackal.
Following the end of the Cold War in 1989, the role of RFE/RL changed in many of its target countries. The station was officially allowed to operate in most of the states it broadcasts to, with the exception of Belarus, Turkmenistan, Tajikistan, and Iran. In 1995 its headquarters moved to Prague. With developments in the Middle East capturing American attention throughout the 1990s, RFE/RL initiated a program to reach out to the people in Iraq and Iran, and the first broadcasts to those countries began in 1998.
By the early 21st century RFE/RL had bureaus throughout eastern Europe, the former Soviet republics, and the Middle East producing radio, television, and Internet content in roughly 20 countries and in approximately 30 different languages, including lesser-known tongues such as Bashkir, Circassian, Tatar, and Chechen (all spoken in the Russian Federation). It does not broadcast in English at all, and 19 of the languages in which it broadcasts are spoken by Muslim communities ranging from Kosovo (in the Balkans) to Pakistan (in South Asia). After an absence of more than a decade, RFE/RL restarted its Dari and Pashto language broadcasts to Afghanistan in 2002. By 2010 RFE/RL programming broadcast in various Pashto dialects reached the tribal areas along the Afghanistan-Pakistan border. In addition to providing its listeners, viewers, and readers with local news and information, RFE/RL aims to assist countries that are in transition in developing their civil societies (including the media) and guarding against the resumption of totalitarian rule.
U.S. Public Diplomacy & Broadcasting Efforts in Eastern Europe–ACPD Quarterly Meeting