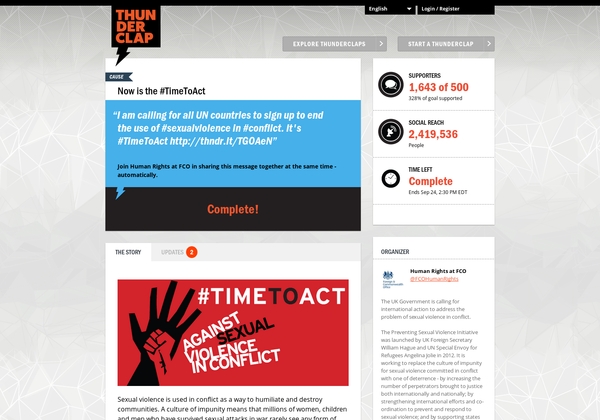 Sexual violence is used in conflict as a way to humiliate and destroy communities. A culture of impunity means that millions of women, children and men who have survived sexual attacks in war rarely see any form of justice, and perpetrators are able to commit these horrific crimes without fear of any consequences.
To address this, UK Foreign Secretary Willliam Hague has led efforts to launch a new UN Declaration against sexual violence in conflict at the UN General Assembly (UNGA) in New York this week.
To mobilise support for the new Declaration, we created an online campaign via Thunderclap in the run-up to UNGA. Thunderclap is a 'crowd-speaking platform' – in other words, it allows people who care about an issue or cause to create an impact through social media by saying something together.
So, at exactly 2.30pm New York time on 24 September as the UN meeting began, a message was sent out by Thunderclap on the 1,643 social media accounts of people who had signed up to our campaign:
I am calling for all UN countries to sign up to end the use of #sexualviolence in #conflict. It's #TimeToAct http://thndr.it/TGOAeN
The combined following for those 1,643 supporters is over 2.4 million. By joining our Thunderclap, they have helped us to greatly amplify our message to the UN and build momentum behind the campaign.
We were delighted that amongst the public supporters of our campaign were the Foreign Ministers of Australia, Canada, Poland and Bosnia Herzegovina who also joined personally. We were proud to be joined by Care International, War Child UK and many of the partners who have worked with us to rally international support.
But beyond the Thunderclap, a lot of work went on around the world in preparation for the launch of the Declaration. Thanks to the UN Secretary-General's Special Representative on Sexual Violence in Conflict Zainab Bengura, Special Envoy for Refugees Angelina Jolie, governments that have championed the Declaration, and a network of NGOs and supporters worldwide, 120 countries have now endorsed the Declaration with more expected to follow.
Digital initiatives like Thunderclap often work best when they complement and enhance other kinds of engagement; in this case it also allowed a wider public audience to get involved with this cause and make a tangible difference. Perhaps equally important was the message of support it sent to survivors of sexual violence, that they have not been forgotten.
You can read more about the campaign on the Preventing Sexual Violence in Conflict blog, and find out more about the UK at UNGA68 on Tumblr.
Digital Team
London, UK
A blog by the Foreign Commonwealth Office's Digital Team