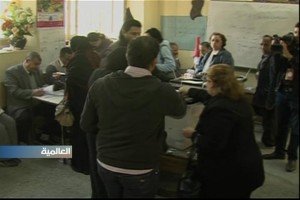 As Egyptians took to the polls to vote on a new constitution, Alhurra Television and Radio Sawa provided audiences the latest news, expert analysis and reaction from the street.
In the week leading up to the election, Alhurra aired a daily program called Constitutional Referendum. The series addressed such topics as personal freedoms and human rights in the new constitution, the role of the military, international monitors during the vote, the rights of women and Copts and the future identity of Egypt.
During the two days of voting, Alhurra expanded its reporting to include more than 15 hours of live coverage. Reporters in Cairo, Alexandria, Giza, Minya, Sharqiya and Suez interviewed Egyptians from all walks of life as they expressed their feelings about going to the polls for the second time in 13 months.  They also spoke with Egyptian political activists who voiced their opinions on whether to ban religious parties from political office and the question of how much power the military will have. Alhurra also reported on U.S.-Egyptian relations, the future of military and economic aid to Egypt and the impact the referendum vote will have on future presidential elections.
Alhurra also interviewed Amr Moussa, president of the committee that amended the Egyptian constitution and the governors of Suez, Minya and Alexandria, about their expectations for the vote and the future of the Egyptian constitution.
Alhurra's daily talk show Free Hour was expanded to two hours and featured guests Muhammad al Menshawi, Middle East Institute; Egyptian writer Mohamed Sotohi; Bashar Abdel Fattah, Democracy Magazine; and Sebastian Gorka, Foundation for the Defense of Democracies.
Radio Sawa also extended key newscasts to report on the Egyptian referendum voting, on both the Egyptian stream and the pan-Arab streams.  Radio Sawa's correspondents reported from more than 15 locations over the two days and their coverage included a look at the Muslim Brotherhood's call to boycott the vote and the role of international monitors.
Alhurra's Facebook page asked its users what there the expectations were for the referendum vote. Some expressed hope that the constitution would be passed, while others claimed the vote was illegitimate.