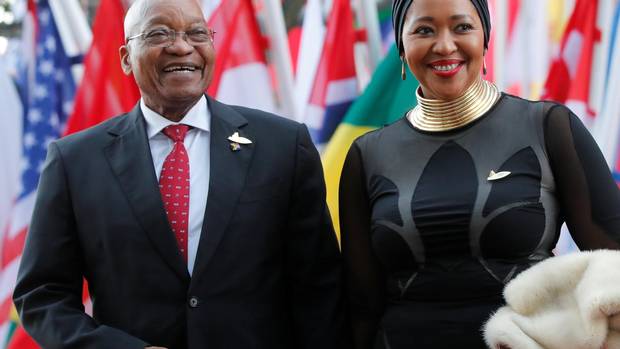 The British public relations firm Bell Pottinger is having to salvage its own reputation over its work for a South African company owned by a family of controversial businessmen.
Leaked emails reportedly show that the firm suggested its client, a company owned by the wealthy Gupta family, doctored its Wikipedia page to present itself in a better light.
Revelations about the PR company's efforts to design a social media campaign which stoked racial tensions in South Africa last week prompted Bell Pottinger's chief executive to make a rare apology.
The company has previously represented the Syrian first lady Asma al-Assad; Oscar Pistorius, after he was charged with murder; FW de Klerk, when he ran against Nelson Mandela for president; Alexander Lukashenko, the Belarusian dictator; and the governments of Bahrain and Egypt.
This time, it worked on a campaign to raise awareness about what was termed "economic apartheid", representing Oakbay, a company owned by the family of Indian businessmen thought to hold the levers of power in Jacob Zuma's government.
Critics say the purpose of the campaign was to deflect attention from allegations of corruption surrounding the South African president, and that the PR firm has "left deep scars" in the country's social fabric.
A tranche of documents and emails recently leaked to the media detail the alleged links between the Zuma family and the Guptas. Although they have not been independently verified, they appear to reveal that the Bell Pottinger account was negotiated by the president's son, Duduzane Zuma, who works for Oakbay, a Gupta company.
He and Victoria Geoghegan, a Bell Pottinger partner, met to discuss a campaign which Zuma said should be "along the lines of #EconomicEmancipation or whatever" with a "narrative that grabs the attention of the grassroots population who must identify with it, connect with it and feel united by it".
Subsequently, Jacob Zuma took to speaking of "white monopoly capital", claiming that it was behind calls for his resignation, and promising to break up white ownership of land and business.
Other senior ruling politicians repeated the phrase, as did Black First Land First, a campaigning group connected with the Guptas, which attacked politicians and journalists making allegations of Gupta-government corruption.
Several of these were "racists masquerading as journalists in defence of white monopoly capital", it said, which it would "deal with".
Bell Pottinger sacked one employee and suspended another three. Management did not know what its employees were doing, the chief executive, James Henderson, claimed in a statement.
"There has been a social media campaign that highlights the issue of economic emancipation in a way that we, having now seen it, consider to be inappropriate and offensive," he said. "Senior management have been misled about what has been done."
However, civil society groups and opposition parties said the apology was not enough. The Democratic Alliance (DA), which had lodged a complaint with two regulatory bodies in the UK, said that Bell Pottinger should donate the money it made on the Gupta account to good causes.
"If this apology was to be taken seriously, the company would fully disclose all dealings with the Gupta family and President Jacob Zuma," said the DA's Phumzile van Damme. "More pertinently, they would commit to using all profits obtained from Gupta business deals to investing in building schools or any developmental non-government organisations in SA."
The campaigning group Save South Africa said that Bell Pottinger "sowed racial mistrust, hate and race-baiting, and divided society", while the South African novelist Zakes Mda commented: "Bell Pottinger's apology is nothing but odious spin-doctoring. It's like saying: 'I'm sorry for whatever you think I did wrong.'"
A 2011 investigation by the Bureau of Investigative Journalism found that Bell Pottinger had doctored the Wikipedia pages of its clients to remove negative content and insert positive comments.
In the latest revelations, Geoghegan appeared to be conscious of this when she stressed that the changes should be made by an employee of the Gupta-owned company, Oakbay, rather than someone from Bell Pottinger.
"Attached is the final version of the Wikipedia content," she wrote. "Please can we have a call at 9.15am tomorrow to brief one of your digital team on how to upload the content? We want to be transparent about the new content we are uploading so need to flag that it is an Oakbay employee editing the Wikipedia entry."
Eleven days later, a user called Oakbay Rep edited the page to make the suggested changes.
Twenty-three years after Nelson Mandela became president, economic inequality between the races remains stark, and according to the economist Thomas Piketty, has in some ways increased since the end of apartheid. Black South Africans earn on average about a quarter of what their white counterparts can command.
Despite Zuma's rhetoric, little has changed in the situation of poor black South Africans since he took the reins from Thabo Mbeki eight years ago.
His presidency has been dogged by allegations of wrongdoing, including a multi-million rand upgrade to his private home at the expense of the taxpayer, and links to the Guptas, which were laid out in a report on "state capture" published by the national watchdog last year.
The ANC refused to comment, saying it had nothing to do with Bell Pottinger. Bell Pottinger has denied wrongdoing, and terminated its ties Oakbay in April, claiming it had been the victim of a political smear campaign.