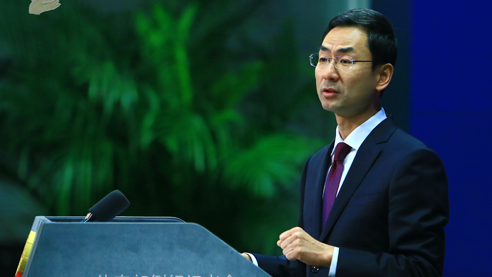 Chinese Foreign Ministry Spokesperson Geng Shuang addresses a press conference, Beijing, China, January 13, 2020. /Photo via China's Ministry of Foreign Affairs
In an era when Twitter diplomacy has become ubiquitous to global affairs with the U.S. President Donald Trump being one of the foremost proponents of "Twiplomacy," China has finally chosen to use the popular social media platform to put forth its own narrative with its foreign ministry launching an official Twitter account last month.
"Just like other countries' diplomatic posts and diplomats, our presence in social media platforms overseas like Twitter aims to do a better job in telling the story of China, with its realities and policies, to the world," Chinese Foreign Ministry Spokesperson Geng Shuang said at a press conference in Beijing on Monday.
"We hope to make use of such platforms to facilitate exchange and promote mutual understanding," he added.
The account @MFA_China has over 21,000 followers. While Twitter shows that the account was created in October 2019, the first tweet appeared only on December 2, 2019.
In a clear acknowledgement of the growing importance of social media platforms in international diplomacy, an increasing number of Chinese diplomats are making their presence felt on Twitter in recent times, telling the "China story" in unconventional ways while also defending Beijing's policies in front of a global audience.
"I would like to thank you for your interest in our Twitter account. As a matter of fact, many Chinese embassies and consulates as well as diplomats posted overseas have opened social media accounts," Geng said on Monday.
Asked to comment on the irony considering social media platforms such as Twitter and Facebook are blocked within China, Geng said: "We have the world's largest population of internet users. At the same time, we have always managed the internet in accordance with laws and regulations."
He insisted that "the Chinese internet is open."
Beijing's engagement on the social media forum has witnessed a substantial sharpness after Zhao Lijian, one of the first Chinese diplomats to open an official Twitter account, took charge as the deputy director general of the foreign ministry's information department last August.
Read also: Twitter diplomacy isn't bad if done right
In his previous role as China's deputy chief of mission in Islamabad, Zhao got the reputation of a Twitter maverick after he frequently took on Trump and other U.S. officials on the platform. On Thanksgiving weekend last November, Zhao admonished the U.S. on its history of racism in an eight-part post, which many described as a "tweetstorm."
Chinese diplomats on Twitter are also constantly defending Beijing's policies on Xinjiang and Hong Kong and countering the Western onslaught on telecom giant Huawei's 5G technology.
As global powers increase their digital diplomacy on one of the world's largest and most potent social media platforms, it is expected that the Chinese Foreign Ministry's Twitter account will address the pressing need for a more efficient way to disseminate Beijing's perspective on international matters.
https://news.cgtn.com/news/2020-01-14/China-gives-a-nod-to-Twiplomacy-MOFA-launches-Twitter-account-NfiQHr2slW/index.html