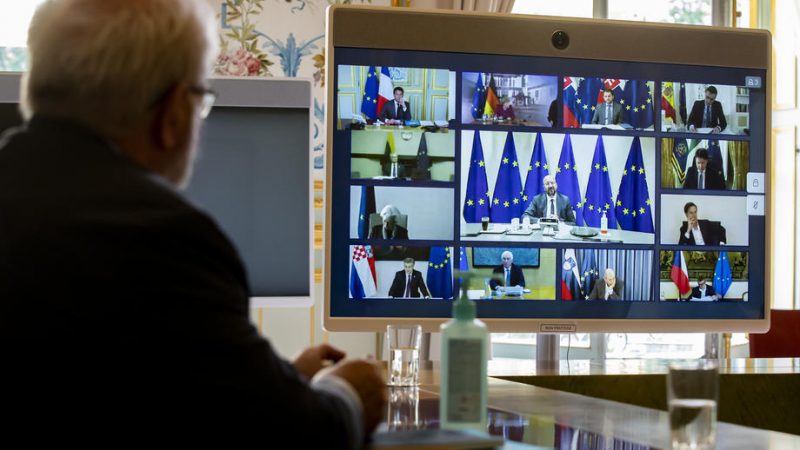 Digitalisation does not stop at diplomacy. Embassies are increasingly communicating via Twitter, foreign ministries are evaluating data, and in the coronavirus crisis, heads of state are negotiating via video conference. This could have consequences for global politics. EURACTIV Germany reports.
When Germany takes over the European Council Presidency on 1 July, Berlin will have plenty to do. The draft programme seen by EURACTIV Germany focuses on the major challenges of our time: climate change, digitisation, and the coronavirus.
Berlin wants to establish 'European Digital Diplomacy' by creating a 'Digital Diplomacy Network' to exist alongside the 'Technospheres USA and China'.
This should not only be about keeping European industries competitive. After all, the term "digital diplomacy" is not new.
Ilan Manor, a researcher at Oxford University and author of numerous papers on digital diplomacy, defines it as "the use of digital tools to achieve foreign policy goals."
This definition is intentionally broad, Manor told EURACTIV Germany, because technology can be used in so many areas of international relations.
Memes for the people
The US government set up an "eDiplomacy Task Force" in 2002, but it was not until 2008 that foreign ministries began to seriously address the issue, Manor said.
He is primarily concerned with the digitalisation of "public diplomacy," which is not directed at foreign governments but at their people. This creates domestic pressure on these governments to improve their relations within their country. To this end, states are increasingly using social media.
Manor divides the development of this digital public diplomacy into two phases.
In the first one, from 2008 to 2015, governments took the first cautious steps. They experimented and launched random and often directionless online activities. Foreign ministries and embassies set up social media accounts. Sweden opened a virtual embassy in the online video game "Second Life."
It was only in the second phase, from 2015 to the present, that foreign ministries began to act more strategically. They used "Big Data" to record public opinion in other countries, and also to track down online propaganda against their own country.
As an example, Manor cites the Russian embassy in the United Kingdom, which is said to have deliberately disseminated anti-EU narratives prior to the Brexit referendum, packaged in funny and seemingly innocent Internet memes that spread rapidly.
Private chats instead of shoulder taps
Even 'classic' diplomacy between states is becoming more digital, especially now that the coronavirus has swept the negotiating room clean. Conferences and negotiations take place via videotelephony.
This makes negotiations more difficult, but also offers opportunities for greater inclusion, say disarmament activists Susi Snyder and Erin Hunt in an interview with EURACTIV Germany.
From the Netherlands, Snyder is a project manager for the "No Nukes" programme of the organisation PAX, and Hunt, a Canadian, is a programme manager at "Mines Action Canada." Both have experience with decentralised organization which they set out in a guide for digital negotiations sent it to diplomats.
Compared to negotiations in the large halls of the UN, much is lost in video conferences, explains Hunt in an interview with EURACTIV Germany. Apart from body language and name badges, what is missing is the so-called "shoulder tapping" practice which is used to initiate short conversations in private.
According to Hunt, the real persuasion is not made in the negotiation room, but during conversations in a café or in the corridor. To replace this, private chat must always remain open in a video conference, says Hunt.
A chance to be heard
However, forced digital diplomacy is also an opportunity, says Snyder, since video conferences allows people to take part in negotiations who would otherwise have no chance of doing so.
In disarmament negotiations, for example, this applies to victims of armed violence who cannot travel because of their injuries or their financial situation. However, their testimonies are essential drivers of the talks. Snyder also explains that whether decisions can be made at all during negotiations by online voting is decided individually for each meeting.
It remains unclear who benefits from technological change in international relations – increased inclusion could be counterbalanced by the "digital divide", between countries with different levels of internet penetration. What is certain, however, is that digitalisation will keep changing diplomacy.
Manor sees predictive modelling as the next step: Diplomats will run simulations of negotiations and incidents, giving them an edge over their counterparts. The future of digital diplomacy, he thinks, will be shaped by the tech industry.