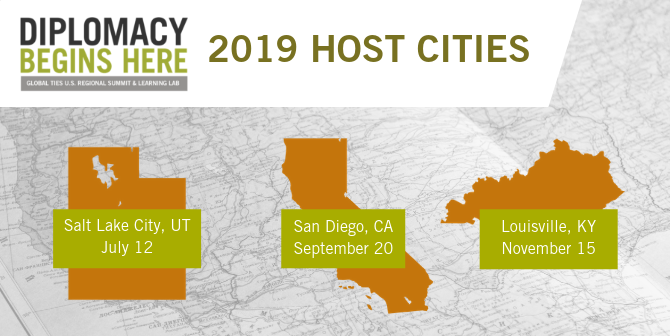 globaltiesus.org

The Diplomacy Begins Here Regional Summits bring together leaders in business, government, and nonprofit organizations to forge new connections with local communities around exchange programming and issues. They also serve as an opportunity for local communities to deepen their understanding of U.S. foreign policy, public diplomacy [JB emphasis], and how exchange programs such as the International Visitor Leadership Program (IVLP) play a role in each.Hosted in partnership with the U.S. Department of State and Global Ties U.S. Community-Based Members, the summits take place several times each year in various cities across the country. Each summit involves a day full of sessions, keynotes, and other activities to promote awareness and support of international exchange programs.Anyone is welcome to attend a Diplomacy Begins Regional Summit, including students, staff of nonprofit organizations, and the general public. Registration fees will vary based on affiliation.
2019 SUMMITS
We are thrilled to work with our members in three cities to host this year's Summits:Salt Lake City, UT
July 12
Theme: The Power to Make a Social Impact
Host organization: Utah Council on Citizen DiplomacySan Diego, CA
September 20
Theme: Innovation in the Cali Baja Region and Beyond
Host organization: San Diego Diplomacy CouncilLouisville, KY
November 15
Theme: The Future of Global Education
Host organization: World Affairs Council of Kentucky and Southern IndianaMore information on sessions, speakers, and registration forthcoming.
LEARNING LABS
For current IVLP partners, Learning Labs are offered as part of the summit as a form of professional development and opportunity to share knowledge and expertise with other Global Ties Network members.For 2019, a Learning Lab will be offered the day prior to each Summit in the host city. More information forthcoming. […]Original Article