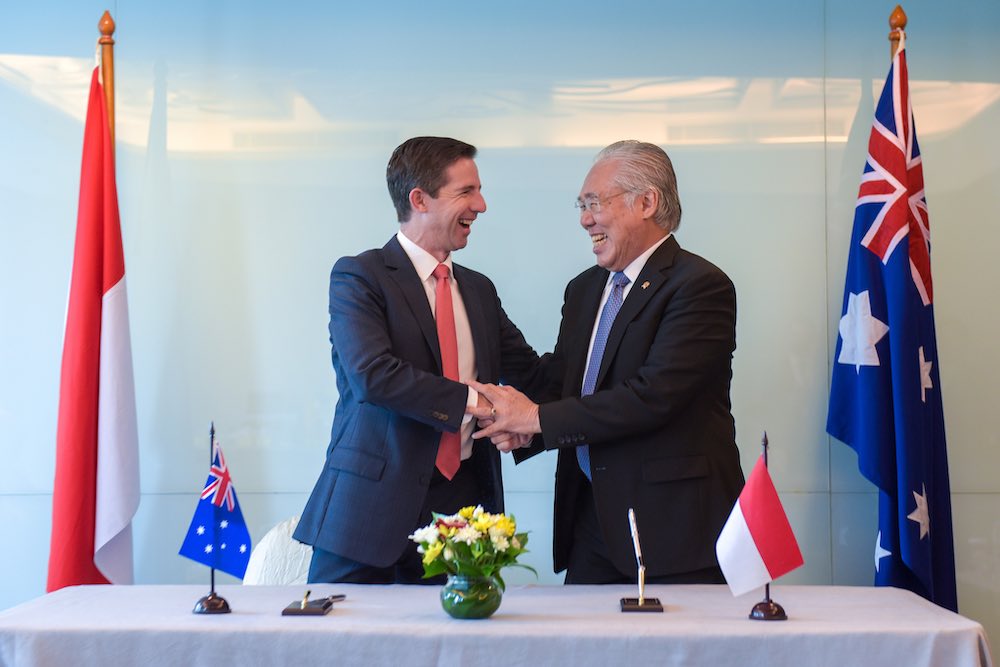 Greg Earl, lowyinstitute.org
Middle aged spread
Southeast Asian countries are about to become the primary focus of Australia's public diplomacy [JB emphasis] this year as the "Australia now" program stretches its budget from the usual single country approach to all ten countries of the ASEAN group.This stepped-up focus on Australia's closest Asian neighbours comes amid a growing debate about how these countries are negotiating their transition through middle-income status – or otherwise avoiding the so-called middle-income trap.For example, Indonesia's finance minister Sri Mulyani Indrawati told a cabinet meeting this month that she was working on a plan to guide Indonesia's development along this middle income path. And this Raymond Mallon article provides a good insight into Vietnam's similar challenges.But the recent independent review of the development cooperation program by Richard Moore has placed these moves in a new context by questioning how Australia's aid is positioned to deal with the new development phase in many of these countries.Moore's proposal for the creation of a Centre for Asian Middle Income Country Development also comes at an interesting time because it represents an alternative way of increasing the focus on ASEAN countries to the idea being backed by the potential future Treasurer Chris Bowen for an Australia-ASEAN Studies Centre.Moore's report argues that the shift in the focus of the development cooperation program to the Pacific – which was the big feature of the last year – runs the risk of not addressing the continuing development challenges in Southeast Asia.

IA–CEPA signing ceremony, Jakarta (Photo: Australian embassy Jakarta/Flickr)

When Australia has just signed a trade agreement with Indonesia which emphasises development cooperation more than most trade deals, Moore makes a compelling point that Australia is outsourcing too much of its economic relationship with Indonesia.For example, Australian contributions to seven World Bank trust funds has helped make the World Bank Indonesian office its largest on the planet. But this arguably places Australia's aid approach in Indonesia at odds with the underlying philosophy of more intense integration in the Indonesia-Australia Closer Economic Partnership trade deal.Moore argues that Australia is now at the tail end of the top ten development partners in Southeast Asia and "most worryingly, Southeast Asia has all but disappeared in the public policy discussion of Australia's development policy interests."He argues that how these neighbouring Asian countries (now Australia's second largest collective trading partner) negotiate the challenges of middle-income stature will be crucial to Australian economic growth. And the aid program needs to reflect this. Moore argues:
This involves working jointly to undertake excellent diagnostic work, identifying key problems and crafting options for their resolution. Rather than being an outside supplier of assistance, the goal would be to be a trusted insider … Such an approach is not new, but needs to be re-established as the norm.
Going on Line
Trade minister Simon Birmingham had plenty of easy talking points when he hosted Southeast Asian ambassadors in his home town of Adelaide this week: an Indonesia trade deal, the 10th anniversary of Australia's ASEAN trade agreement (AANZFTA) and the perhaps unrealistic hopes for a conclusion to the Regional Comprehensive Economic Partnership (RCEP) this year.*The fact he chose the harder sell of appealing for smaller country (ie: Southeast Asian) support for the Australian co-sponsored World Trade Organisation (WTO) attempt to craft a multilateral agreement on digital trade, reflects how the economic relationship with ASEAN countries is going to change.

Go-Jek ride sharing in Jakarta (Photo: Bernard Oh/Flickr)

Ecommerce is leap-frogging ahead in Southeast Asia with global players taking sides in the battle in the battle between Grab and Go-Jek over ride sharing and cash payments, and the region's popular chat network Line moving more into commerce. A Google-Temasek study forecasts that the Southeast Asian ecommerce market will exceed $102 billion by 2025.As Richard Moore's report highlights, these are big challenges for Australian business and trade policy to negotiate as more of the economic activity in these countries moves beyond the goods trade which tends to dominate discussions.Companies actually
operating in the region
tend to be more
enthusiastic about its
economic integration
and maturation
into a consumer
marketplace than
what appears to
be the broader sentiment
at home in Australia.Apart from making the case for more ASEAN country participation in the new WTO initiative and more focus on digital business in Australia's regional trade deals, Birmingham has backed up his subtle approach to the ambassadors with a $4.5 million aid for trade initiative to facilitate digital trade in the Indo-Pacific.
Philippines in front
The latest survey of Australian (and New Zealand) businesses operating in Southeast Asia continues a trend of companies actually operating in the region being more enthusiastic about its economic integration and maturation into a consumer marketplace than what appears to be the broader sentiment at home in Australia.For example, about three quarters of those surveyed believed that ASEAN was a priority region for their company, but considerably fewer thought their boards or head offices had much understanding of the region.The AustCHAM ASEAN survey, supported by the Australia-ASEAN Council, reinforces past surveys with about 80% of respondents planning to expand attracted by a rising middle class, improved infrastructure and a better skilled workforce.Notably given the political and broader foreign investor nervousness about the Philippines under President Rodrigo Duterte, the country tops the list of expansion targets for Australian businesses supplanting Vietnam in the previous year and Myanmar in 2016.In an interesting sign of the shifting sentiment about the more integrated region, the survey showed that concern about the ability to move workers across borders has supplanted concern about the enforcement of the law – although corruption remains the key challenge.And while ASEAN's own economic integration process tends to be regarded sceptically by many critics of the slow-moving regional group, Australian businesses on the ground appear to take it quite seriously with 45% saying it is important to doing business in the region, compared with 29% who say it is not.* Greg Earl participated in the ambassadors visit to Adelaide as an Australia-ASEAN Council board member.

Original Article
Please follow and like us: