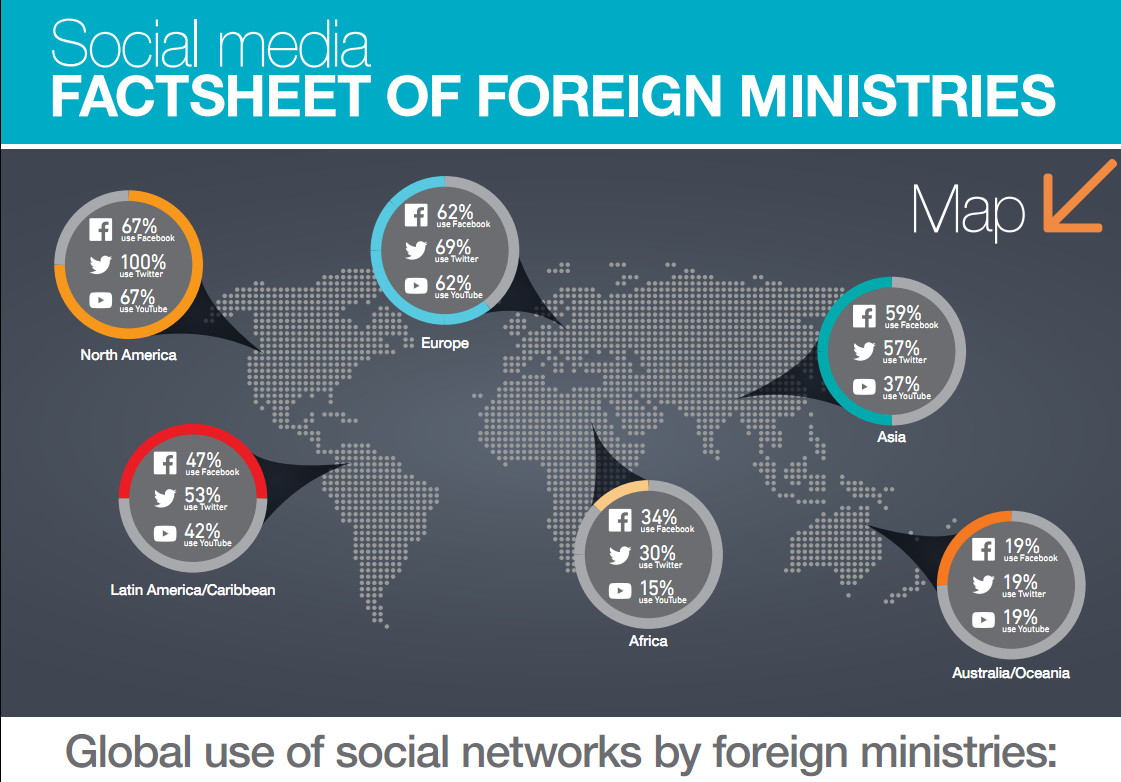 The number of active users on social networks has increased exponentially over the past few years. If we take Facebook and Twitter, for instance, the number of monthly users surpasses the one billion mark.
Diplomats have long realised that in public diplomacy, they need to be where the audience is. Five years ago, many of today's top e-diplomacy practitioners were recognising the importance of social media, and started engaging with non-state actors directly on social networks. From experimenting with platforms to integrating e-tools, some foreign ministries today are advanced and active users of social networks with their own fair share of followers.
Throughout these years, we have been following the trends in social media use by foreign ministries, embassies, international organisations, and diplomats. We've observed the pace at which foreign ministries were quick to jump on board; how e-tools were being integrated into institutions' online presence; which were the most popular platforms over time; and what the level of engagement with citizens was.
The infographic on the right summarises current findings related to foreign ministries from DiploFoundation's ongoing study of e-diplomacy trends, and reveals interesting tendencies. For instance, despite Facebook's resounding popularity among online users, it is Twitter which is the most widely used platform among foreign ministries. At the same time, a number of foreign ministries are yet to have their own dedicated online presence.
Since our study is ongoing, we will continue to share new findings. Meanwhile, comments are welcome.
Trends in social media use is one of the many topics discussed in Diplo's online course on E-diplomacy. The course will also explore how the Internet affects the practice of diplomacy and the conduct of international affairs. It provides practical advice and instruction in key areas of technology relevant to diplomacy, including the appropriate use of e-tools, and finding reliable information on the Internet. The next course starts 2 May.
http://www.diplomacy.edu/blog/infographic-social-media-factsheet-foreign-ministries