Najava da Rusija napreduje sa lokalno razvijenom vakcinom za Kovid-19 nije samo dovela do zabrinutosti međunarodne javnosti zbog njene bezbednosti, već je stvorila i veliku količinu dezinformacija i humora na društvenim mrežama.
Analizirali smo neke od najpopularnijih postova.
Putin superheroj
Bilo je mnogo satiričnih mimiva o najavi ruske vakcine, a deljeni su na različitim jezicima. Neki prikazuju ruskog predsednika Vladimira Putina kao superheroja, poput Spajdermena ili Ajronmena, kako spašava svet.
Jedan od postova koji je najviše puta podeljen prikazuje Putina kako jaše medveda sa ogromnim špricem zakačenim na leđima.
Na jednoj verziji ovog mima se čak, netačno, tvrdi da ga je i sam Putin podelio.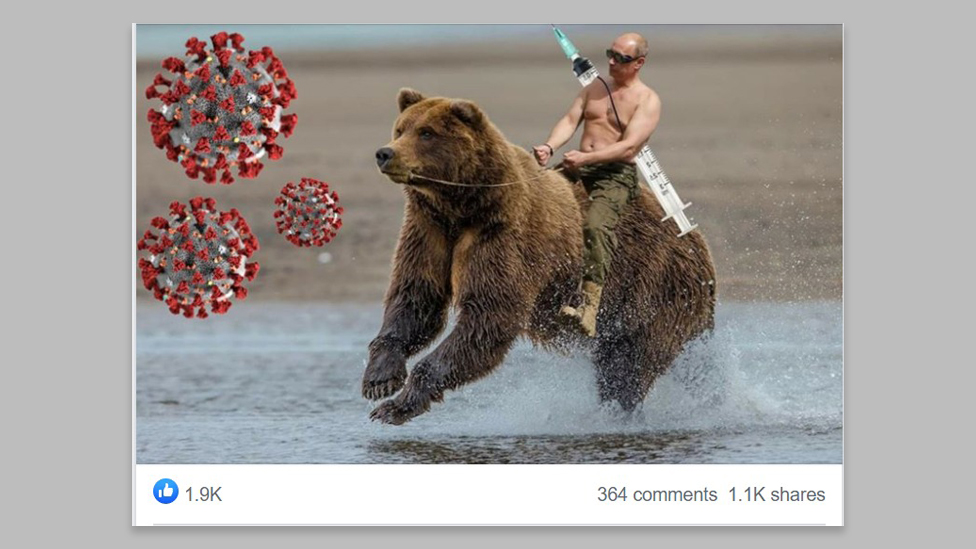 Još jedan od najpopularnijih postova koji slavi najavu ruske vakcine pojavio se na Fejsbuk stranici koja podržava Putina i podeljen je više od 200.000 puta.
To nije zvanični profil ruskog predsednika za koga se veruje da izbegava društvene mreže.
Ali mnogi od desetina hiljada ljudi koji komentarišu ovaj post na različitim jezicima očito veruju da jeste.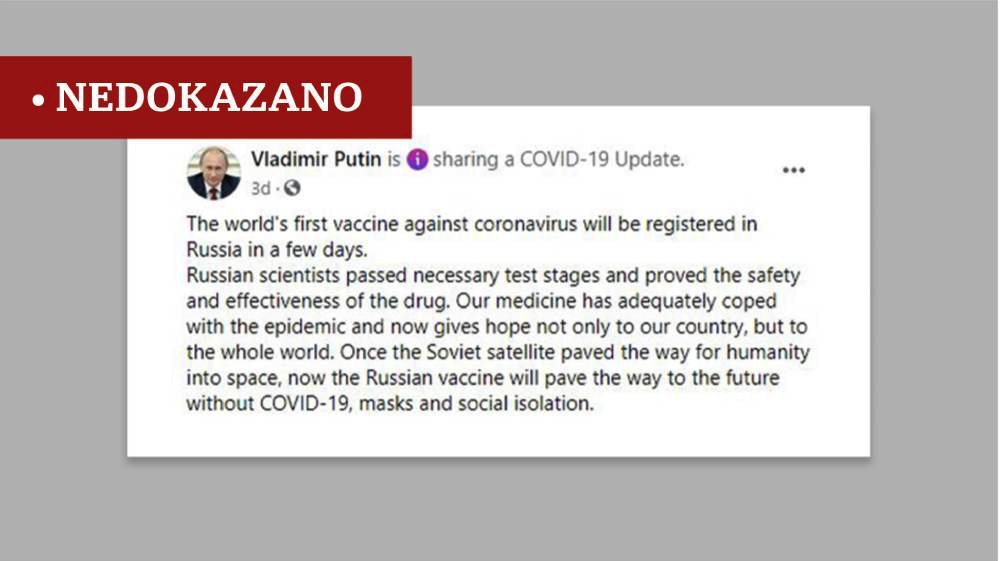 Viralni post upoređuje prvi sovjetski satelit koji je "čovečanstvu prokrčio put u svemir" sa ruskom vakcinom koja će "utrti put ka budućnosti bez Kovida-19, maski i socijalne izolacije".
Rastuća međunarodna zabrinutost da je bezbednost vakcine možda kompromitovana prilikom razvijanja vakcine, navela je Svetsku zdravstvenu organizaciju (SZO) da apeluje na Rusiju da prati međunarodne smernice.
Reputacija preuveličavanja
Još jedan post koji se takođe pokazao popularnim na Fejsbuku tvrdi da je Rusija "više puta spasila svet svojim vakcinama".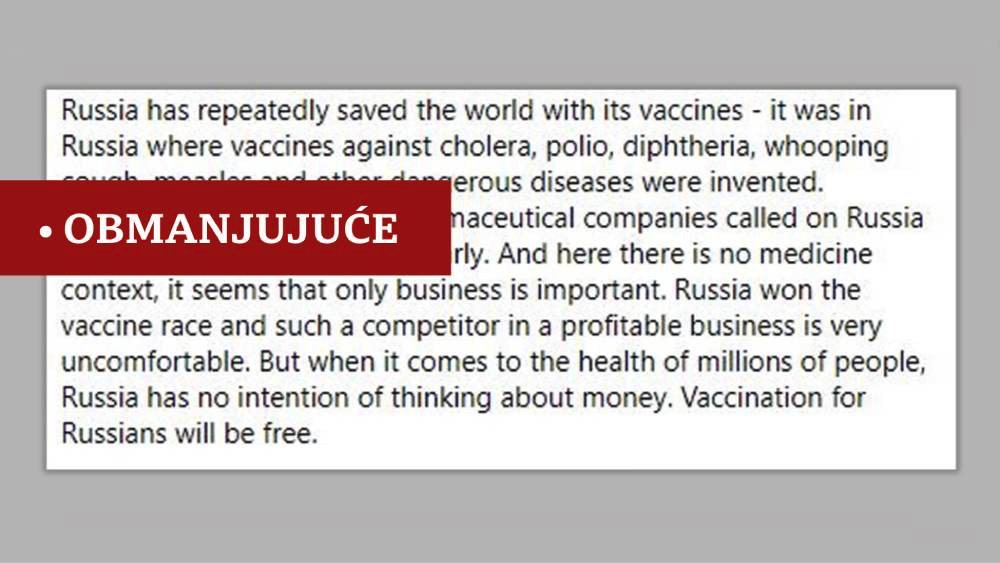 "Ovo je ogromno preuveličavanje", kaže dr Dora Varga, istoričarka i stručnjakinja za kontrolu bolesti u doba Hladnog rata.
U objavi je navedeno nekoliko vakcina koje su "pronađene" u Rusiji, a među njima i one protiv kolere i poliomijelitisa.
Zapravo je francuski naučnik Luj Paster otkrio prvu vakcinu protiv kolere – za soj infekcije koja pogađa piliće.
Kasnije tokom 1885. godine, Haime Feran, španski lekar, razvio je vakcinu koja je prvi put imunizovala ljude protiv kolere.
Američki virusolog, doktor Džonas Salk, je 1955. razvio prvu efikasnu vakcinu protiv poliomijelitisa.
Nakon toga usledio je još jedan proboj iz doba Hladnog rata – prva oralna vakcina protiv polia, koja se i danas koristi za iskorenjivanje ove bolesti širom sveta.
Predstavljana je kao američka i ruska, ili sovjetska tvorevina.
Dr Varga kaže da je treba shvatiti kao kolaborativni napor između doktora Alberta Sabina, Amerikanca, i Mihaila Čumakova, ruskog naučnika.
---
Kako se u Rusiji izveštavalo o najavi nove vakcini?
Autorka: Olga Robinson, BBC Monitoring
Vest o lokalno proizvedenoj vakcini predstavljena je u ruskim državnim medijima kao veliki korak napred u borbi protiv korona virusa.
Reportaže na nacionalnoj televiziji isticale su navodnu bezbednost ruskog pronalaska i sadržali komentare koji podsećaju na to što je Sovjetski Savez poslao Sputnjik, prvi satelit, u svemir.
Državni televizijski kanali takođe su spomenuli skepticizam Zapada oko toga da li je vakcina prošla dovoljno ispitivanja. Ali ta zabrinutost brzo je odbačena kao "ljubomora" i "informacioni napad" na Rusiju.
Ovonedeljno optimistično izveštavanje podseća na reportaže medija bliskih Kremlju o ruskoj vakcini protiv Ebole početkom 2016. godine.
Zatim je državna televizija predstavila registraciju vakcine u Rusiji kao trijumf ruske farmakologije, ističući, bez pružanja dokaza, da je "višestruko efikasnija" od bilo koje strane vakcine.
---
Kritikovanje velikih farmaceutskih kompanija
Jedna objava na italijanskom pripisala je kontroverzni citat predsedniku Putinu, ali se ne može naći u drugim medijima, uključujući i ruske.
Na slici koja je lajkovana, komentarisana i podeljena više od 35.000 puta na Fejsbuku piše:
"Farmaceutske kompanije zatražile su nas da odložimo puštanje vakcine! Ne radi se o privredi. Rusija ne razmišlja o novcu kada su u pitanju životi miliona ljudi. "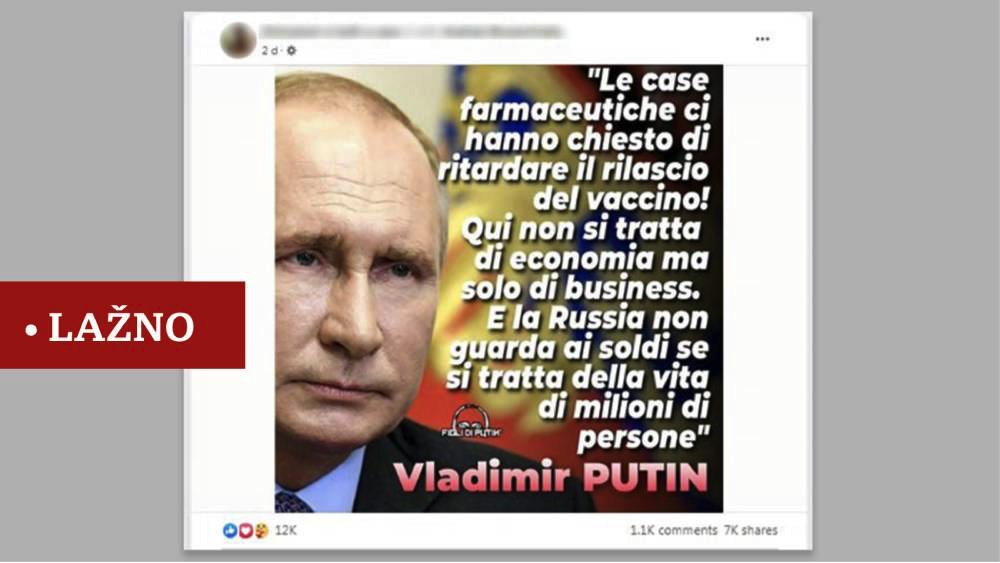 Citat je možda pogrešan prevod sličnog posta sa stranice posvećene Putinu koju smo prethodno analizirali. Objava sadrži iste kritike farmaceutskih kompanija i pohvale ruskih vrednosti. Međutim, kao što je već utvrđeno, ovaj profil nije Putinov, a on nije citiran nigde kako daje ove izjave.
Oba posta oslikavaju kritike ruskih planova da ranije odobre vakcinu koje navodno potiču od farmaceutskih kompanija željnih profita.
Ovim se zanemaruju najveće zabrinutosti naučnika zbog preuranjenog puštanja ruske vakcine, a koje se odnose na nedostatak objavljenih nalaza iz ruskih ispitivanja, uključujući i podatke o bezbednosti.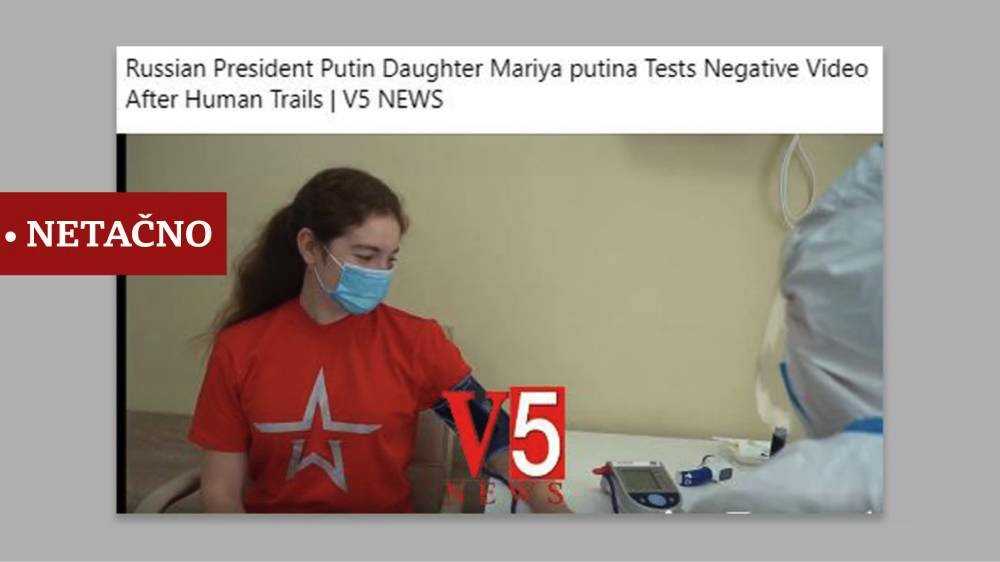 Drugi postovi se su se usredsredili na ćerku predsednika Putina, za koju je rekao da je primila vakcinu.
Putin nije precizirao koja od njegovih ćerki je dobila vakcinu, ali je rekao da su jedine neželjene posledice koje je doživela bila blago povišena temperatura u kratkom periodu.
U Indiji kruži snimak uz tvrdnje da prikazuje Putinovu ćerku kako prima vakcinu.
Snimak je zapravo učesnica ruskog ispitivanja vakcine, ali je ona u ruskim medijima identifikovana kao kadetkinja na vojno-medicinskoj akademiji, a ne Putinova ćerka.
Na tom snimku se zapravo vidi učesnica u testiranju ruske vakcine, ali je ona u ruskim medijama identifikovana kao kadet u vojnoj medicinskoj akademiji, a ne kao Putinova ćerka.
---
BBC News  |  Džek Gudman i Flora Karmajkl
https://www.bbc.com/serbian/lat/svet-53791125
Please follow and like us: