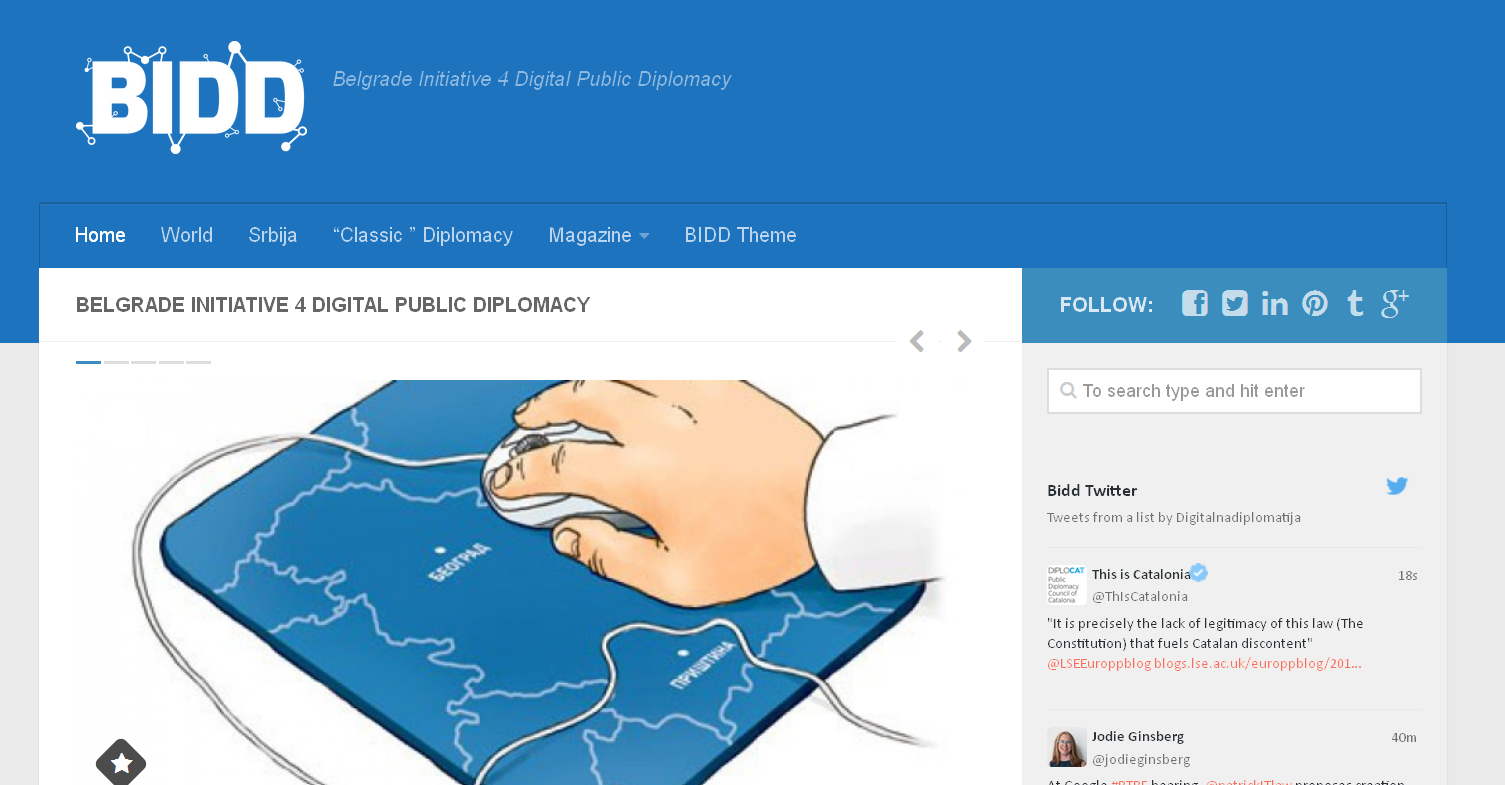 Beogradska inicijativa za digitalnu i javnu diplomatiju (BIDD) je nevladina organizacija koja okuplja poznavaoce diplomatije i digitalnih tehnologija koji su se organizovali radi promovisanja korišćenja digitalne diplomatije u Srbiji i regionu.
Srbija ne koristi adekvatno digitalni svet kako bi svoje interese zastupala na jedan inovativan, pristupačniji ali i dinamičniji način: Gavrilo Nikolić
Jer, stanovništvo i javna uprava u Srbiji nisu u dovoljnoj meri prilagođeni modernim tokovima poslovanja i komunikacije, kaže za "Vesti" Gavrilo Nikolić, član upravnog odbora ove inicijative.
U okviru kuće
Vuk Drašković u vreme dok je bio šef diplomatije, krajem 2006. godine pustio je u rad digitalni sistem Ministarstva spoljnih poslova, u Beogradu. Uvođenjem sistema za obradu i razmenu službenih dokumenata Ministarstva srpska diplomatija, kako je tad rekao Drašković, "postaje brža, preciznija, sigurnija i efikasnija". Međutim, ovaj digitalni sistem koristi se samo u okviru ovog ministarstva.
– Srbija nema dovoljno resursa da se "face to face" prezentuje u međunarodnim odnosima. Ne koristi adekvatno ni digitalni svet kako bi svoje interese zastupala na jedan inovativni, pristupačniji, ali i ekonomičniji način. Srpske diplomate, državni službenici, donosioci odluka, ali i kompletna digitalna populacija u Srbiji tek treba da se edukuju i organizuju u mreže koje će primenjivati digitalnu i javnu diplomatiju u praksi. Mi pripremamo i studiju koja će objektivno i analitički prikazati stanje digitalne diplomatije u regionu. Pošto svako od nas ima mogućnost pristupa internetu, svako može zastupati sopstvene, ali i šire, nacionalne interese. Samim tim može biti digitalni diplomata. Međutim, da bi neko bio dobar digitalni diplomata mora proći i dodatnu digitalnu obuku. BIDD nije tu da bi vodio virtuelne "ratove" niti propagirao negiranje pojedinačnih vrednosti. Mi delujemo kroz konkretne istraživačke i obrazovne projekte – objašnjava Nikolić.
U Srbiji se od digitalnih medija Tviter i Fejsbuk mestimično koriste, dok ni najstariji način veb predstavljanja putem sajtova ili portala nije adekvatno upotrebljen.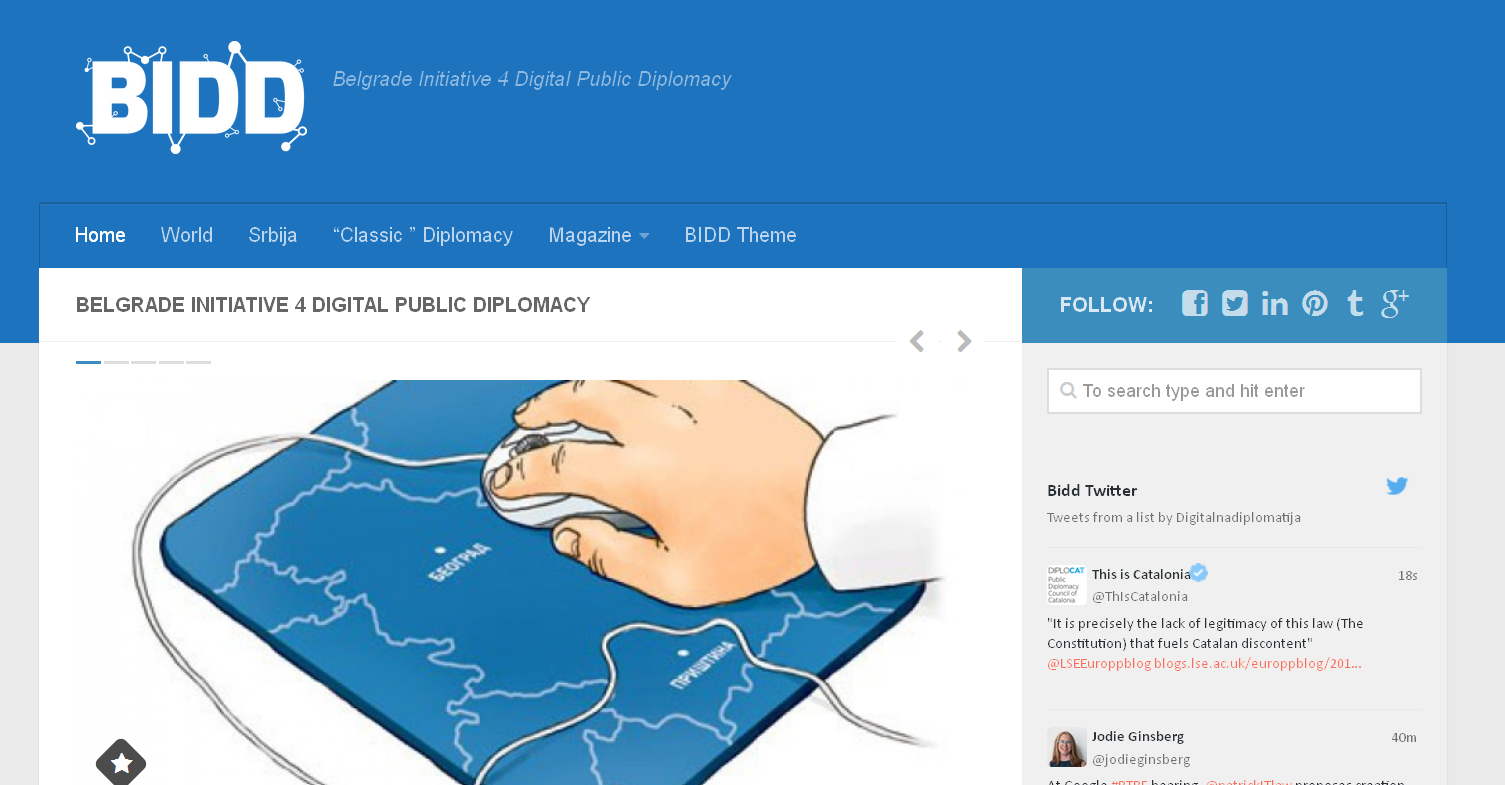 – Sajtovi naših institucija ne prate moderne tokove, ni digitalne medije. Međutim, digitalnu diplomatiju ne čine samo društvene mreže i sajtovi. Tu su npr. aplikacije za pametne telefone koje mogu olakšati život građanima. U njihovom slučaju postoji veliki prostor za delovanje – uveren je Gavrilo Nikolić.
Država 21. veka
Sjedinjene Američke Države, kaže Nikolić, za sada najviše ulažu u digitalnu diplomatiju, odnosno kako je oni nazivaju "državništvo 21. veka".
– Oni ne samo da imaju poseban sektor u okviru Stejt departmenta posvećen pitanjima digitalne diplomatije, nego veoma vode računa o digitalnoj zastupljenosti i dostupnosti sopstvenih zvaničnika i institucija putem pre svega društvenih mreža, ali i veb-prezentacija. To rade i Kanada, Indija, Rusija, Velika Britanija i Francuska kao bitniji igrači – navodi Nikolić.
http://www.vesti-online.com/Vesti/Tema-dana/446100/Sajber-promocija-3-Pametni-telefoni-zastarela-vlast