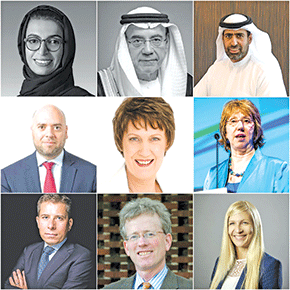 ABU DHABI: Emirates Diplomatic Academy (EDA) has launched the next phase of its ambitious programme on "Preparing for 21st Century Diplomacy". The course, now in its second year, is designed to develop outstanding UAE future diplomats.
It includes an impressive line-up of guest speakers, including Noura Bint Mohammed Al Kaabi, UAE Minister of Culture and Knowledge Development; Zaki Anwar Nusseibeh , UAE Minister of State; Sultan Mohammad Al Shamsi, Assistant Minister of Foreign Affairs and International Cooperation for International Development Affairs; Majid Al-Suwaidi, UAE Consul General in New York City; Mansour Ibrahim Al Mansouri, Director General of the National Media Council; Helen Clark, former Prime Minister of New Zealand; Baroness Catherine Ashton, former High Representative for Foreign Affairs and Security Policy, European Union; Professor Tom Fletcher, Special Advisor at EDA, bestselling author, and former British Ambassador to Lebanon; James P Seevers, Director of Studies and the Georgetown Leadership Seminar at the Institute for the Study of Diplomacy at the Edmund A. Walsh School of Foreign Service at Georgetown University; and Dr Mari Luomi, Senior Research Fellow at EDA.
Bernardino León, Director General of EDA, said, "We are very proud to have arranged such a high calibre of international and Emirati guest speakers, with extensive experience in international relations and government. The wisdom that our guest speakers will be able to pass on to our students will be immense."
Noting the extensive preparation that has gone into this course, León continued, "We have carefully thought about all of the important trends with respect to a career in diplomacy: the evolving role of the diplomat, the varying ministerial duties and the potential hurdles within international relations. We have designed the course in such a manner that our students will be able to take the new challenges they are likely to face in their stride."
Speaking about his role in developing the course, Professor Tom Fletcher said, "What is unique is the focus on developing not just knowledge, but the skills and character of the extraordinary diplomats of the future. The classes are practical, digital and innovative. People now rightly recognise the importance of emotional intelligence, curiosity and resilience. These '21st century skills' are at the heart of this course: we call them diplomacy. If diplomacy didn't exist we would need to invent it. This course reinvents it for the Digital Age."
Designed to help nurture the 21st century diplomat, the main themes of this programme are leadership, culture and innovation. Lectures include Cultural Diplomacy; how to handle the toughest media exposure; and Artificial Intelligence and Social Media for Leaders. The course has a strong component of practical exercises and simulations.
http://www.gulftoday.ae/portal/795dc7ae-1da6-42b3-a06b-973a0413745e.aspx