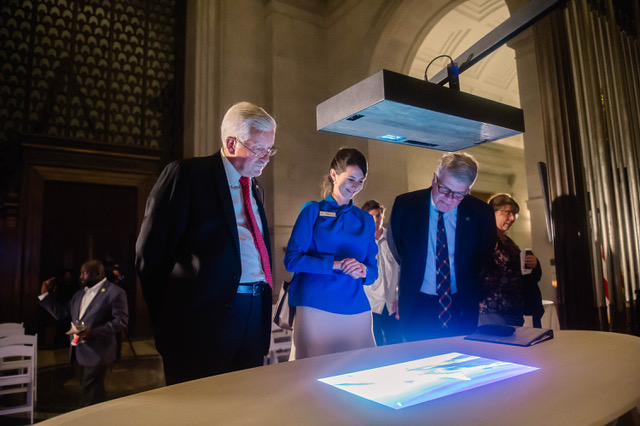 C. Naseer Ahmad, diplomaticourier.com, April 20, 2019
It is easy to define a particular product with a country in simplistic ways: like Swiss cheese with Switzerland, Scotch whisky with Scotland and pure olive oil with Spain, for example. But in today's world, countries are producing a wide array of products and services that have unique cultural and social characteristics.Presenting the national story or message in a cohesive manner is a challenging task. Switzerland's most recent 'Swiss Touch' campaign is a lesson in effective public and global diplomacy [JB emphasis] . The communications campaign aptly depicts a host of complex and varied topics ranging from drones, 3D printing, performing arts, sports, cyber security. This effort is 'at the heart of the public diplomacy' in the U.S., explains Sarah Shafik, project manager of Swiss Touch.Using two identical tables known as the 'Swiss Touch' tables as vehicles for discussion, the campaign bodies the 'duality of contemporary Switzerland as a nation that embodies tradition and is a fertile ground for innovation. This sets the stage for a 'neutral ground for free discussion.'These tables are made of aged wood from the old Hörnlihütte at the foot of the Matterhorn. Skilled Swiss product designers handcrafted the tables with sustainable material from the Swiss ash tree.
Built with quintessential Swiss innovative methods, the tables serve as a medium to both tell the Swiss story as well as a meaningful and stimulating conversation. The tables can project images and live stream content enabling the wood surface to act as a touch screen, thereby encouraging interaction from users both online and offline.The first conversation actually took place in the commanding but frigid heights of the famous winter skiing resort of Zermatt, near the Matterhorn. It was a revealing conversation about Climate Change with input from people like Gerald Biner, CEO Air Zermatt and Major Thomas Zeltner, Commandant Adjoint of the Patrouille des Glaciers, who are witnessing the effects of this phenomenon first hand on their business and daily lives.In the United States, the campaign launched from the iconic surroundings near the Lincoln Memorial on the National Mall. People from different walks of life came to the Swiss Touch table to converse with H.E. Ambassador Martin Dahinden.
The tables travel across the United States for events organized by the network of Swiss Diplomats, meeting and discussing various topics with experts in different fields. Sometimes these events are hosted by quasi-governmental organizations like SwissNex.From March to June, in San Francisco the campaign showcases 'Swiss Touch Builds a House.' This effort provides 'a visual journey through research on the digital transformation of architecture and construction.'Assisting in this effort are "Swiss Ambassadors," such as famous tennis players like Stan Warinka and Belinda Bencic, as well experts in other fields—such as Christophe Guberan, Industrial Designer and Developer of 3D printing technology, Amanda Mascarelli, Science Journalist and Managing Editor, SAPIENS, Kerstin Vignarr of the UN Institute of Disarmament Research, and Eva Galperin, Director of Cybersecurity at the Electronic Frontier Foundation.There are tremendous ideas explored and discussed at these events throughout the United States. For instance, Swiss Touch joined the Center for Civil and Human Rights along with the Swiss Consulate General and the UN to discuss the idea of building sustainable cities in Atlanta. 'Empowering Young Voices in Foreign Policy' in New York City brought together key stakeholders to discuss how to inspire the next generation. 'Humanitarian Protection in the Digital Age' in San Francisco and 'Innovation and Humanitarian Aid' in New York City covered some of the most topical issues of our society today.'Keeping up with Digital Information', a unique event at the National Archives in Washington, DC addressed the 'challenge of storing, preserving and securing mountains of record—both digital and physical." To explore ideas on how to build smart communities in the future, the Swiss Touch campaign brought together experts from ETH Zurich, the DC Office of Planning, and the National Planning Commission at the iconic National Building Museum.Though the series of events is centered on the Swiss Touch tables, the information provided is timely, useful, and often very entertaining. It is an ingenious way to reintroduce Switzerland to the U.S. (and the world)—a country that ranks high in so many categories from top ranked universities to the happiness index of its citizens (not to mention the list of Nobel Prize winners and technical innovation).Original Article
Please follow and like us: