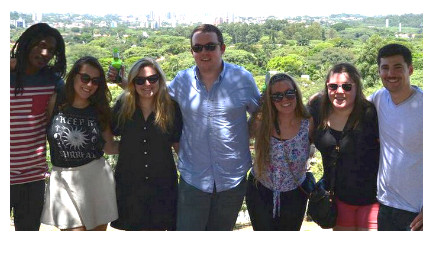 Warning
: Undefined array key "chkIconSize" in
/www/webvol29/96/dr3o8os9p35egxy/bidd.org.rs/public_html/wp-content/plugins/customize-external-links-and-add-icon/customize-external-links.php
on line
301
The following is a journal entry from student writers Helene Imperiale and Emily Schatzle, directors of the Master of Public Diplomacy Delegation to São Paulo, Brazil.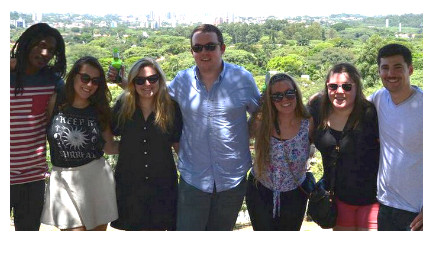 Every year, select students from the USC Master of Public Diplomacy program at USC Annenberg travel abroad to conduct field research, which furthers the study of public diplomacy and international communications. This year, the Class of 2014 selected São Paulo, Brazil for its unique position in world politics.
Brazil is currently transitioning from a regional and hemispheric hegemon to a global power. Brazil is truly at a crossroads: it is a rising power with immense economic and political potential, yet at the same time, suffers many of the ills of a still-developing country.
In order to get the full picture of public diplomacy in Brazil, we met with a wide range of organizations, spanning the academic, diplomatic, private, corporate, and non-profit communities. We began the week meeting with the U.S. Consul General, Dennis Hankins, to discuss the U.S.-Brazilian relationship and Brazil's challenges of successes, including the growing employment rate, building infrastructure, as well as the expanding middle class. After our meeting at the U.S. Consulate, the group was off to Rede Globo to meet with renowned journalist and author, William Waack.
Day two was spent with University of São Paulo professors discussing international relations and digital engagement strategies.  As USC recently opened its first office in São Paulo, we had the opportunities to make connections with universities in São Paulo. Paulo Rodriguez, the Director of the USC Global Initiative office in Brazil, helped throughout the trip and secured one of our most interesting meetings at the Palacio dos  Bandeirantes or the São Paulo State Governor's Palace.
We visited the Palacio dos Bandeirantes on day three. Helena Monteiro, the head of international cooperation for the State Government's Office of Foreign Affairs, graciously took the time to sit down and discuss diplomacy in the State of São Paulo.  The United States shares an interesting relationship with the State of São Paulo, as it was the first subnational government to sign bilateral agreements with the U.S.  The goal of the Office of International Cooperation is to present the very best of the State of São Paulo.  We learned about Investe São Paulo, the state's effort to bring in international investment, which helps businesses understand Brazilian tax codes and determine how best to invest in the area.  In addition to branding São Paulo as a business hub, the Office of International Cooperation also focuses on branding São Paulo's culture, education, and health care.  The Palacio, in addition to being the seat of the state government and the governor's official residence, houses an incredible collection of art, which we had the opportunity to view.  Portraits of past governors, collections of gifts from other cities, and paintings representing São Paulo and Brazil allowed us a glimpse of the pomp and circumstance surrounding formal diplomacy. Colin Hale, a member of the Master of Public Diplomacy delegation, commented on São Paulo's potential to be recognized as a global city.
"São Paulo is perhaps the only global city that hasn't yet been recognized as such. Overcoming that disconnect, especially in the U.S., is the task that lays before both the state and city of São Paulo," Hale said. "The massive diaspora populations from Europe, Africa, and Asia allow São Paulo to develop and strengthen its global reach – it can talk with Tokyo, Beijing, Berlin, Milan, and Los Angeles."
"São Paulo is perhaps the most enigmatic in the class of global cities. It is very much Brazilian, but it also transcends Brazil."
Day four took us outside of São Paulo to the town of Nazare Paulista. It was there that we found the Instituto de Pesquisas Ecologicas, an organization which conducts ecological research and works hard to combat deforestation in Brazil.
On our final day of meetings, we visited the City Hall of São Paulo and met with the city's international relations city clerk, Leonardo Barchini, and his team who is helping to organize World Cup events and branding in São Paulo. That afternoon, we met with Brazil's federal tourism promotion agency, Embratur, which reports to the Brazilian Ministry of Tourism and works exclusively on marketing and supporting the trading of Brazilian services, products, and tourist destinations abroad. Embratur's American Marketing Coordinator, Alexandre Nakagawa, flew down from Brasilia to join us for the afternoon and learn about their promotion efforts within the United States.
Tenille Metti, one of the students on the trip, was amazed by the diversity of the meetings.  "Brazil was an especially attractive destination for us as public diplomacy scholars. Our time there allowed us to delve deep into many different aspects of public diplomacy that we could simply not get anywhere else."
"For example, the same day that we had met with the U.S. Consulate in São Paulo, we also met with the second largest international broadcasting company, [Rede] Globo," Metti said. "Beyond that, we met with several academics at Universidad o São Paulo, ESPN Brasil, among many meaningful professionals. Each of these meetings, along with many cultural experiences, truly enriched our understanding of Brazilian public diplomacy."
Although the focus of this trip was on innovations in Public Diplomacy, we also had the opportunity to participate in cultural experiences such as a soccer game and samba. The Palmeiras-Audax match was thrilling and a prime example to witness culture and sport diplomacy. For some of us, this experience changed our understanding of soccer and the true cultural connection that Brazilians have with sport. Additionally, we attended a Samba School Rehearsal at Pérola Negra. Each Sunday leading up to Carnival, local samba schools hold rehearsals where locals sing, dance, and even participate in the celebrations. These experiences let us gain a deeper understanding of Brazilian culture and its soft power exports.
We would like to acknowledge trip would not have been possible without the support from the Master of Public Diplomacy program director, Nick Cull, Center on Public Diplomacy Director Jay Wang, and the entire Annenberg community.
Photo taken by Gabriel Bernadett-Shapiro
Enter USC Annenberg News Archive »
http://annenberg.usc.edu/News%20and%20Events/News/140227Brazil.aspx