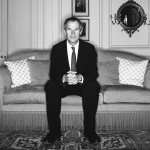 Skip to content
Ambassador to Austria and UK Permanent Representative to the United Nations and other International Organisations in Vienna
29th August 2019 Vienna, Austria
After three years, more #keenonWien than ever
Vienna's Stephansdom in all its glory, a must-see for any visitor in the Austrian capital
Today I am celebrating my three-year anniversary in Vienna. A lot has happened since I stepped off the train from London (via Salzburg) in August 2016.
Together with my team at the Embassy we have have done a lot of work on Brexit – including doing our best to make sure that all 11,000 Brits in Austria will be able to continue to live and work in this country. We have also had the Austrian EU Presidency; arranged countless senior visits to Vienna; and initiated great projects on culture, science and education cooperation.
To do my job properly I believe it is vital to understand Austria as well as possible. I therefore make a big effort to get out and about, in Vienna and more widely – and often tweet about it.
That is why, since 2016, I have been documenting favourite spots and Vienna moments under the hashtag #keenonwien on twitter and Instagram. So far I have published 427 of them.
Last year for my two year anniversary, we produced a short video highlighting one for each month of my stay, which you can find here.
I keep finding more reasons to be keen on Wien. So do follow me on twitter, or search or put an alert on for #keenonWien. To mark three years in Vienna I wanted to highlight some of my favourite recent shots and to ask you to tell me your favourite secret spots in and around the city!
I know many people guard their best Vienna tips like the holy grail but perhaps some of you can be persuaded to share a tip or two.
I look forward to expanding my collection of reasons to be #keenonWien in the months and years ahead!