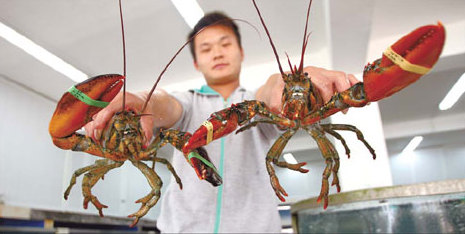 Combining the temptation of delicious lobster with the chance to win a coveted Apple Watch, the Canadian Embassy in Beijing turned to social media to promote the North American country's premium-priced crustacean to potential Chinese buyers.
Two lucky netizens who most closely guessed the number of Canadian lobsters sold on May 25 through Tmall.com – China's popular online-shopping platform – would each receive an Apple Watch as the prize. The promotional campaign was launched through the embassy's official account on the Twitter-like weibo.com, where on June 1 the two winners were also announced.
Exactly 8,328 lobsters were sold within 24 hours on Tmall. The two winners respectively guessed 8,224 and 8,120 – their watches prized at 40 times more than the lobsters they bought.
In the Weibo post, Eric Pelletier, Canada's deputy consul-general in Shanghai, held a gigantic live lobster in his hands, harping lobsters sold on Tmall.
More than 2,400 of the site's users shared the post with others while the promotional campaign drew over 2,100 comments. One participant named "Yezhou" said even though he had never been an online shopper, he still planned to try ordering two lobsters because of Pelletier's personal endorsement.
Chen Tong, former editor-in-chief of China's news portal sina.com, voiced support for the embassy's interactive campaign.
"Canadian fresh lobsters!" Chen exclaimed to his 6.9 million followers on his popular Weibo account.
The embassy's lobster campaign follows the surging volume of Canadian lobsters sold in China through online-shopping platforms. Since 2010, the Sino-Canadian seafood trade has been experiencing a major growth spurt, and the international e-commerce system is currently replacing local businesses as the dominant force in China's seafood industry.
Canada customs data shows that over the past few years, Canada's lobster exports to China skyrocketed, with an annual increase rate of 173.58 percent, surging from $7.88 million in 2010 to $61.55 million in 2014.
According to a report by the Yangcheng Evening News, Francis Morrissey, an experienced Prince Edward Island fisheries businessman, quadrupled the lobsters he exported to China in the past three years, and in 2014 alone, his company supplied approximately 350 tons of lobsters to the Chinese market.
Last November, on China's shopping spree Singles' Day, more than 90,000 live lobsters were sold on Tmall. Even though the volume failed to meet the goal of 200,000 lobsters set by Tmall's founder Jack Ma, the website's exceptional performance still left its Canadian partners in awe of their products' marketability when combined with Tmall's innovative business model.
During a meeting with Canadian Prime Minister Stephen Harper last November, Ma confidently pointed out that foreign entrepreneurs can access 120 million Chinese consumers through his e-commerce empire. Besides lobsters, Canadian wines and tourism, for instance, can also be promoted through his online shopping site, he said.
The price of Canadian wild lobsters sold on Tmall is about 220 yuan ($35.5) per kilogram, which is three times higher than what a lobster-lover in Montreal pays at his or her local seafood market, said Li Ning, a frequent traveler between Tianjin and Montreal.
"Compared to the overly expensive lobsters from Australia or the farmed lobsters in China, Tmall's marked price is still reasonable," she told China Daily.
Selling fresh and live lobsters through online platforms remains challenging for some shop-owners, given the creatures may not survive the long transcontinental shipping. More than a few customer reviews expressed discontent. And there are suspicions that some vendors inject their lobsters with harmful chemicals to force them into a dormant state for shipping, chemicals that can potentially lead to liver failure in humans. For consumers, it's buyer beware.
Cheng Yilun contributed to this story.
By AN BAIJIE(China Daily Canada)
http://usa.chinadaily.com.cn/world/2015-06/04/content_20904365.htm