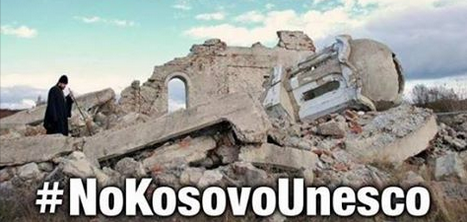 Contents:

A)NAME AND LOCATION OF THE CHURCH;


B) EIGHT PHASES OF DESTRUCTION

( I Shell-shocked monuments; II Looting of movable treasure; III Desecrating shrines; IV Burning of shrines and adjacent buildings; V First mining; VI Mining of the left-overs; VII Removing of the remains; VIII Terrain clearance and removal of all traces of existence)
C) CHURCH FOUNDATION DATE
1
THE HOLY TRINITY MONASTERY, Musutiste near Suva Reka
I
II
III
IV
V
VI
VII
14th
2
THE CHURCH OF THE HOLY VIRGIN, Musutiste near Suva Reka
I
II
III
IV
V
VI
VII
14th
3
ST MARK'S OF KORISA MONASTERY, Korisa near Prizren
I
II
III
IV
V
VI
15th
4
ST GABRIEL'S MONASTERY, Binac near Vitina
I
II
III
IV
14th
5
DEVIC MONASTERY near Srbica
I
II
III
15th
6
ST UROS'S MONASTERY, Sarenik, G. Nerodimlje
I
II
III
IV
V
VI
14th
7
THE MONASTERY OF ST ARCHANGELS, Gornje Nerodimlje
I
II
III
IV
V
14th
8
ST NICHOLAS' OF THE SUMMER CHURCH, Donje Nerodimlje
I
II
III
IV
V
20th
9
ST STEPHEN CHURCH, Donje Nerodimlje
I
II
III
IV
V
20/14th
10
THE CHURCH OF THE HOLY VIRGIN, Dolac near Klina
I
II
III
IV
V
VI
14th
11
ST NICHOLAS' CHURCH, Slovinje near Lipljan
I
II
III
IV
V
16th
12
THE CHURCH OF THE HOLY APOSTLES PETER and PAUL, Suva Reka
I
II
III
IV
V
VI
20th
13
THE HOLY TRINITY CHURCH, Petric near Pec
I
II
III
IV
V
VI
20th
14
THE HOLY VIRGIN CHURCH, Belo Polje near Pec
I
II
III
IV
16th
15
ST UROS'S CATHEDRAL, Urosevac
I
II
III
IV
20th
16
ST ELIJAH'S CHURCH, Vucitrn
I
II
III
IV
19th
17
ST JOHN THE BAPTIST CHURCH, Samodreza near Vucitrn
I
II
III
IV
V
VI
20/14th
18
ST PARASCEVA'S CHURCH, Drsnik near Pec
I
II
III
IV
16th
19
THE HOLY VIRGIN CHURCH, Naklo near Pec
I
II
III
IV
20th
20
THE HOLY TRINITY CHURCH, Velika Reka near Vucitrn
I
II
III
IV
V
20th
21
THE CHURCH OF THE HOLY APOSTLES, Petrovac near Kos. Kamenica
I
II
III
IV
20th
22
THE CHURCH OF THE HOLY VIRGIN, Podgorce, near Vitina
I
II
III
IV
20th
23
ST JOHN THE BAPTIST CHURCH, Pecka Banja
I
II
III
IV
20th
24
THE CHURCH OF THE HOLY VIRGIN, Djurakovac near Pec
I
II
III
20th
25
THE HOLY TRINITY CATHEDRAL, Djakovica
I
II
III
IV
V
VI
20th
26
ST NICHOLAS' CHURCH, Osojane near Pec
I
II
III
20th
27
ST ELIJAH'S CHURCH, Bistrazin near Djakovica
I
II
III
20th
28
ST DEMETRIOS' CHURCH, Siga near Pec
I
II
III
IV
V
20th
29
ST ELIJAH'S PARISH CHURCH, Zegra near Gnjilane
I
II
III
IV
20th
30
THE CHURCH OF HOLY COSMAS AND DAMIAN, Novake near Prizren
I
II
III
IV
V
20th
31
THE CHURCH OF THE HOLY VIRGIN, Veliko Krusevo
I
II
III
IV
20th
32
ZOCISTE MONASTERY & THE CHURCH OF HOLY COSMAS AND DAMIAN
I
II
III
IV
V
14th
33
THE PARISH CHURCH, Grmovo near Vitina
I
II
III
IV
V
VI
20th
34
ST NICHOLAS' CHURCH, Kijevo near Klina
I
II
III
IV
V
VI
14th
35
ST MARK'S CHURCH, Klina
I
II
III
IV
V
20th
36
ST NICHOLAS' CHURCH, Ljubizda near Prizren
I
II
III
IV
V
16th
37
ST ELIJAH'S CHURCH, Ljubizda near Prizren
I
II
III
IV
V
20/16th
38
PARASCEVA'S CHURCH, Dobrcane near Gnjilane
I
II
III
IV
20th
39
THE CATHEDRAL CHURCH OF CHRIST THE SAVIOR, Pristina
I
II
III
IV
V
20th
40
ST ELIJAH'S CHURCH, Smac near Prizren
I
II
III
IV
V
20th
41
THE CHURCH OF ST BASIL THE GREAT, Srbica near Prizren
I
II
III
IV
V
19th
42
ST PARASCEVA'S CHURCH, Zaskok near Urosevac
I
II
III
IV
V
20th
43
ST NICHOLAS' CHURCH, of Gatnje near Urosevac
I
II
III
IV
V
20th
44
THE CHURCH OF THE HOLY VIRGIN, Donje Nerodimlje
I
II
III
IV
V
20th
45
ST ELIJAH'S CHURCH, the Nekodim near Urosevac
I
II
III
IV
20th
46
THE CHURCH OF HOLY PETER AND PAUL, Talinovac near Urosevac
I
II
III
IV
20th
47
THE HOLY TRINITY CHURCH, Babljak near Urosevac
I
II
III
IV
20th
48
THE CHURCH OF THE BIRTH OF HOLY VIRGIN, Softovic near Urosevac
I
II
III
IV
20th
49
THE CHURCH OF THE HOLY PROPHET ELIJAH, Kacanik
I
II
III
20th
50
THE CHURCH OF THE HOLY VIRGIN, Korisa near Prizren
I
II
III
IV
V
16th
51
ST JEREMIAH'S CHURCH, Grebnik near Klina
I
II
III
IV
V
VI
VII
VIII
20th
52
THE CHURCH OF THE HOLY KNEZ LAZAR, Kos near Istok
I
II
III
20th
53
THE HOLY TRINITY CHURCH, Zitinje near Vitina
I
II
III
IV
20th
54
ST PARASCEVA'S CHURCH, Klokot near Vitina
I
II
III
IV
V
20th
55
ST LAZAR CHURCH, Belica near Istok
I
II
III
IV
14th
56
THE CHURCH OF THE HOLY PROPHET ELIJAH, Pomazatin
I
II
III
IV
V
20th
57
ST GEORGE'S CHURCH, Rudnik near Srbica
I
II
III
IV
V
16/14th
58
THE HOLY TRINITY CHURCH, Donja Ratisa near Decani
I
II
III
IV
V
VI
20th
59
THE CHURCH OF THE HOLY APOSTLE LUKE, Vitomirica near Pec
I
II
III
IV
20th
60
ST ELIJAH'S CHURCH, Podujevo
I
II
III
IV
20th
61
THE CHURCH OF THE HOLY APOSTLES, Gornja Pakastica near Podujevo
I
II
III
IV
20th
62
A PARACCLESION at the Serb cemetery, Kosovska Mitrovica
I
II
III
20th
63
THE CHURCH OF THE HOLY APOSTLES PETER AND PAUL, Istok
I
II
III
IV
20th
64
ST NICHOLAS' CHURCH, Prizren
I
II
III
IV
V
19th
65
THE CHURCH OF THE HOLY SAVIOUR, Dvorani near Musutiste
I
II
III
IV
V
16th
66
ST ELIJAH'S CHURCH, of Lokvice near Prizren
I
II
III
IV
V
19th
67
THE CHURCH OF THE HOLY KNEZ LAZAR, Piskote near Djakovica
I
II
III
IV
V
20th
68
ST PARASCEVA'S CHURCH, Binac near Vitina
I
II
III
IV
V
VI
20th
69
ST PARASCEVA'S CHURCH, Gojbulja near Vucitrn
I
II
III
19th
70
ST NICHOLAS' CHURCH, Stimlje
I
II
III
20th
71
THE CHURCH OF THE HOLY ARCHANGEL, Stimlje
I
II
III
20th
72
THE CHURCH OF THE HOLY SAVIOUR, Meciceva Mahala
I
II
III
20th
73
ST PARASCEVA'S CHURCH, near Musutiste
I
II
III
20th
74
THE CHURCH OF THE HOLY ARCHANGEL, Musutiste
I
II
III
IV
20th
75
THE KOSOVO BATTLE MEMORIAL
I
II
III
IV
20th
76
THE CHURCH in Gornji Zakut near Podujevo
I
II
III
IV
20th
76
76
76
64
39
14
5
1
---
Credits
CRUCIFIED KOSOVO -Destroyed and Desecrated Serbian Orthodox Churches in Kosovo and Metohia (1999-2000), Expanded electronic edition
With the blessing of His Grace Artemy, Bishop of Raska and Prizren, Serbian Orthodox Church
Updated Informations:
1. Kosovo – Land of Living Past (offical site of Raska and Prizren Orthodox Eparchy)
2. kosovo.net (official site of Serbian Church-Peoples council of Kosovo and Metohia)
---
The reports about desecrated and destroyed churches collected by Raska and Prizren Orthodox Diocese 1999-2000
Articles on History and Architecture: Prof. Dr Ljubisa Folic
Photographs: Serbian Orthodox Church, Bish. Atanasije Jevtic, Milinko Stefanovic, Ljubisa Folic, Fr. Sava Janjic, Zivota Ciric, Imre Szabo, Goran Veljkovic, Igor Marinkovic, Fr. Vasilije Delic, Fr. Maksim Vasiljevic, Sasa Sekaric, The Kosovo and Metohia Institute for Cultural Heritage, Reuters, et al.
Consultants: Prof. dr Atanasije Jevtic, Prof. Dr Djordje Jankovic, Prof Dr Lidija Amidzic, Slobodan Mileusnic, Milan Ivanovic, Branislav Skrobonja, Zivojin Jokanovic
The publisher thanks Milos Stefanovic, Prof. Dr Dusan T. Batakovic, Nikola Zivkovic, Mihailo Kocovic, Milena Markovic, Prof. Predrag Bajcetic, Boba Blagojevic, Ikonija Nikolic for their help
THE UPDATED LIST OF DESTROYED AND DAMAGED CHRISTIAN ORTHODOX SHRINES IN KOSOVO AFTER KRISTALLNACHT OF 17-18 MARCH 2004
Kosovo Pogrom – March 17-20
Full reconstruction of the Kosovo pogrom, 15 – 20 March 2004
ERP KIM Info Service has received from well informed international sources in Kosovo a timeline of the incidents and events in Kosovo Province in the period between 15-20 March. At the moment the Diocese is actively collecting all available information on these events in which more than 4.000 Serbs have been left homeless, at least 8 Serbs died and around 30 churches have been either completely destroyed or seriously damaged by Kosovo Albanian mob. All available information and our contacts with different intelligence sources prove that the operation (called by some as Operation Matchstick) was carefully planned beforehand and that behind it are some of the Kosovo Albanian leaders.
Cathedral church of St. George in Prizren after it
was burned by Albanian mob
(with a click on a photo on the map you will open a page with a gallery of thumbnail photos
with links to high resolution photos for each region)
Photo galleries March 17 Pogrom
Burning of Prizren (photos from BESIMI.COM)
http://www.kosovo.net/www.besimi.com/prizreni/default.htm
Returnees
Monks of Holy Archangels and Devic nuns return to the ashes of their holy shrines
RETURN OF HOLY ARCHANGELS MONKS

RETURN OF DEVIC NUNS
RETURN OF SERBS TO BELO POLJE NR. PEC
PHOTO GALLERIES
Kosovo Albanians rampaged through Prizren destroying all Christian monuments
Pogrom of Serbs in Kosovo – photo gallery

ruins of the Devic monastery
Photo Story: Destruction of Devic Monastery (part 1)
Photo Story: Destruction of Devic Monastery (part 2)
Additional photo galleries:
Photo Story: Devastated Christian Orthodox Sites in Prizren
Kosovo: Five Centuries of Strife and Ethnic Cleansing
30. During the 1998−1999 Kosovo War, Serb army and police units did not fight only the rebellious Kosovo Liberation Army (KLA), but also carried out programmes of ethnic cleansing and, therefore, the US-led NATO was obliged first to act and then to continue military actions against Serbia and Montenegro for the sake to prevent human (Albanian) catastrophe