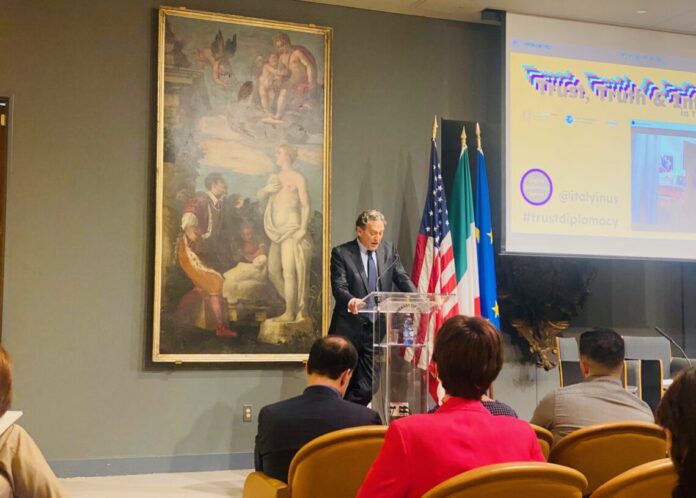 Dai deepfake a ChatGPT, passando inevitabilmente dai social media, la disinformazione si alimenta anche grazie ai progressi dell'intelligenza artificiale. "All'inizio c'erano grandi speranze sul fatto che l'era digitale avrebbe semplicemente diffuso democrazia e verità. Poi, naturalmente, abbiamo scoperto che non è così. È un'arma a doppio taglio".
Ed è proprio contro questo pericolo che James Rubin, inviato speciale e coordinatore del Global Engagement Center del Dipartimento di Stato americano, da tempo combatte. A lui il Presidente Joe Biden si è affidato per raccordare gli sforzi del governo volti a contrastare propaganda e disinformazione da parte di attori stranieri che puntano a minare o influenzare le politiche o la sicurezza degli Stati Uniti e dei Paesi alleati. Soprattutto oggi, in presenza di un conflitto – quello russo-ucraino – in cui la comunicazione gioca un ruolo essenziale.
Rubin è intervenuto all'incontro "Trust, Truth, and Influence in the Digital Age" organizzato dall'Ambasciata d'Italia a Washington DC. L'evento, in collaborazione con Globally e Young Professional in Foreign Policy (YPFP), era parte della serie Digital Diplomacy voluta dall'Ambasciata e dedicata all'intersezione tra tecnologia e politica estera.
A introdurre i lavori, l'Ambasciatrice d'Italia negli Stati Uniti, Mariangela Zappia. "Nell'ultimo anno, abbiamo sperimentato come la brutale invasione dell'Ucraina da parte della Russia si sia svolta non solo sul campo di battaglia, ma anche nella sfera dell'informazione on-line e off-line", ha detto Zappia, sottolineando in particolare le ripercussioni sulla fiducia nella verità, nei leader e nelle istituzioni.
Sulla stessa lunghezza d'onda Rubin, che ha rimarcato gli sforzi del Global Engagement Center e dell'Amministrazione Biden: "Abbiamo un solo scopo: combattere la disinformazione cinese, russa, iraniana e di altri Stati nazionali e non, all'estero. Il nostro intento è quello di impedire che la disinformazione venga promulgata in tutto il mondo". Con oltre 35 anni di esperienza in politica estera, James Rubin è stato consigliere politico dell'amministrazione Clinton e portavoce del Dipartimento di Stato, nonché giornalista di fama internazionale specializzato in affari esteri e sicurezza nazionale.
Per Rubin, Russia e Cina finiscono sul banco degli imputati. "Dobbiamo usare la verità come arma", ha detto, puntando il dito contro la diffusione di "false narrazioni" da parte del Cremlino. "I russi hanno da tempo integrato nel loro sistema la guerra dell'informazione. E probabilmente siamo in una guerra di informazione con la Russia e la Cina da molto ormai. Solo che non lo sapevamo. Hanno speso decine di miliardi di dollari". Durissimo il giudizio sulla Cina per la sua scelta di "allinearsi completamente alla Russia nello spazio dell'informazione".
Rubin si è congratulato con l'Italia per gli sforzi messi in campo nella lotta alla disinformazione. Il direttore del Global Engagement Center ha poi evidenziato come sia molte volte possibile individuare le campagne di disinformazione con un semplice test empirico. "Se sei un lettore o un ascoltatore medio e qualcosa che leggi o ascolti ti fa arrabbiare, c'è da scommettere che qualcuno aveva intenzione di farti arrabbiare. Il fatto che siano informazioni destinate a farvi innervosire spesso indica che provengono dalla Russia, dalla Cina".
All'intervento di Rubin ha fatto seguito un panel di specialisti ed addetti ai lavori, moderato da Aubrey Cox Ottenstein, Ceo di Globally / YPFP. Con lei, il ricercatore Giovanni Luca Ciampaglia del College of Information Studies dell'Università del Maryland, i cui studi si concentrano sull'interazione tra persone e sistemi informatici ma anche sui fattori che determinano la qualità dell'informazione nel cyberspazio; Crystal Patterson, esperta di comunicazione strategica e politica, presidente del Washington Media Group; Costanza Sciubba Caniglia, responsabile della strategia anti disinformazione della Fondazione Wikimedia; e in collegamento da Londra, Virginia Stagni, responsabile dello sviluppo aziendale e Talent Director del Financial Times.
Fake news e intelligenza artificiale: l'incontro all'ambasciata italiana a Washington