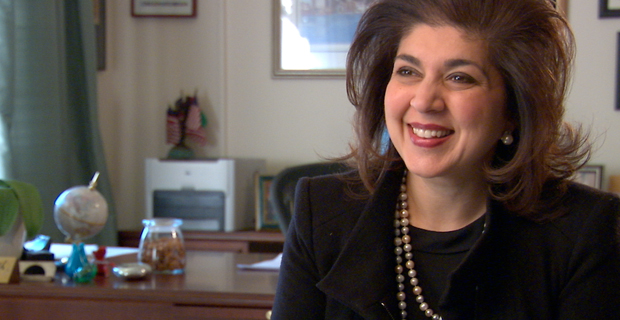 From Wikipedia, the free encyclopedia
Farah Pandith (Kashmiri: फ़राह पंडित) (born on January 13, 1968 in Srinagar,[1] Jammu & Kashmir, India) is the first ever[2] Special Representative to Muslim Communities for the United States Department of State.[1][3] She was appointed to this position on June 23, 2009 by Secretary of State Hillary Rodham Clinton,[4][5][6][7] and sworn in by Secretary Clinton at a ceremony at the State Department on September 15, 2009.[8]
Pandith is an American Muslim born in India who immigrated with her mother to Massachusetts on July 4, 1969. Prior to her current appointment, she was Senior Advisor to the Assistant Secretary of State for European and Eurasian Affairs at the U.S. Department of State.[1][9][10] This role was created for the first time in U.S. history. Pandith was responsible for engaging with Muslim communities in Europe.[1]
From 2004 to 2007 Pandith worked at the National Security Council at the White House under Elliott Abrams covering a portfolio that included "Muslim engagement," countering violent extremism, and The Broader Middle East North Africa Initiative.[1] She worked at the United States Agency for International Development (USAID) from 2003 to 2004.[1] She lived in Kabul, Afghanistan in the Spring of 2004.[1][11] Before coming to government, Pandith was Vice President of International Business for ML Strategies, LLC, in Boston, Massachusetts.[1][10] Prior to graduate school, she worked at USAID from 1990 to 1993.[1][10]
Education
Farah Pandith received her Master's in Law & Diplomacy (M.A.L.D.) in 1995 from The Fletcher School of Law and Diplomacy at Tufts University.[1][10] Her areas of concentration were International Security Studies, Islamic Civilizations & Southwest Asia, and International Negotiation & Conflict Resolution.[1][10] There, professors Leila Fawaz, Andrew Hess, Richard Shultz, and Sugata Bose played pivotal roles in the way she thought about issues, such as the role of militants killing civilians in Kashmir.[12] For her thesis, she wrote on the insurgency in Kashmir, India, interviewing militants and high-level members of the Indian government.[12]
In 1990 she was awarded an A.B. in both Government and Psychology from Smith College in Northampton, Massachusetts.[1][10] She was the President of the student body from 1989 to 1990.[1][13] In 1986, Pandith graduated from Milton Academy, in Milton, Massachusetts, where she attended from K-12.[1][10]
Community work
Pandith is currently on the Board of Overseers for The Fletcher School of Law and Diplomacy.[1][10] She was a Trustee of Smith College and Milton Academy.[1][10] Governor Paul Cellucci of Massachusetts appointed Pandith to the bipartisan Governor's Asian Advisory Commission. Pandith served on the Board of The World Affairs Council of Boston, The American Cancer Society of Boston's Asian Advisory Committee and The Steering Committee of The Silk Road Gala (working to stop domestic violence).[1][10] Pandith was President of the Fletcher Club of Boston. She was a Term Member of the Council on Foreign Relations.[1] She was Vice-Chair of the British American Project.[1] She served on the Board of The Council for Emerging National Security Affairs.[1]
A bio was done of her journey from Smith College to The White House in The Boston Globe in May, 2008.[13] Her work on the "War of Ideas" was featured in the Inaugural Edition of the Washingtonian Magazine in January, 2009.[11]
See also
References
External links
Please follow and like us: